"If You Know Your Chords, You Can Pick up Anything Onstage": Carol Kaye Talks Jazz Guitar
Known for her pop hit basslines, her early days as a jazz guitarist have been almost forgotten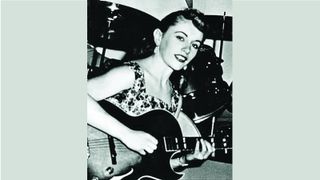 (Image credit: CAROLKAYE.COM )
What can you say about Carol Kaye that hasn't already been said? She's one of the best-known studio musicians to come out of the Los Angeles Wrecking Crew, a group of session musicians developed under producer Phil Spector, who went on to perform on records by everyone from Frank Sinatra to the Beach Boys.
As a bass player, Carol developed one of the most impressive resumés in the music business, but (previously unbeknownst to me) she started out as a jazz guitar player at the height of the be-bop era.
A child prodigy, Carol began gigging at age 14 to help support her family. Nowadays she's so well known for her pop hit basslines that her early days as a jazz guitarist have been almost forgotten.
It's funny how everyone just assumes you're Carol Kaye the bass player.
It is funny, because the people I work with in jazz often wonder whatever happened to that really fine jazz guitar player Carol Kaye. They didn't know about all the rock bass I did in the studio.
Who were your favorite jazz guitarists when you were growing up?
I didn't just listen to guitar players; I listened to everybody, whoever was playing the finest be-bop jazz – Sonny Stitt and all the jazz guys back in the '50s.
Did you get to play with Charlie Parker?
Everybody thought I played with Bird, but no. Bird died in 1955, just before I was on the scene, in 1956. But I played with all the rest of the New Yorkers that came out there, and they all knew me.
What was the most valuable thing your guitar teacher taught you?
Chords and arpeggios and how to function in chords. If you know your chords, you can pick up anything onstage. It's not simple if you think about the tunes that we had to play, like "Rose Room" or "Exactly Like You," things that had a million chords in them. It wasn't three-chord rock and roll at all.
You have to have the chordal notes. You don't get them from scales, and those scales are what they teach in rock because that's the only thing that they know to teach with. And that's not the way to learn music.
Did you practice a lot when you started playing?
I used to practice all night long when I was going to school. I'd rather practice than sleep. It was something that I could do well, and I knew it at the time. You know if you're good at something or not. I took lessons for only three months and I could play gigs.
When you were doing your first gigs, were you just playing rhythm, or did you jump right into soloing?
I was playing solos. It was similar to Charlie Christian, because he really innovated the solo guitar. The person who did before him was Django Reinhardt, in France. But it was Charlie Christian who influenced everyone in the U.S.A.
You must have been playing with people a lot older than yourself.
Yes, they didn't know how old I was because I was playing in places where drinking was allowed. You were committing a crime by working in there if you were under 18. But there are a lot of musicians that will tell you they were working by the age of 14 or 15.
How did you approach making hits for others in the studio?
Whenever we played our instruments – and I'll say it for the rest of the guys, too – we all felt integrity. Some of the music was very boring, because it was so simple. But we played with integrity and tried to get everybody a hit record, in spite of themselves.
Some of them didn't know how to get a hit record, and we did, because that's what we did in jazz. We invented every note that we ever played, every night.
All the latest guitar news, interviews, lessons, reviews, deals and more, direct to your inbox!