"I Was Doing Things With My Fingers That I Couldn't Do With a Pick": Mark Knopfler on His World-Famous Picking Technique
The Dire Straits guitarist explains how he developed his unique style.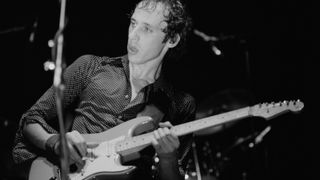 (Image credit: Michael Putland/Getty Image)
Exhibiting a diversity of playing styles – including fingerpicking, clawhammering and frailing – on electric guitars and acoustic guitars, Mark Knopfler writes and performs songs that showcase a deep knowledge of folk, rock, and blues idioms.
An important event in his evolution as a guitarist occurred during the mid-'70s while he was playing with the pre-Dire Straits band Café Racers.
"I was playing a rhythm/lead thing with a plectrum, sort of like [British rock 'n' roll guitarist] Mick Green," Knopfler told Guitar Player in a 1979 interview.
"I used to use a pick until a few years ago, when I started getting more and more involved with playing without one. Then, a sort of synthesis happened between fingerpicking and getting plectrum-type effects by just using my fingers.
"Eventually, I found myself doing things with just my thumb and two fingers that I couldn't do with a pick. But I still use a plectrum now and again for strumming or for playing on acoustic tracks."
Relying on finesse and economy rather than brute force, Knopfler's distinctive style has influenced the guitar world ever since Dire Straits' eponymous debut album featuring the standout single "Sultans of Swing" dropped in 1978.
His out-of-phase tone, eccentric melodicism, and extensive use of hammer-ons and pull-offs have inspired countless guitar players throughout the decades.
In the following interview extract from the September 1984 issue of Guitar Player, Knopfler discusses his matchless technique…
You have a very vocal-like guitar style, but it's not at all like the B. B. King style you mentioned earlier.
Part of the difference, I suppose, would be chucking away the pick when I was evolving my own style.
Style, I find, is always impossible to define, but it's easy to recognize.
What made you start playing lead with your bare fingers?
It just started to happen. I remember sitting in a house in London – starving to death at the time – playing a cheap Japanese acoustic with really light electric guitar strings on it.
I knew then that it was on a turn – it was developing. I was doing things with my fingers that I couldn't do with a pick – really fast things and what have you.
I still love to play with a pick, and sometimes you have to record certain parts or songs with a pick – for instance, "Expresso Love" [from Making Movies].
But it's interesting that now I'm not nearly as comfortable with a pick as I am with my fingers.
Did you go through different stages of developing techniques and experimenting with fingerpicks?
Yes. I went through thumbpicks and even steel fingerpicks with the Nationals, and I dispensed with them.
It's a bit of a disadvantage without them sometimes, because a thumbpick is just great for that chunk thing that Chet Atkins can do so brilliantly.
What does your picking technique consist of now?
It's the thumb and first two fingers, and I tend to anchor with the back or my hand and my other two fingers, so it's a solid base.
Do you pick with your fingernails or with the meat of your fingertips?
It's really from skin, but sometimes the nail will catch. You can use the nail to snap it.
A lot of times, I'll hit a note with the thumb and second finger together, so it might seem as though I'm pinching the string – squeezing it.
The second finger hits it first I think, behind the thumb, so you can get a real physicality with a note.
Is your tone a product of the type of guitar you play, or is it a result of your picking technique?
I think it's a combination. I like to play all kinds of guitars, not just Strats, but I wasn't getting the sound I really wanted until I got a Stratocaster.
It was about a '61 with a rosewood neck. I like rosewood necks a lot, even though I end up playing a lot of maple necks.
Your old Fender Strat used to have the 3-way toggle switch taped so that it would stop in the position between the middle and rear pickups. Why didn't you just get a 5-position switch to achieve the same pickup combination?
I liked the 3-way switch better than the 5-position; it had a better sound. But I kept knocking it out.
I have a 5-position switch on the Strat now. The roadies are always pulling bits out and sticking things in.
Browse the Dire Straits catalog here.
All the latest guitar news, interviews, lessons, reviews, deals and more, direct to your inbox!