Classic Tones: "Money for Nothing" – Dire Straits
How Mark Knopfler got that elusive "Money for Nothing" guitar sound.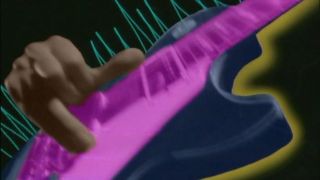 (Image credit: Vertigo/Universal)
Launched in 1981, MTV celebrates its 40th anniversary this year. And for many of us guitar fanatics no other video sums up the 80s MTV Generation as perfectly as Dire Straits' "Money for Nothing". Musically, lyrically, and visually this Dire Straits classic from 1985 encapsulates it all, primitive computer animation and outmoded politics notwithstanding.
The song reflects upon a real-life conversation overheard by Mark Knopfler between two men vehemently expressing their mutual disdain for MTV and all it stands for. Taken aback, the guitarist later penned the lyrics to "Money for Nothing" based on the rant. In the video, the grating jealousy and resentment of this pair of macho, cigar-smoking bigots juxtaposes with Sting's puerile, needy "I want my MTV (opens in new tab)" falsetto. Meanwhile, the viewer is left somewhere in the middle with Dire Straits who seem far too busy having fun making music to care.
Speaking of which…
Who can forget 'that' guitar tone? It sounds like no other. Present yet out-of-phase, crunchy but clear. That mysteriously simple riff is a perfectly balanced set of tonal contradictions that somehow reflects the song's fragmented lyrical outlook. But how did Knopfler achieve such an elusive sound? It was, as is often the case with so many great moments on record, a bit of a happy accident.
While aiming for a ZZ Top-style tone, Knopfler's basic guitar sound was achieved by using his fingers (rather than a pick) to play a Les Paul Junior plugged into a Laney amplifier (opens in new tab). But the utterly unique timbre of "Money for Nothing" is just as much a product of some fortunate microphone (mis)placement, as Knopfler discovered when he began warming up for the recording session.
Although the mics were still in the same random position where producer/engineer Neil Dorfsman had abandoned them mid-setup the previous evening, the sound in the control room immediately confirmed they had stumbled upon something special. Indeed, the guitar track required little else in terms of further mixing.
The team later tried to recreate the sound using the same gear, alas to no avail. Despite their best efforts, that particular combination of microphones in that room and on that day – one off-axis, another picking up floor reflections, and another in the room "somewhere else" – captured an unrepeatable magic.
One of the first major releases on CD, Dire Straits' classic album from 1985 Brothers in Arms contains the track "Money for Nothing" and can be purchased on vinyl from Amazon here (opens in new tab)
Get the latest news, reviews and product advice straight to your inbox.
Rod Brakes is a music journalist with an expertise in guitars. Having spent many years at the coalface as a guitar dealer and tech, Rod's more recent work as a writer covering artists, industry pros and gear includes contributions for leading publications and websites such as Guitarist, Total Guitar, Guitar World (opens in new tab), Guitar Player (opens in new tab) and MusicRadar (opens in new tab) in addition to specialist music books, blogs and social media. He is also a lifelong musician.
Thank you for signing up to The Pick. You will receive a verification email shortly.
There was a problem. Please refresh the page and try again.