"I Think Your Style Comes More From Your Limitations Than From Being Able To Play Every Style Perfectly:" Ethan Ballinger Talks Technique & Tone
The Nashville guitar maverick is forging a career as a studio player, producer and solo artist by combining the "weird" with traditional technique.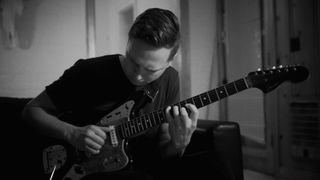 (Image credit: Kevin Grace)
There is a new sound seeping into the world of country guitar. Drenched in slap-back delay, fuzz, reverb and tremolo, it displays more mood than chops but is firmly grounded in serious technique. Records by Lee Ann Womack, Aubrie Sellers, Andrew Combs and Elizabeth Cook feature guitar sounds closer to Daniel Lanois, Neil Young or even Sonic Youth than to Brent Mason or Dan Huff.
At the forefront of this wave is Ethan Ballinger, whose edgy work on the Womack and Combs records grabs the ear, provoking a WTF reaction and the question, "How does he get away with that?" Taking a seat in his East Nashville kitchen, Ballinger attempts an answer.
"My parents played in a bluegrass band called the Cluster Pluckers, so I never had a shot at being normal," he explains. As it turns out, his raising was assuredly atypical. Not many guitarists' parents hosted picking parties attended by the likes of Chet Atkins, John Hartford and Roy Acuff. "There's a picture of me at three years old with a little toy banjo, jamming with Chet," he says.
That kind of upbringing would normally lead to childhood playing bluegrass festivals, but at age five Ballinger became obsessed with his older brother's music. "I was a grunge kid, and electric guitar was my true love," he explains. Still, bluegrass called him back. "As a teenager, I stole my mom's mandolin and got way into it. It was then that we started playing together, and now we tour and play as the Ballinger Family Band."
While bluegrass helped him hone his considerable chops, his own music swerves in a different direction. "I've always tried to expose myself to a wide variety of things," Ballinger explains. "Old country and bluegrass is in my blood, but rock and roll is also my roots. They both feel like home to me."
He describes his 2012 recording, Don't Lose It, as a meeting of Elliott Smith, Paul Simon and Pink Floyd. For his 2019 EP, Misery Hill (Bandcamp), he explains. "I was trying to be as melody driven as possible and less chordal. These goals are what make me wake up in the morning. I want to keep writing and exploring sounds."
If there is a thread that binds Ballinger's records to his studio guitar work, it's a deep affinity for the way those sounds create emotions. On the aforementioned recordings, and 2015's Tennessee Spring, feelings are evoked by the layering and processing of guitars, as much as by lyrical content.
"I've been obsessed with movies since I was a kid, which probably plays into it," he says. "I think of music as organized sound instead of as a set of strictly regimented notes. I've always responded more emotionally to sound than to Western harmony."
To that end, outboard pedals and effects play a big role in Ballinger's guitar work. On Tennessee Spring, he signal-processed everything, even his acoustic instruments. As an example, he points to the solo on the track "ldky."
"I played that on a Gitane Selmer-style guitar, like the one used by Django Reinhardt," he reveals. "I play in a gypsy swing band called Hot Club Time Machine, and I find you can dig into that guitar in a way you can't on an electric. I played the solo on the Gitane and ran it through a bunch of effects after the fact.
Ballinger brings his love of sonic experimentation to his session work, as well. When the solo arrives in "Heart of Wonder," a track on Andrew Combs' Americana-based Canyons of My Mind record, his guitar explodes in a wash of fuzzy noise, culminating in some screaming bends. Apparently, more than letting him get away with it, the producers with whom he works actively encourage it.
"I would have an idea and they would push me to make it weirder. We'd arrive at something I never would have thought of," he says. "We did that record at Battle Tapes Studio in East Nashville, where they have many pedals. It's fun to try gear you've never used before; it can make you react and respond in different ways. I was trying different combinations of fuzz pedals. I can't even remember what guitar I played on that. It was all recorded pretty quickly."
A similar philosophy was at work during the sessions for Lee Ann Womack's The Lonely, the Lonesome, & the Gone. "The only direction producer Frank Liddell would ever give is 'Don't do anything obvious,'" Ballinger says.
The resulting solos on "Sunday" and "Wicked" are more Hendrix than Hank, played on a three-pickup Silvertone 1454 semi-hollow strung with a D'Addario .010–.046 set. "That was my main axe for years. I played that guitar exclusively because it's versatile," he explains. "I also have Tele- and Jaguar-style Danocasters."
Ballinger's taste in amps and effects are influenced by his love of ambience. "I used my Gibson Falcon amp from the '60s. I was going through a solid-state Echoplex, which warmed up the amp. The reverb and tremolo on that amp is special. I'm a pretty big reverb whore. I love amp spring reverb. It is darker and more saturated. I will use a short subtle delay or have a long delay as a wash underneath everything."
On Ballinger's road board, his signal path is tuner, volume pedal, DigiDelay, EarthQuaker Devices Spires double fuzz, Walrus Audio Julia chorus/vibrato, EarthQuaker Devices Palisades V2 overdrive and Strymon Flint tremolo and reverb.
"It's relatively simple and allows me to get a good range of sounds," he says. "For the studio, I bring my whole bag of goodies. I recently got a Maestro Phase Shifter, which I used on Aubrie Sellers' new record. When you have new gear, it keeps you fresh, so I'm always acquiring things that sound weird."
Ethan Ballinger is forging a career as a studio player, producer and solo artist by combining "weird" with a solid, but not obsessive background in traditional technique.
"I feel blessed that anyone would ever call me to mess up their record," he says. "There's a place for perfect, clean chicken picking. I spent a lot of time as a teenager chasing the technical things. But I wanted to do too many other things to pursue the virtuoso path. Also, I realized that most of the guitar players I liked weren't the guys who could do anything. I think your style comes more from your limitations than from being able to play every style perfectly."
All the latest guitar news, interviews, lessons, reviews, deals and more, direct to your inbox!