"I Just Knew I Was Born to Play That Guitar": Barbara Lynn Recalls Her Pioneering Days as a Guitarist
A Black, left-handed, female guitarist who played lead and wrote most of her own material, Lynn was an anomaly from the start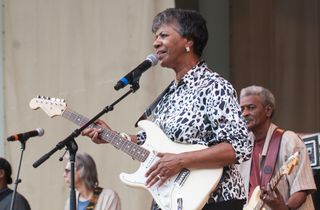 (Image credit: Jack Vartoogian/Getty Images)
Barbara Lynn's career took off in 1962 when she had her first hit, "You'll Lose a Good Thing."
Her songs have been covered by many artists, including Aretha Franklin, who cut a version of "You'll Lose a Good Thing," and the Rolling Stones, who recorded her song "Oh Baby (We've Got a Good Thing Goin')" in 1965.
In June 2018, the National Endowment for the Arts awarded the Beaumont, Texas, native with a National Heritage Fellowship.
How did you come to play the guitar?
When I was young, I always pretended that I was playing piano on the window sill. And then I saw Elvis Presley and other guitar players and I thought I would like to play guitar.
I wanted to play something odd that you don't see a woman playing too much. You'd see a lot of women singers and some white women playing guitars, but I ain't never seen no black woman guitarist.
I told my mother that I would like to learn the guitar because I would be unusual. And it really paid off, because when I started playing guitar really good – I mean, when I was in high school and when I started playing clubs – you should have seen the people throwing money to me!
They had never seen a girl playing left-handed guitar. I thought, This is it. I just knew I was born to play that guitar.
When did you write your first song?
I started in grade school. I would come back home in the evenings and I would get my homework done, and then I would just mess around with pencil and paper and write words and poems down. I would listen to the songs on the radio and hear how they made things rhyme, and I just taught myself how to write that way. I wrote a lot of poems.
When [producer and record-label owner] Huey Meaux took me to New Orleans to record, I had a whole lot of songs ready, and one of them was "You'll Lose a Good Thing."
First it didn't make much noise around the area, but then when Jamie Records out of Philadelphia heard it, they put it out nationally, and then it soon started going international. And the rest is history!
Did you tour throughout the '60s?
Yes, indeed, with people like Smokey Robinson, Stevie Wonder, Dion, the Supremes... I mean, everybody.
I did a show with Chuck Berry, and he forgot his guitar strap and asked me if he could borrow mine. That song took me all over the world.
What would be some of your absolute highlights from those years?
At one point, Huey told me that my record was climbing up the charts and that they got me a show at the Apollo Theater in New York. I was told they would boo me off the stage and throw things if I didn't do good.
Well, I was so nervous when I was standing backstage, and then I heard them introduce me, and people started clapping. When the announcer told them about my song "You'll Lose a Good Thing," people started to go crazy.
Then I picked that guitar up and those people ate me up. They came close to the stage and everything.
You have had so many amazing moments in such a great career. What do you think is the most important thing for you?
Well, the main thing is to give thanks and praise to God for letting me stay out there as long as I have been. Today, I still don't drink or smoke. I never did any of that. I just stuck to my water, or orange juice and soda pop.
And I tell everybody, including the young kids of today, to just stay off drugs and do what you love best, and if you're very determined you will make it.
You have to have a lot of faith and patience.
Order Barbara's Lynn's The Jamie Singles Collection 1962-1965 here.
All the latest guitar news, interviews, lessons, reviews, deals and more, direct to your inbox!