Five of the Most Radical Electric Guitar Designs You've Ever Seen
Groundbreaking artist Nikita Gale reimagines the solidbody form at Frieze London's pioneering 63/22 exhibition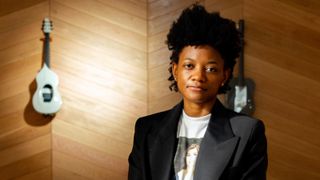 (Image credit: Frieze)
Nikita Gale's exhibition – 63/22 – at Frieze London is an eye opener. It might just open your ears and mind, too.
Honoring legendary Black female musicians with a series of trailblazing guitar designs, the L.A. artist investigates craftsmanship, design, technology and the politics of sound.
Curated by Attilia Fattori Franchini, this astonishing exhibition was created in collaboration with BMW i7 designers and features five unique electric guitars built by U.K. luthier Ian Malone.
Image 1 of 5
These extraordinary instruments are named after iconic Black female artists whose stories are woven into the tapestry of blues and rock 'n' roll.
They are: Memphis Minnie, Sister Rosetta Tharpe, Barbara Lynn, Joan Armatrading and Big Mama Thornton.
Demonstrated with a series of live performances by musicians selected by Gale, these innovative electric guitars were played through BMW's i7 electric car, effectively transforming it into an amp while giving new meaning to performance art.
Intrigued, Guitar Player spoke to Gale in London about this ambitious project that challenges the past, present and future of electric guitar design…
When did you become interested in guitars?
I started playing electric guitar when I was a teenager in high school. I ordered this really cheap new electric guitar off eBay for like $50, so it was really not a good-quality guitar at all.
I eventually saved up some money and got a Mexican [Fender] Telecaster with an ash body. But it felt extremely heavy to me. And I felt the scale was very long.
What do guitars mean to you?
I've been on both sides of the guitar. And what I mean by that is I play the guitar, but I'm also really interested in it as a cultural object. I admire cars in a similar way, but I'm really more interested in them as cultural objects.
When I was in graduate school, I did a lot of research about cars. I was thinking about cars as metaphors for our relationships with capitalism and politics. Looking at the terms of production of an object like an automobile can lead us into a lot of different stories about politics, space and movement.
The connection between cars and electric guitars goes back a long way…
One of the really fascinating things that came up in my research was that the earliest rock 'n' roll songs were written about cars – including the first one written in 1951 by Ike Turner called "Rocket 88."
There are these funny moments during the mid-20th century where the development of rock 'n' roll and the ideologies behind it are running parallel to and flirting with automobile culture.
What does the exhibition title 63/22 mean?
In 1963, Gibson invited a car designer named Ray Dietrich to design their Firebird electric guitar. It was the first time these two industries directly overlapped in this way – where a guitar company specifically hired a car designer.
A lot of the ideas, culture and ethos of the automobile industry were already being implemented and represented in rock 'n' roll songs, so it was a case of: why not bring it over into the design aspect?
We all have limitations in terms of what we're capable of imagining. And in the '60s, it was mostly men designing guitars for each other based on the scales of their own bodies.
Nearly six decades have passed. Surely the profiles of the kinds of people who are playing guitar now have shifted pretty drastically?
I was thinking about design and how the experiences and biases of designers affect the outcomes. And I wanted the BMW designers to think about who are the other bodies.
People tend to connect with a guitar almost immediately. Or not…
The scale, the weight and the size of these instruments have an impact on how excited, or not excited, you feel about playing them.
On a physical register, it's just incredible how much something can feel really inviting and make you feel totally capable of handling it based on the weight and size.
It's about the work of just physically contending with the instrument on top of the work of playing it. One of those could be reduced in the interest of the other.
In recent years, have you noticed any major manufacturers addressing this issue directly?
St. Vincent's Music Man guitars are a good example. In terms of innovation in guitar design within the last 60 years, that's a pretty significant one. Her design just feels so good. They're really fun to play.
When that guitar first came out, Annie [Clark] was doing a bunch of interviews and she talked about wanting a guitar that left room for breasts.
The body of an electric guitar does not need to be wide. Simply by designing it with that in mind you've immediately made it more accessible to over half the world's population.
How did the BMW car designers approach things differently?
Working with the [BMW] designers was interesting because they have a general idea of what guitars look like, but they're not luthiers. So I think it was really exciting for them to just be given carte blanche.
I was like, "Don't research guitars; you don't need to do that. You just need to think about how you can design this instrument."
Sometimes, designers can get bogged down in what the thing is and previous iterations. That doesn't always serve you well in terms of doing something innovative. Especially when it comes to electric guitars.
There's more latitude when it comes to solidbody design – a lot more leeway than acoustic guitars.
Image 1 of 5
Is it a case of 'form follows function?'
There's an amazing essay called Technology and Ethos written by Amiri Baraka (when he was publishing under the name LeRoi Jones) with a really great line: "Nothing has to look or function the way it does."
All technologies take on the shape of the interests and the experiences of the people who design them.
Are the guitars' colors significant in any way?
All of the paints on the guitars are BMW paint. That's a nod to the early car paints being used on guitars in the '50s and '60s.
The whole thing with guitar companies using car paints and renaming them is fascinating. It's another example of how the guitar and automobile industries mirrored each other.
What inspired you to name the guitars after Black female musicians?
During my research, I would come across stories that were important – figures who seemed pivotal to the development of rock 'n' roll – but I had to really dig for the information. And sometimes I would find interviews with better-known musicians who would acknowledge these figures.
Some names are more familiar than others. It seems like there is a resurgence of people recognizing Sister Rosetta Tharpe, for example.
Last year, I was part of a panel discussing some lesser-known Black women figures with Gayle Wald, who wrote the definitive biography [Shout, Sister, Shout!: The Untold Story of Rock-and-Roll Trailblazer Sister Rosetta Tharpe]; the musicologist Maureen Mahon who wrote Black Diamond Queens [African American Women and Rock and Roll (Refiguring American Music)]; and Daphne Brooks who has written a lot about the history of music and the contributions of Black women performers.
I was thinking a lot about these figures, and I was also thinking about citation and the idea of naming a guitar model. It's a really big deal. Usually, someone's alive when that happens.
So much of this project is about reimaging a way of producing and designing an instrument that's designed around a particular kind of body.
It felt important to name these guitars after who they're designed for, and so I named them after Memphis Minnie, Sister Rosetta Tharpe, Barbara Lynn, Big Mama Thornton, and Joan Armatrading.
Big Mama Thornton did not play guitar, but she was the first to record "Hound Dog."
Black female musicians had considerable influence on the evolution of rock 'n' roll...
The way gender and race intersect with that genre specifically feels complicated. I've done a lot of work about Tina Turner – the way that she had to contend with genre and how her music was defined.
When she was working with Ike Turner they really struggled to be taken seriously as a rock 'n' roll act. They were always being billed as R'n'B despite doing rock 'n' roll covers almost exclusively and writing rock 'n' roll songs.
What's your favorite guitar in the 63/22 exhibition?
Aesthetically, my favorite one is the orange Joan Armatrading guitar. It's really lightweight. It's tiny. I mean, Ian [Malone] just made some really playable guitars. They just feel so good.
Visit Frieze for more information.
All the latest guitar news, interviews, lessons, reviews, deals and more, direct to your inbox!
Rod Brakes is a music journalist with an expertise in guitars. Having spent many years at the coalface as a guitar dealer and tech, Rod's more recent work as a writer covering artists, industry pros and gear includes contributions for leading publications and websites such as Guitarist, Total Guitar, Guitar World, Guitar Player and MusicRadar in addition to specialist music books, blogs and social media. He is also a lifelong musician.