"I Don't Come Onstage To Pose and Play Some Pyrotechnic Scales. It's To Kick Some Serious Ass": Dick Dale Talks Gigs and Gear
In this priceless 2017 interview the King of Surf Guitar reveals how he helped develop the sound of electric guitar music alongside the legendary Leo Fender.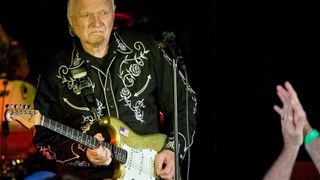 (Image credit: Matthew J. Lee/The Boston Globe via Getty Images)
"I don't come on stage to pose and play some pyrotechnic scales. It's to kick some serious ass. I rip my guts out when I play. My fingers hurt so bad when I'm pulling on the strings, but I do it because that's where the sound comes from. No pain, no gain."
So proclaimed Dick Dale (1937-2019), best known as the King of the Surf Guitar and, alternately, the Father of Heavy Metal.
When Dale was in his teens, his family had moved to El Segundo, California, and at the age of 17 he took up surfing. By then, he had settled on the electric guitar as the instrument with which he'd build his career.
A lefty, he slung a right-handed gold Stratocaster (dubbed the Beast) that he played flipped over, with the low strings on the bottom. This unusual approach led to him at times playing with his fingers reaching over, rather than under, the fretboard.
In 1958, backed by his band, the Del-Tones, Dale began to release vocal-led singles on his own Deltone label. Stylistically similar to popular teen music of the time, the records made little impact. It wasn't until he released his guitar-instrumental debut, "Let's Go Trippin'," that Dale found chart success.
The song is widely considered the first surf-rock instrumental and is credited with launching the early 1960s surf-rock music craze.
But it was Dale's 1962 single "Misirlou" that put him and his guitar sound on the map. His unorthodox take-no-prisoners style of performing incorporated rapid-fire alternate-picking, often on the low strings. Amplified and treated with heavy reverb, the technique would become not only his signature sound but also the defining sound of surf rock.
The surprise success of his 1962 debut album, Surfer's Choice, led to a contract with Capitol Records in 1963. Dale's influence on rock and roll came to the forefront that year, undoubtedly inspiring such classics as the Surfaris' "Wipe Out," the Chantays' "Pipeline" and the surf instrumentals of the Ventures.
The Beach Boys, who had opened for Dale when they were still unknown, covered both "Misirlou" and "Let's Go Trippin'" on their Surfin' U.S.A. album in 1963, with 16-year-old Carl Wilson replicating Dale's blistering guitar leads.
Although Dick Dale never became a household name, he's an acknowledged influence on the likes of Eddie Van Halen, Johnny Ramone and Jack White, and is revered in guitar circles for his pioneering work with Leo Fender on the Stratocaster guitar and Dual Showman amplifier.
In 2017, GP had the opportunity to speak with Dale. In this interview, the man himself has the final word about his remarkable journey
How did you first meet Leo Fender?
It was out in California in 1955. I was only 18, Leo took a liking to me and became like a second father. He was a very quiet man. He was really a genius, an Einstein, but he was very unpretentious and also didn't like gimmicks. He hated stereo.
At that time, the Stratocaster was only about one year old. I told him, "I'm a surfer. I got no money, but I can help you with the guitar," and he said, "Okay, take this guitar, beat it to death, and then tell me what you think of it." So I became the testing machine, not only for the Strat but for other instruments he was working on.
What was the local music scene like when you started performing?
There was a place called the Rendezvous Ballroom in Orange County. The first night I played there, it was just 17 surfer friends of mine in a hall that held 4,000 people. After a while, through word of mouth, I started filling the place. People used to line up on the sidewalks to try to get in. Leo would say to me, "Why do you have to play so loud?" and I'd say, "Well, when the first 500 people come in, their bodies start soaking up the sound."
Also, don't forget, besides only using little amps without any microphones in front of them, there were no real stage monitors in those days. So the first time Leo came to see me play, after standing in the middle of 4,000 people, he finally said, "Dick, now I understand what you've been trying to tell me. Back to the drawing board!"
That's when you and Leo started working on something that radically changed the way rock guitarists could be heard.
Yes. Together we created the very first transformers that went up to 100 watts, peaking at 180 watts. It was like going from a Volkswagen to a Testarossa. [This ultimately led to the creation of the Fender Dual Showman.]
Before that, transformers in those days only favored either the highs, middles or lows. This was the first time we made one that could reproduce all three.
The steel-guitar ace Freddie Tavares was also a big help to what you and Leo were creating. He had a hand in the Stratocaster and Bassman amp designs.
Freddie was a popular Hawaiian steel guitar player who recorded some of the most famous Hawaiian songs. Leo hired him to take all the bugs out of the Telecaster, and while I was helping to perfect the Strat, I put in the Dick Dale five-position switch. [Dale, along with Buddy Guy and Otis Rush, was an early proponent of using the in-between switch settings of the Stratocaster's three-position pickup selector. The company didn't actually place the five-position switch on the model until 1977.]
And you and Leo also increased the thickness of the Strat.
Yes, because we figured out, the thicker the wood, the fatter the sound. If you could put strings and a pickup on a telephone pole, you'd have the purest sound in the world. Also, most guitarists back then were playing on light-gauge strings, so they could bend them, like James Burton was doing.
But you never relied on them.
No, and I was using .016-, .018-, .020-, .039-, .049- and .060-gauge strings. The thicker the string, the fatter the sound. So it was a culmination of the transformer to the speaker to the new three-feet-high [speaker] cabinets we made, plus the thickness of the guitar and strings, that gave me that big fat sound that replicated the sound of Gene Krupa's drums.
Then, I just imitated the sounds of my lions, my tigers, all my jaguars, hawks, eagles… When my lions would roar, I would just imitate that on my strings.
You were probably the first rock guitarist to use a lot of volume onstage.
People like Chuck Berry and Buddy Holly were playing through little tiny amps. Link Wray wasn't playing loud. He didn't have the power. Duane Eddy didn't have the power. None of these people played loud. So who created the Dual Showman amp? Dick Dale. That's history. When I would be playing fairs, the Ventures would open for me, and they asked me to promote their Mosrite guitars.
How did your trademark reverb sound come about?
I was singing Hank Williams songs in a rockabilly style, and my voice did not have a natural vibrato. I needed something to sustain my voice like a piano, which is my favorite instrument. So Leo and I made all kinds of things, like [tape delays], but nothing worked.
Then after two weeks, I wondered what it would sound like if I plugged my guitar into the tank, and that's how it started.
What happened was, I had a Hammond organ in the house, and there was a button that [was labeled] Hammond Reverb. I took the organ apart, gave that part to Leo, and said, "Leo, this is it!" We made a separate tank with three tubes in it, and when I plugged in my Shure [Model 55] dynamic birdcage microphone, which was the same as Frank Sinatra used, I sounded just like Dean Martin.
When did you start recording with reverb?
The surfing sound of Dick Dale in the beginning, was a heavy, machine-gun, staccato sound, which had no reverb till we stole the idea from the Hammond. My first album, Surfer's Choice, which sold over 80,000 copies – that would be like 4 million today – had absolutely no reverb on it. Period. The heavy pounding you heard was from the heavy-gauge guitar strings.
Les Paul, of course, was Leo's main competitor, but I understand it was really a friendly rivalry.
Les actually gave Leo a great help, a push, the whole works. Les and I were great friends. We used to play the big guitar conventions. He and Mary Ford made beautiful music together, and like Leo, he was a creator and an innovator of music, but his music was never really an influence on me.
Click here to purchase Surfer's Choice and discover more from the late, great man's catalog.
All the latest guitar news, interviews, lessons, reviews, deals and more, direct to your inbox!