How Joe Satriani Freed Up His Creativity on an Album of Quicksilver Guitar Genius
On 'Shapeshifting,' Joe Satriani emulates his guitar heroes, reimagines his career and follows his bliss to a musical metamorphosis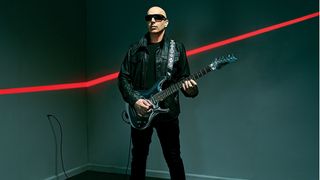 (Image credit: Joseph Cultice)
"There's a great piece of advice I once got from Glyn Johns," Joe Satriani tells Guitar Player, recalling a conversation with the legendary British producer who helmed Satch's 1995 self-titled album.
"He said to me: 'It's not your job to decide what people will like or not like - it's your job to play the guitar. So go play your bloody guitar!'"
Satriani laughs at the bluntness of the directive. But, he adds, "It was just a really great, cutting-through-the bullshit statement. He was saying, 'Make yourself happy. Play what you want to play!'"
It's a credo that the 63-year-old Satriani has taken to heart over the course of his long career, during which he's released more than a dozen solo albums and played with artists and acts as diverse as Mick Jagger, Robert Fripp, Blue Öyster Cult, Spinal Tap and his own supergroup, Chickenfoot.
But he's never followed it more passionately than he did on his newest, and 17th, studio effort, Shapeshifting (Legacy Recordings). True to its title, the album shows the virtuoso guitarist playing what he wants to play, no matter what stylistic realms that freedom might lead him to.
Which means the churning, dark-toned fusion-rock of the opening title cut can crash head on into the hooky riffs and poppy melodies of "Big Distortion," and the spacey atmospherics and Jeff Beck–like guitar vocalisms of "All for Love" can butt up against the time-warping genre mash-up "Ali Farka, Dick Dale, an Alien and Me," a song that, incidentally, sounds more or less like the conceit laid out in its mind-bending title.
And that's just the first four songs on the album. There's also quasi-honky-tonk ("Perfect Dust"), a throwback shred-fest ("Nineteen Eighty"), some light reggae ("Here the Blue River") and the folky acoustic closing number, "Yesterday's Yesterday." That track includes a whistled melody as well as mandolin playing from director, comedian and Satch's one-time Spinal Tap collaborator Christopher Guest.
As for whether fans will like what they hear, that's not Satriani's concern. "You might worry about that if you're, like, 18 and just coming onto the scene and you want to be very 'definable,'" Satch says. "But I've been around a long time. I've made a lot of records. And I'm riding high on this wonderful career gifted to me by the fans.
"So, if anything, the only pressure I feel is to keep exploring and delivering different creative sides of my playing and my musicianship. And this album is really a pure expression of that."
Satriani laughs. "Plus, it's so much more fun than just playing the same song 10 times on a record with slightly different chords, you know?"
You're fairly overt about your intentions on this record. You titled the album Shapeshifting, and that's more or less what you're doing from song to song.
Yeah, but I didn't start out thinking about the record like that. It's just that, once that happened, it gave me this freedom to run with it. I thought, 'This is really a cool way to jump into every song and play as crazy or as muted or however I want, and in any style I want.' I don't have to worry about anything.
It was a lot of fun. And it was a challenge that I brought to the team. I said, "Every song is going to be different, but you guys just do what I do, which is just be different for every song." [laughs]
To focus on just one example, let's look at the track "Nineteen Eighty," which in style and tone recalls that time period of rock guitar playing. What led you to want to do a song like that?
I spent some time last year working on an anthology of the Squares, which was a band that I was in from 1979 to 1985. And when I got to the end of that project, I felt like, 'What was I hoping to have done in that band that I never did?' You know, maybe just because it wasn't cool, or the right thing at that time.
And I said, "What I would've done is write a song where I got to show off, and take control of the band and music in a 'guitar hero' kind of way." Because if I had tried to do that in a Squares rehearsal back then, it would have been knocked down immediately. We would have said, 'No, you don't start with a guitar solo - that's too much grandstanding.' The thinking was, 'Don't mix too much rock and roll with too much metal.'
It's like you're getting your revenge, in a way. You're doing all the guitar heroics you weren't able to put in a Squares song 40 years ago.
[laughs] Yeah, right. I guess we had some silly rules back then. So I just said, "I'm going to write the song that sort of explains that state of mind, but then it's going to go against it. The writer of this new song, 'Nineteen Eighty,' is going to say, 'No, we are going to start with the guitar solo. And of course it's going to have hammer-ons and pull-offs!'"
For that song, I made a point of using a Van Halen [MXR] Phase 90 on my guitar, because I was such a big fan of Eddie's at that time. And remember, 1980 was still a time where - it wasn't 1985, you know? It wasn't Yngwie or my good friend Steve Vai yet.
And it also wasn't the late '80s, which had its own thing. 1980 was still kind of like the end of the '70s. Van Halen was on the scene, but there was also Led Zeppelin and the Clash and the Ramones and new wave. Fleetwood Mac was huge, but so was Blondie. It was an interesting period, you know? I wanted to reflect some of that in the song.
Another standout on the record is "Ali Farka, Dick Dale, an Alien and Me." And again, even before the listener hits "play," the title prepares them for what they're going to hear.
Listening to your guitar work on the song, it's very clear which parts are meant to evoke Ali Farka Touré's playing and which are in Dick Dale's style.
Yeah, and the interesting thing is, while I love the playing of both artists, I don't play that way. So that was the challenge. When I first heard Ali Farka Touré, I was just fascinated with the whole style of his music. I loved the rhythm of it. It seemed so foreign to a kid who grew up on Long Island. And I still find it fascinating and fun to listen to, even if I don't understand the language.
So I started writing that song around a synth improvisation that got me thinking about this weird idea about an alien coming down into West Africa and jamming with Ali Farka. And I had taken the demo out with me on one of the Experience Hendrix tours I was doing with [King's X singer and bassist] Doug Pinnick and [drummer] Kenny Aronoff [who also plays on Shapeshifting].
And when we were out there, unfortunately, we got the news that Dick Dale had passed away. So when I got back home I thought, What if I bring Dick Dale into this song?
It kind of made no sense, but it made perfect sense in terms of a tribute song where I'm a guitar player that's saying to the world, 'Hey, these two guys are really great, and in case you missed it, here they are, and I'm going to celebrate what they did and the things that I thought were pretty remarkable about them.'
I wanted the song to be a very bold statement - an homage to these giants. And it was quite the journey. I mean, everyone just thought it was the funniest thing to try to attempt. But when we finished mixing it, we were like, "Wow, this really works!"
Right at the end of the song, there's a section with some really fast, sweeping guitar licks. That's clearly not in the style of Ali Farka or Dick Dale. But I can't decide if it's you or the Alien of the title.
[laughs] We weren't sure who that was! That was something I wrote on the spot in the studio. We got to the end and I said, "Can I just try one last thing?" And we never answered the question, "Is that Joe or the Alien or what?" Typical guitar player, right? Always trying to impress.
You were just talking about your days with the Squares, and the push-pull you experienced between writing concise songs built on a typical pop structure and playing the guitar full-out. Could you have ever imagined you would build a career out of playing instrumental guitar music?
Back then it wouldn't have crossed my mind at all. But instrumental music became like a personal growth thing for me. That sounds weird. I don't mean for it to sound medical or something. [laughs]
What I mean is, it was the thing that I did to help me understand music. I loved listening to instrumental music, whether it was classical or jazz or Hendrix's instrumental stuff.
But I was always focused on being in a rock band. I wanted to be like Jimmy Page with Led Zeppelin, you know? I wanted to be in a four-piece band with a singer and to write great songs, but also be part of an ensemble.
So what happened?
As we got into 1984 with the Squares, it just got more and more dire and frustrating. And simply as a knee-jerk reaction over the Christmas holiday break, I started my own record company and my own publishing company, and I made an instrumental EP - just the weirdest record ever, as an experiment.
And I remember bringing it to the guys at rehearsal a few months later saying, "We should be doing this - doing crazy shit and we should be doing it on our own." And everyone was like, "…Nah." [laughs] And so by the end of that year, I'd left the band I'd created and I had this weird EP that people started to recognize.
I wasn't successful at all, but just the fact that Guitar Player reviewed it made me realize that this was a path where the universe was saying, "Hey, you don't have to kill yourself trying to be in a pop band. You can do this and you love it, so why not do it?"
Well, now you've made a nice little career out of this instrumental guitar thing. After 17 albums, how do you go about keeping it fresh?
That's a good question! [laughs] It's one we ask ourselves all the time. I think there are levels in any musician's career where you can break it down into what you're trying to accomplish physically, what you're trying to accomplish artistically and what you're trying to accomplish economically.
These are all things that need to be addressed. Musicians need to be honest with themselves and ask, "Am I going to be happy just playing in a disco band, or should I get myself in a metal band, because that's what I love?" You've got to answer that.
And then there are things like what we've talked about regarding the songs on this record. You ask yourself, "Am I playing the kind of things that I want to play, or am I stopping myself because I've invented some set of rules or guidelines that I think are going get me more success?"
It's silly to think that way, and musicians should never think that way. You can't make people like you or not like you - it's totally out of your control. When you accept that, there's something freeing about it. But then you also have to do the hard work. If you're going to stand up in front of people and say, "I'm a musician," then they get to say, "Oh yeah? Well, show us!" You've gotta have the stuff.
You thrive off the creativity, as well as the challenge.
Yeah. I like coming off a tour and thinking, 'Oh my god, what am I going to do next?' What am I going to write? What am I going to play?
That split second where you have a moment of weakness and anxiety is actually a really fertile moment, and you fill that void with all these aspirations and things that you want to express - things you're happy about, things you're sad about, things you're mad about.
And when you finish it, you offer it up to the people. But then, you know, you move on and you go write some more stuff. You do the work.
Joe Satriani's Shapeshifting is out now

(opens in new tab)

on Legacy Recordings.
All the latest guitar news, interviews, lessons, reviews, deals and more, direct to your inbox!
Rich is the co-author of the best-selling Nöthin' But a Good Time: The Uncensored History of the '80s Hard Rock Explosion. He is also a recording and performing musician, and a former editor of Guitar World magazine and executive editor of Guitar Aficionado magazine. He has authored several additional books, among them Kurt Cobain: Montage of Heck, the companion to the documentary of the same name.