Hamish Anderson on Taking Blues out of the Box in Search of Something Spiritual
Hamish Anderson is finding new, thrilling ways to put his signature spin on the blues, but it all goes back to the Kings.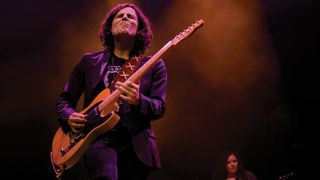 (Image credit: Lucas Packett)
Even before releasing Trouble, his 2016 debut album, Hamish Anderson had toured the globe, making buzz-generating appearances at major festivals and opening for B.B. King at the legend's last performance.
Around the time of Trouble's release, Gary Clark Jr. was impressed enough to cite the then 25-year-old native of Melbourne, Australia, as a guitarist to watch. Read about Anderson and you're likely to see him described as a blues guitarist.
Listen to him, however, and you'll discover that his blues is less concerned with 12-bar forms and pentatonic improvisation and much more in tune with the genre's original form: a spiritual melding of artist and instrument, alchemized to tell heartfelt and unflinchingly truthful stories about life, love and loss.
"I've always been attracted to music that juxtaposes blues with another genre," Hamish explains. "Take 'Miss You' by the Rolling Stones: It has a disco beat and rhythm section, but the melodic language and sad lyrics are totally blues based. When it comes to playing and writing blues, it's important to be in touch with the past and remain open enough to let the music evolve."
Anderson's own personal artistic evolution is brilliantly showcased on his second album, Out of My Head. The 11-song release careens between various stylistic touchstones, from the raucous mod rave-up, "Breaking Down," to the Nawlins' funk-fueled "No Good" and the Clapton-esque acoustic heartbreak ballad "Happy Again." It's a sublime melding of the young artist's songwriting and six-string skills.
You describe yourself as a student of the three Kings. What did you learn from each of them?
I took my vibrato from B.B. King. When I first heard him playing, it just sounded so lyrical, like someone singing. I loved how he took his time when he played and made every note about feel.
And I related to the power with which Albert King would attack his strings. There was almost a violence to his playing sometimes. With Freddie King, I'd say he showed a way to be in between both the others. He could be really sweet and lyrical, but he could also be really stinging.
You had the opportunity to tour with B.B. King and were the last artist to ever open for him. Did he impart any in-person lessons that went beyond playing?
I opened for him in 2014, and that was the first time I had actually left Australia to tour in the U.S., so you can imagine what a huge impact it had on me. He had a presence and aura onstage.
When he put on his signature Gibson ES-355 guitar, Lucille, it was as if the two became one entity. The guitar was an extension of his body, while the notes were a pure expression of his emotions. I realized that that's the standard to strive for.
What was in your rig for the recording of Out of My Head?
I got lucky enough to work with Jim Scott in his Los Angeles studio, where he's produced great albums for the Red Hot Chili Peppers, Wilco and the Tedeschi-Trucks Band, among others. It's full of beautiful vintage gear.
I mainly used my '52 Butterscotch Blonde Tele reissue, which I got when I graduated high school and is pretty much stock. I also used Jim's 1964 sunburst Fender Jaguar on the track "What You Do to Me." Apparently it's the same Jag that [Red Hot Chili Peppers guitarist] John Frusciante used on "Scar Tissue."
For amps, I stuck with my Fender Deluxe and Jim's Fender Bassman, but we also experimented with his vintage Fender Vibratone rotary speaker on some tracks.
Recommended Listening: 'Out of My Head'
• "Breaking Down"
• "What You Do to Me"
• "Damaged Goods"
• "Happy Again"
• "You Give Me Something"
The fuzz tone on "You Give Me Something" reminds me of Norman Greenbaum's "Spirit in the Sky."
That was Jim's '77 white Les Paul Custom into an Analog Man Sun Face BC109 pedal, with a bit of reverb. The Sun Face is completely junky sounding, but in the best possible way. I've never really been able to use it live before, because when it's in a chain with other pedals, the sound goes crazy. But by itself, it was the perfect tone.
How did you get that biting British Invasion acoustic sound on "Breaking Down"?
We had the acoustic running through the amp with a basic Boss distortion pedal and blended it with the natural sound of the miked acoustic. That was an old Pete Townshend trick Jim hipped me to that I'd never used before.
Did you use any altered or open tunings on the album?
Not so much open tunings, but on the acoustic stuff I usually tune down a whole step [low to high, D G C F A D], which is something Paul McCartney did frequently in the late '60s and '70s. I found that it just suited my voice better.
Is that a Dobro on "Damaged Goods"?
That's actually my Martin D-28. That one particular track was produced by Rune Westberg. I played slide on it, and there was so much fret buzz that Rune was literally holding the neck to minimize it. I would have loved to use a Dobro on that track and "Happy Again," but it was the one thing Jim didn't have in his arsenal.
"Happy Again" is a beautiful heartfelt ballad. What inspired you to write it?
That was the first song I wrote for the album. I was listening to a lot of J.J. Cale and George Harrison at the time, and I was going through a low patch and just starting to come out the other side, so that's where that song came from.
The drum track was courtesy of a vintage Maestro Rhythm King drum machine, which is what J.J. Cale would often use. When I perform live, I'll often play that one on acoustic, because it works really well.
Which song has evolved the most from the recorded version in concert?
We've been sorting through two years of live recorded material in anticipation of releasing a live album this year, and I'd definitely say it's "The Fall." On the album, it's very mellow and melodic, but live it's turned into this Curtis Mayfield–style funky soul tune.
Would you consider yourself more a guitarist who writes songs or a songwriter who plays guitar?
I guess both. When I first heard the Beatles' White Album, it made me want to play guitar and write songs. The guitar was kind of the entry point for me. Certainly, a big part of how I identify is as a guitarist, and I like playing on other people's songs as well as just jamming.
But over the past five or six years, songwriting has really come to the forefront, and I think it's what I get the most out of. I never really wanted to learn other people's songs note for note. I wanted to take bits and pieces of what I heard and create my own thing.
Hamish Anderson's new album, Out of My Head, is out now.
All the latest guitar news, interviews, lessons, reviews, deals and more, direct to your inbox!