"It's Kind of a Crazy Sound": Watch Eddie Peabody Demo the Obscure Electric Banjoline on 'The Lawrence Welk Show' in 1962
Eventually put into production by Rickenbacker in 1968, this niche electric six-string was invented by the Banjo King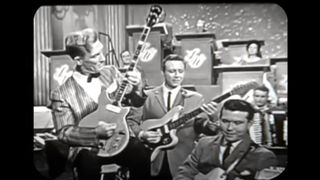 (Image credit: Teleklew Productions/American Broadcasting Company)
Occasionally, a well-intentioned fan will tell me I sound a bit like Bill Frisell.
I always thank them, and why not? Bill is a genius who has advanced the guitar into the new Millennium.
What am I going to say? "You're wrong!"
That said, I think I know where the compliment is coming from. It's about my neck-bending thing where I get a chorusing effect by pushing the neck while firmly holding the body close against my ribs.
This technique sprang from two things…
By switching to a Telecaster, I left the safe confines of the Stratocaster with a vibrato bar that would help disguise intonation problems.
My love and appreciation for the sounds of Eddie Peabody Plays Sm-o-o-o-thies.
Eddie Peabody was primarily a banjo player whose nickname was "King of the Banjo," and his career spanned 50 years.
Eddie also developed a six-string instrument called the electric banjoline with Vega (this instrument was played on the Lawrence Welk Show) though it was never put into production.
The electric banjoline is a very a rare bird that's tuned like a plectrum banjo (low to high: C, G, B, D) but has the third and fourth strings doubled in octaves.
1963's Eddie Peabody Plays Sm-o-o-o-thies was a showcase for this unique instrument.
He later worked on prototypes with Fender but the firm's owners, CBS, thought it too obscure.
It was Rickenbacker boss F.C. Hall who eventually committed to putting the Banjoline into production and the first instruments were completed in early 1968. It is believed no Rickenbacker Banjolines were made after 1971, rendering them highly collectible.
Like a kid in a candy store, Eddie used the vibrato bar to extremes, creating watery, slippery chord melodies that chime like a music box on steroids. His chord melodies are basic, charming, and beautiful.
I listened to Eddie Peabody Plays Sm-o-o-o-thies compulsively, and when I tried to mimic his sound on my Telecaster, I had to develop my neck-bending thing out of necessity.
I can't narrow down specifically where I use this technique, because I pretty much use it all the time, and I have the sore ribs to prove it.
Every tune on Sm-o-o-o-thies has pretty much the same vibe, but Eddie's sound is as addicting as potato chips.
I love that Eddie's voicings are a combination of a banjo mentality (generous slides and glissando effects) and extended voicings (employing 9ths and 13ths within a small chord grip).
The tracks I studied hard were "Tenderly," "Fascination," and "I'll See You in My Dreams," where Eddie plays chord melodies that are romantic and fitting, while still sounding like siren songs from an all-female alien planet.
His playing is focused and unique with a less-is-more mentality, and the end result is some of the trippiest "guitar" playing you'll ever hear.
All the latest guitar news, interviews, lessons, reviews, deals and more, direct to your inbox!
Jim Campilongo has 14 critically acclaimed instrumental records available on vinyl, CD and digital download here.