Doug Rappoport Discusses His Time with Edgar Winter and His Contributions to the Most Shred-Heavy Commercial Ever on the 'No Guitar is Safe' Podcast
Hear this rock guitar veteran plug into one of his favorite Les Pauls and share some stories from the road and the studio.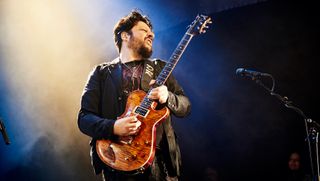 (Image credit: Rob Antonello/Future)
There's a reason Edgar Winter, Pat Travers, and other veteran rock bandleaders have recruited Doug Rappoport to play guitar for them: Whether he's playing simple riffs (like the opening to Winter's rock radio instrumental hit "Frankenstein") or standing alone on a big stage delivering a huge guitar cadenza, Rappoport's playing features a level of mojo, ferocity, and swing uncommon to most hard rock guitarists.
On the latest episode of No Guitar Is Safe (presented by Focusrite (opens in new tab)), that mojo and ferocity is on full display, as Rapps (as you're welcome to call him) plugs into one of his favorite Gibson Les Pauls and shows you how he evolved his style.
He also reflects on recording his solo music, as well as his adventure in the studio throwing down the incendiary lead guitar break on what may be the shreddiest TV commercial ever aired, MetroPCS's "Tech & Talk: Guitar Solo."
"I brought every amp I had to that session," recalls Rappoport of the spot. "I'm not sure which one we went with, but I think they had about $20,000 worth of mics on me."
I had a blast interviewing and trading a few licks with Rappoport, and if you'd like to hear the full one-hour interview, simply stream episode 141 of No Guitar Is Safe podcast below.
You can listen to No Guitar Is Safe on your smartphone's Podcasts app, or through iTunes (opens in new tab), Spotify (opens in new tab), Stitcher (opens in new tab), Google (opens in new tab), or wherever you get your podcasts.
All the latest guitar news, interviews, lessons, reviews, deals and more, direct to your inbox!