Debbie Davies Talks Life on the Road with Blues Legend Albert Collins
Backing one of her heroes "was a dream come true" says the guitarist.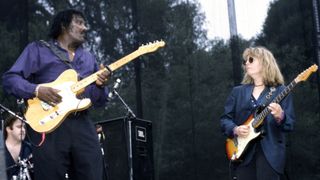 (Image credit: Tim Mosenfelder/Getty Images)
Debbie Davies' 1993 solo debut, Picture This (Blind Pig) came out on the heels of her time as second guitarist to the Master of the Telecaster himself, Albert Collins. From 1988 to 1991, she was a member of Collins' band, the Icebreakers, and it doesn't get much cooler than that. Debbie is still one of the most loved and respected members of the blues guitar community. She plays electric guitar right – the way she learned from Albert and from so many other greats that she's shared stages with.
Looking at your history, it seems that camaraderie and jamming is a big part of your musical journey.
The blues thing has always had a lot of camaraderie, and I saw that when I was out with Albert Collins and his friends. If you're on the road, there is this sense of isolation, and jamming is when that isolation completely falls away.
Who are some of your favorites to play with?
Coco Montoya, because he and I have such a history, and there are actual tunes we have worked out together. I also love sitting in with [Delta blues guitarists] Kenny Neal and Tab Benoit because they're so deep into the blues. They are both very improvisational players. Albert Collins is my main man, though. Playing with him was an amazing time for me.
How did you land that gig?
Coco introduced me to Albert – he had been Albert's drummer in the '70s. We would go to barbecues and to Albert's apartment, and then Albert asked me to sit in with him at the San Francisco Blues Fest. At the time, he was going through some changes in his band. He was going to need someone to pay a chordal instrument, and my name came up.
The night before they were leaving on tour, I got a call from his manager, and they offered me the gig. That was a dream come true. I didn't really know what exactly to do to get my own thing going, and I thought, "Wow, what if I could back one of my heroes for a while?" So it was something I thought of, and it actually happened. Pretty amazing.
Were you intimidated to jump in with Albert's band?
What really helped was that half the band had been on the road with Ike and Tina Turner, so they were used to traveling with a mixed-gender band. That wasn't an issue for them, and they weren't trippin' on it. It was not an easy thing to do, but I was so driven and ballsy that I just did it.
Had you been a fan of Albert's music before?
Yeah, definitely. He was just so strong and so special as a player. When he played a flurry of notes, it was pretty intense. It wasn't easy at all. Everyone would sit around and try and get it. I got to hold his guitar, and I'll tell you, the action was so low.
What tuning did Albert use?
The open tuning was an E flat minor. The A and the D strings were changed to make it a whole open chord. He'd play in D, so he'd have to capo way up the neck. I don't know how he bent those strings, but he sure did.
How did you feel when you first started going out on your own?
After I left Albert, I bought myself my first van and was booking myself between tours with Albert. It was a lot of work, but I was digging it. It was still a party.
How do you feel about the scene right now?
It seems to be getting better. Blues does go in cycles. I didn't know how lucky I was to have been out with Albert. It was such a ripe time for the blues
Browse Debbie Davies' extensive back catalog here.
All the latest guitar news, interviews, lessons, reviews, deals and more, direct to your inbox!