David Torn on Making Space for Improv in Collaboration, Future Projects and Wrangling 90 Fuzz Boxes in Search of Tone
Long known as a soloist and sideman, David Torn solidifies his union with Sonar on the new 'Tranceportation, Vol. 1.'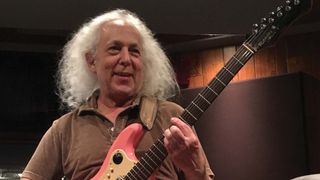 (Image credit: Filip Dingerkus)
Sonic explorer David Torn has conferred his exotic tones and textures on recordings by David Bowie, k.d. lang, John Legend, Madonna, Tori Amos, David Sylvian and Meshell Ndegeocello, among many others.
His loops and compositional skills have been put to use in movies like Friday Night Lights, Velvet Goldmine, Adaptation, The Big Lebowski, Reversal of Fortune and Three Kings. He's also recorded music under his own name and in largely free-improvisation ensembles like Prezens and Sun of Goldfinger.
But recording Sonar's Vortex in 2018 was the first time Torn joined an existing group. He was originally hired to produce the Swiss instrumental quartet, but the band members – guitarists Stephan Thelen and Bernhard Wagner, bassist Christian Kuntner and drummer Manuel Pasquinelli – dragooned him into playing on the whole record.
"I thought I would guest on one track," Torn says. "As a producer I don't like to get attached to playing the music because it doesn't give me time to develop perspective on what might make the sound better. But, basically, I joined the band."
Having acquiesced, the guitarist began a process of carving out his free-improvisatory space in music that, for the most part, is through-composed. A series of gigs with Sonar followed.
"I've come around to enjoy playing with the band live, and because it's working, I feel I should continue to do it," Torn says. "It has its own thing."
That thing is very different than the guitarist's experience in other live aggregations, where everyone is improvising on the spot and reacting to the flow of the music. But it's not as different as he initially thought.
"After we played two excellent gigs, I discovered that Bernard and Stephan do interact with me, though from a dynamics point of view," he says.
Torn enjoyed the experience enough to return for a set of songs written with him in mind, which has been released as Tranceportation, Vol. 1 (Rarenoise Records). Despite the fact that the quartet was once again playing through-composed pieces while he improvised, he feels he has found his place in the proceedings.
"When we're recording, I come up with parts that feel like an arrangement element. I'm not constantly playing," he says. "On the first record, I was defining spaces for myself, and that appealed to the band. Stephan, who composes most of the music, has since begun to have clearer ideas about what he wants.
"He loves it when I play blues-based stuff. I don't alter my normal melodic, harmonic or rhythmic approach; I'll play the bluesy stuff when I am in the middle of modulating through four keys over their one. It makes him happy, and I feel good because it's more like me than just playing blues."
The combination of an experimental soloist exploring sonic spaces over interlocking, minimalist gamelan-style guitar parts understandably evokes a certain legendary, progressive super-group from the '80s.
"We get these King Crimson comments," Torn confirms. "If you listened to Sonar's written parts played on marimba, xylophone or maybe a Fender Rhodes, you would think more Lou Harrison, or American minimalist school, than King Crimson."
Still, he understands - somewhat. "Given that these guys are playing chiming, interlocking pentatonic electric guitar, it feels very 1980s-era King Crimson. That was a marker point, because we had never heard that outside of that band. But when I play a solo and someone says it sounds like Adrian Belew, they've obviously never listened to Adrian. Or me, for that matter."
Taking one of his full-size Fryette amps to Europe would have been expensive, so Torn flew with his one-watt Fryette Valvulator GP/DI, a tube amp that fits in a suitcase. On the road, he runs it into the buffered second input of a Fender Twin or Vibro King.
"On Vortex, I set the GP/DI preamp really low, took the line out, plugged it into the low input of a Lazy J, and it sounded fantastic," he recalls. "This time, I had a different target amp: a rare Matchless, like a DC30-type head with four EL84s. It was the least responsive to the GP/DI of any amp I've used to date, other than a Fender Hot Rod Deluxe, which doesn't work at all."
For both Vortex and Tranceportation, Vol. 1, Torn used some combination of a three-space rack, a pedalboard, one guitar and the GP/DI. The rack houses a Lexicon PCM80 for reverb and a Lexicon PCM42 for loops and processing.
A custom mixer blends the sound of the Lexicons together with his pedals, which include fuzz boxes by Creepy Fingers, Basic Audio and Castledine, a Union Tube and Transistor Lab compressor, a Lehle Mono Volume 90, a DigiTech Ricochet and two Revolver looper/glitch pedals.
In a fashion more jazz than prog, the recordings, including the loops, were cut almost entirely live. "I might have overdubbed something on one piece on Tranceportation, but 99.9 percent of the time we're playing together," Torn says.
Recommended Listening: 'Tranceportation Vol. 1'
• "Labyrinth"
• "Partitions"
• "Red Sky"
The guitar of choice for both records was Torn's Desert Sand Ronin Morningstar. ("I call it the Supastah," he quips.) It's fitted with his Tornipulator circuit, which includes a kill-switch button and a specialized shaker mic capsule activated by a momentary button that bypasses the pickups.
The instrument also has a Magic Button switch that activates a custom passive piezo wafer residing in the bridge pickup cavity route.
This acoustic pickup causes tremolo springs to become very vocal and lets the instrument generate a wide array of sounds evocative of dobro, steel-string acoustic, banjo and sitar, which can be blended with the sound from the magnetic pickups.
"It has one of the better Magic Button circuits," Torn says of the guitar. "When it's on, and you turn the guitar volume down below 85 percent, the resonance of the instrument changes, and it sounds like you're playing a resonator guitar. When you dial back the tone, the width of the resonance changes.
"It's very different depending on which pickup or pickup combination you use. I don't like to use it with fuzz or at high volume, because I'm usually physically close to the amp, which puts it right on the border of screeching."
For clean sounds, Torn used only the GP/DI preamp and the compressor, but for grit the guitarist could call upon a cornucopia of choices. "I've got 80 or 90 fuzzes at home," he says. "This time I had a Basic Audio Bye-Bias, which is a silicon fuzz with a strong gate I can adjust with the volume control on my guitar. I brought the Castledine Supa Mk1, and on one tune it created a really bad David Gilmour sound.
"I also had a Creepy Fingers Regulus 8. I keep changing; it depends on my mood. I know that, on Vortex, I had a Fuzz Mutant, and a Fluxmachines Wonder Ground, which does super-Velcro-style gating. I also had a Shoe Pedals Pixel, which is another amazing gating, ring modulation–type fuzz."
Torn continues to keep busy with other projects. At present there's a trio, currently called Big Terminal, with saxophonist Tim Berne and Aurora Nealand on voice, electronics and accordion. And, of course, he's thinking about Tranceportation, Vol. 2.
"I also just finished two tracks with the Saudade Music Collective," Torn adds. "It's Chuck Doom, Chino Moreno from Deftones, myself, and occasionally John Medeski and Dr. Know. We just did one with dub originator Scratch Perry and Randy Blythe from Lamb of God. Every couple of months we put out an EP or two on Sargent House Records."
In the future, the guitarist would like to do more movie work and possibly put together what many would consider a modern guitarist's dream record.
"Bill Frisell and I did our first duet gig together at Jazz Gallery in New York," he reveals. "We discussed bringing some tunes, but that's not what happened. We just started playing in soundcheck and it was amazing. It felt so 'on.' The gig was good too. I'd like to do a record with just the two of us - no band, no guests."
All the latest guitar news, interviews, lessons, reviews, deals and more, direct to your inbox!