David Gilmour Reflects on His Career with Pink Floyd
"The great moments are legion. I have thousands of snapshot memories that are great."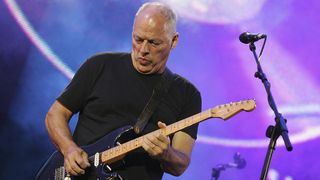 (Image credit: MJ Kim/Getty Images)
When I interviewed Nick Mason and Roger Waters and asked about the likelihood of a Floyd reunion, Nick said, "I love touring and I live in hope." Roger said it was "out of the question"…
Pink Floyd so far is a three-act play. Will there ever be a fourth act?
No. I'm done with it. I've had a life in Pink Floyd for quite a lot of years, and quite a few of those years at the beginning, with Roger. And those years in what is now considered to be our heyday were 95 percent musically fulfilling and joyous and full of fun and laughter.
And I certainly don't want to let the other five percent color my view of what was a long and fantastic time together. But it has run its course, we are done, and it would be fakery to go back and do it again. And to do it without Rick [Wright] would just be wrong.
I'm all for Roger doing whatever he wants to do and enjoying himself and getting the joy he must have had out of those Wall shows. I'm at peace with all of these things. But I absolutely don't want to go back. I don't want to go and play stadiums. I'm free to do exactly what I want to do and how I want to do it.
Give me an example of a Pink Floyd moment that you re-run in your head over and over again because it was magnificent.
Oh, the great moments are legion. I have thousands of snapshot memories that are great. Meddle was a great moment for us. It showed the way forth, and it was successful.
But then so was A Saucerful of Secrets. The Dark Side of the Moon obviously was the breakthrough moment and was terrific, and we suddenly moved up from the medium-time to the mega-time.
How about a moment when you curl up, thinking about the horror of it all?
I don't have any that embarrassing. Though if I watch Live at Pompeii, I cringe.
What do you remember of the brief period when you and Syd were both in the group?
It was tragic, really. There were five gigs we did together and he would… [sighs]. We've got a bit of film of Syd in a dressing room somewhere at one of those gigs, and he dances this little jig – a little dance – and he's all smiling and laughing. But you just look at him and go, "Oh God, no, tragic." Poor chap. I can't remember much about it. I was brand new, and I think they knew I'd be taking it over.
What are your memories of performing at Live 8? [Gilmour, Waters, Mason, and Wright performed for the first time in 24 years at the 2005 event.]
I thoroughly enjoyed it, though we had a few days of very tense rehearsals. Roger and I hadn't spoken to each other for years.
How did you decide what to play?
We made suggestions and Roger made suggestions, and I didn't care for Roger's suggestions. In the end, I thought, Actually, we're Pink Floyd and he's our guest, and he can just do what we tell him to do or fuck off.
What did he suggest?
He wanted to do "Money" – which we all did actually – and "Another Brick in the Wall" and "In the Flesh."
And he was overruled.
Basically, yes.
Roger once told me that musicians who achieve the level of success you achieved "must have holes in our psyche that only adulation can fill." That's quite an honest thing to say.
It is an honest thing to say. And I think he's right, actually. But hopefully I don't have that hole in my psyche any longer, as I don't see the need for that sort of adulation on that scale.
Also, the strange thing about stadiums is you have no way of telling if it's going well. It's a crowd – in the singular. You can't retain them as individuals. The power and energy of their love, so to speak, is a wonderful drug to boost your ego to the point where it's overinflated.
All the latest guitar news, interviews, lessons, reviews, deals and more, direct to your inbox!