Classical Guitar Albums Can Be Staid Affairs, but This One Is an Exception You Need to Know About
The Lima brothers put their personal style on a selection of classical standards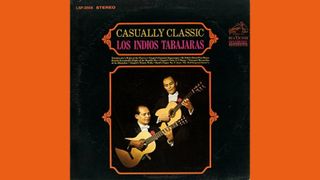 (Image credit: RCA)
Classical guitar albums can be staid affairs. Casually Classic is an exception. It's a record that breaks through to feel free, loose and in-flight. It's a first-class journey, courtesy of Los Indios Tabajaras, a guitar duo that consisted of brothers Antenor and Natalicio (Nato) Lima.
Los Indios Tabajaras translates to "people who live in the north-east of Brazil," which is literal, to say the least. The brothers were indigenous Brazilians from the Tabajara tribe. They spent three years traveling on foot 1,200 miles to Rio de Janeiro, where their musicality was forged.
Most of their musical background is vague, but I did find they were self-taught, recorded for RCA Latin America, and took a break to study music before resuming their career as Los Indios Tabajaras.
The brothers were then heard by Chet Atkins, who at the time was producing artists for RCA America. They went on to record their own instrumental record on RCA and proceeded to have a discography so vast, it reads longer than a Staples receipt.
Los Indios Tabajaras also enjoyed commercial success with "Maria Elena," a song that has been covered by the always discriminating Ry Cooder as well as by Marty Robbins, Nat King Cole and Jimmy Dorsey.
The brothers made the tune their own, and their recording of it spent 14 weeks in the top 100 in 1963. It's a must-hear, it's plodding monolithic rhythm supporting beautiful Django-esque lead lines that create an expressive world of their own.
While "Maria Elena" and most Los Indios Tabajaras' albums offer many wonderful moments, my personal favorite is Casually Classic. Released by RCA Victor in 1966, this great LP includes selections from Chopin, Tchaikovsky and Bach and an assortment of lovely and stunning renditions of classical standards.
It's a delightful listening experience and a great way to meet the unforgettable artistry of Los Indios Tabajaras, who really let their hair down and shred.
The album opens with Chopin's "Valse in C-Sharp," giving the listener a taste of what will follow stylistically: tempo changes so locked in that only brothers could pull them off, as well as jaw-dropping technique, sprinkled with romanticism and played from the heart.
"Flight of the Bumble Bee" is just crazy good. It might be the fastest guitar playing I've ever heard in my life, and it's a showstopper. As far as I'm concerned, the two brothers could show up to a gig and play this one tune and I'd leave a satisfied concert goer. Vivo Nato!
Aside from being a great hang, Casually Classic has given me a lot. When Luca Benedetti and I recorded "Minute Waltz" on our album, Two Guitars, I referenced the Los Indios Tabajaras' version as a successful template.
The brothers' playful tempo changes made it okay for us to humanize the piece and emphasize the beauty of the song – to brush off the dust of historical precedent and make "Minute Waltz" ours too.
You might think you're not a classical guitar person, but I urge you to check this record out, no matter what preconceived leanings you may have. Casually Classic is a great way to enter the pristine house of classical guitar and hear the explosiveness of Los Indios Tabajaras, who breathe fire and soul into these classical standards.
All the latest guitar news, interviews, lessons, reviews, deals and more, direct to your inbox!
Jim Campilongo has 14 critically acclaimed instrumental records available on vinyl, CD and digital download here.