"I wrote a few songs with Joe Strummer. I don't know if they'll ever see the light of day. I like to think that I guard Joe…" Brian Setzer opens up on old friends, new music – and shows us his gear
Brian Setzer made rockabilly cool again and revitalised the big band sound in the era of grunge. With a blazing new album, The Devil Always Collects, he opens up on his creative processes and shows us some of his amazing guitars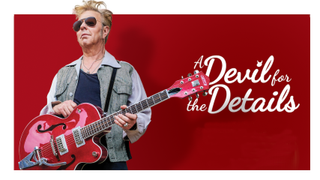 (Image credit: Tony Nelson)
Brian Setzer is, as he once sang with the Stray Cats, built for speed. And you have to keep the pedal down just to keep up with him – especially when it comes to his music. Over the past nearly 50 years — primarily with the Stray Cats and on his own — Setzer has puzzled and confounded listeners and been a master of doing what you'd least expect. Just sporting a pompadour and playing rockabilly during the AOR- and punk-dominated late '70s would have been nonconformist enough, but Setzer, now 64, has made a career out of keeping us guessing — and pleasing us far more often than not.
Born in Massapequa on Long Island, Setzer started out playing the euphonium in his school's jazz bands. He could be found, underage, at the Village Vanguard in New York City's Greenwich Village, but he was quickly making connections between the broad array of jazz he loved and contemporary rock. He was particularly drawn to rockabilly, gravitating toward body ink, pompadours and the big, open sound of the Gretsch 6120. He and his brother Gary started a band called the Tomcats, which became the Stray Cats with the addition of Lee Rocker (née Drucker) on double bass and Slim Jim Phantom (McDonnell) on drums.
Long Island — and America, for that matter — was not a particularly inviting incubator for throwback cats, so Setzer, Rocker and Phantom found better fortunes over in London, where there was greater interest from fans and fellow musicians alike. Dave Edmunds took the Stray Cats in from the cold, producing the group's self-titled 1981 debut album, a number 6 hit on the U.K. charts that launched Top 10 singles such as Runaway Boys and Rock This Town. After issuing Gonna Ball later that year, the group compiled the two sets into Built for Speed and came back across the pond, where MTV was able to help translate the vision and turn the Stray Cats into a Gold-certified sensation at home, too.
Then things got really interesting for Setzer. The Stray Cats' first breakup, in 1984, sent him out into the world as a solo artist without parameters. Setzer played with Robert Plant's outfit the Honeydrippers, then surprised the world with his heartland rock–leaning solo debut The Knife Feels Like Justice in 1986. Four years later, he introduced the Brian Setzer Orchestra, an 18-piece big band that played jump blues (its rendition of Louis Prima's Jump, Jive an' Wail soundtracked a Gap commercial), won a pair of Grammy Awards and launched an annual Christmas tour.
For the past four decades he's mixed the BSO with Stray Cats reunions and solo albums — one of them, Wolfgang's Big Night Out in 2007, was filled with six-string interpretations of classical compositions and scored a Grammy nomination for Best Classical Crossover Album. His 2011 set Setzer Goes Instru-Mental!, another Grammy nominee, blended originals with trio covers of Bill Monroe's Blue Moon of Kentucky and Ray Noble's Cherokee, among others.
This fall, Setzer released The Devil Always Collects, the follow-up to 2021's Gotta Have the Rumble and his second consecutive collaboration with producer Julian Raymond. Like its predecessor, the 11-song set was recorded remotely, with Setzer and engineer Jason Orris working at the Terrarium in Minneapolis, where the guitarist resides, and sending files back and forth to Raymond in Nashville. Setzer and regular lyricist Mike Himelstein collaborated on five of the tracks, and his wife, Julie, co-wrote one (Psycho Suzie).
He also covers Del Reeves' Girl on the Billboard and Nick Lowe's Play That Fast Thing (One More Time). Those paying attention — and there are many who do — will note that the primary guitar this time out is a "Frankenstein" 1957/'58 Gretsch Duo Jet, which gives The Devil Always Collects a solidbody bite that's still true to the twang that's his stock in trade.
And perhaps best of all, Setzer is hitting the road again for the first time since the BSO's holiday tour of 2018 — refreshed and, he says, ready to rumble once again.
You recorded Gotta Have the Rumble and The Devil Always Collects the same way, remotely. What appeals to you about that as a process?
First of all, it certainly is a pleasure to just go down the block, like you're going to a job, and then come back home at the end of the day. Something feels good about that. But, y'know, the old school of thought is you get everybody in the room and you make a record. That's how it was done and the way I always thought it should be done, and this blows it out of the water. 'Cause if you think about it, even if you're all in the room, you're kind of in your own room. Even when I make records with the Stray Cats, or with the three-piece band, the bass player is acoustic, and there's a lot of leakage, so we put him in the little vocal room. We call it the fish tank, because you can only see him through the glass. So he's not really in the same room. And then the drummer is partitioned, because he's so loud and you can't have leakage into your microphone. So when you're in different places like that, does it really matter if you're all in one place or in other parts of the country? These records really came out sounding good, even though we weren't "together."
So how did you know what you wanted this record to sound like?
I always let them be what they want to be. It always starts with the writing, whatever comes out. That's like turning on a faucet, I like to say. Once I start rolling, it just comes out that way.
This record, to me, sounds a little more, for lack of a better word, popabilly or psychobilly. It has a little more edge to it. There's definitely ways you can go with rockabilly music. You can have a more country approach, for instance. This one seems to be a little more intense, and
I just went with it.
Was there a first song or two that came along and put the album on its path?
I think the first song I wrote for it was Rock Boys Rock. I wasn't getting the sound I wanted out of the 6120; it just was not matching how frantic the song had become. So I plugged in this Duo Jet I've got — it's a Frankenstein, a '57 [body], '58 [neck] Duo Jet, and I just turned it up a little bit louder than I normally would. Jason and I looked at each other and were like, "Oh gosh, that's it!" Little things like that inspire you to keep writing, to keep moving in a certain direction. On the last record it was this old reverb unit that got me to write songs. On this record it was the Duo Jet.
What's the Duo Jet's story?
I've had it for close to my entire life. I think it came from Canada originally, and it's been worked on a lot; I'm not sure how much of a Duo Jet is really left in that guitar, really. I used it on my first Rockabilly Riot album [2005], when I did all the Sun [Records] sessions covers, and it sounded great, 'cause I wanted the old single-coil sound. But when I cranked it up a little more than I should this time, it became that kind of flange-monster thing. What a great-sounding guitar!
I don't know what it is about it. It's almost Telecaster like, but not as mellow. It's got more twang to it. So I used it on most of the record, and this is my first record where I didn't play the 6120 that much.
You can hear the Duo Jet as an inspiration on something like "Black Leather Jacket," which is kind of an outlier — almost metal, really — on the record.
Yeah. [sings the lick] It's darker than the happy rockabilly songs. Maybe that was from being cooped up in the house for so long — I was getting a little aggravated, like everyone else. It got frustrating, so maybe [the song] came out of that direction. These songs just develop, y'know? I don't control them. I think they control me. The Devil Always Collects was like a little monster.
That riff just killed me.
How did you become a Gretsch guy, and what keeps you one today?
Those things still bring me the most fun out of anything. Out of old motorcycles, old cars — it's Gretsch guitars. I bought one [his 1959 orange 6120] in the late 1970s because I wanted to look like Eddie Cochran. I didn't even know if they'd sound good. Back then, no one knew who Eddie Cochran was, so I found it in the local paper for 100 bucks. It's such a special sound. People who play solidbody guitars don't have this happen, but the sound comes out of the amplifier, it goes back through the guitar, so you can control how much sustain you want, how much feedback you want, and the whole thing shakes. You feel it. It's the best thing in the world, for me.
And the right amp?
Again, that's just a matter of luck. I picked up a Fender Bassman. It's from 1963. I got it because I had to beat Slim Jim on the drums. It's a loud amp — just that combination. When I made some money and I came back from England, I thought, Now I'm going to buy what everyone else plays, and I got a Fender Stratocaster and a big Marshall amp. But I could never beat the Gretsch through the Bassman.
When Ready to Rumble came out, you talked about having some songs you wrote with Joe Strummer still around. Did you consider them for this album at all?
No. That was in a different style. I've got three or four [songs] around, but I like to think that I guard Joe. I don't talk about him too much. We were close friends. I like to keep his memory the way I think he would like it. If those songs ever see the light of day, I'd probably run them past Lucinda, his widow — "Would it be all right if I did this?" — just because I have that much respect for him.
What was working with him like?
Joe and I were just kind of family-vacation friends, really. Back in the day Joe and his family would come out to California, where I was living at the time, and we'd spend the whole summer together, simply as friends. And then it might be, "Hey Joe, you have any lyrics you're writing with that band you got, The Clash? [laughs] And he'd sit down and write some lyrics, and I'd write songs for them. A couple of them I used, and I've got these three or four I put away and forgot about.
So we'd do it just for fun, but we never spoke about our bands. We talked about everything but — about being friends, and Cadillacs. We'd drive down to the Mexican border. He was fascinated with American culture and always wanted to see what it was like.
I remember, we stopped once 'cause there were cowboys playing poker in a field and he wanted to talk to them. I was like, "Joe, maybe you don't want to stop and talk to these guys," but he did. [laughs] I think they cut him some slack because they knew he was from somewhere else, 'cause he had a funny accent to them. And he loved that kind of stuff — crazy American stuff. We had a lot of fun together. He's like me, but he was British, right?
Do any of the new album's songs have some history from sitting around and waiting for their time, as it were?
No. I usually dig into what I have laying around; I start fresh. Sometimes I'll be digging through my old cassettes and something might jump out at me — a guitar lick or a song title. But not that often. And then even, it's just a starting point and I'll take it somewhere else.
You made a comment in announcing The Devil Always Collects that you'll be playing "some solo guitar and little things I've worked out by myself" at shows this year. Does this mean truly solo, as in "unaccompanied"?
Yeah, I want to play some solo guitar stuff, just by myself. That's something I've never done before. I just played some local shows here at a little pub down the block, just to see how things would go over and to see how everything sounded. I hadn't played in quite a while so I wanted to see how my ears work — how my brain works after the break. And I wanted to play some solo instrumental things. For instance, I have a version of Georgia on My Mind that I always wanted to do. I did Cherokee straight-up, almost kind of jazz. I did a bluegrass thing that inspired me from the past. I just played and it really went over well, I think because there's not many people that play like me, to be honest. People were very attentive, so I'm gonna keep doing it, plug it into the middle of the show or something.
Nobody plays like you — that's kind of the crux of the matter here. Where does that range you've explored all these years come from?
I just liked all kinds of music, and I felt that to limit yourself to just one style is like using three fingers when you have five. The first music I remember hearing was rockabilly music around the house, Elvis, and music to TV shows and cartoons. I mean, have you honestly ever listened to how good the theme to Mannix is, or the theme to Rocky and Bullwinkle? It's incredible! I was really influenced by all of that music that you just heard on everyday TV. It might sound silly, but all of that music was written so well. I think the guys who wrote those things came from that era of big-band songwriting, and all those great movies with the scores. So that was my first taste of music, really, when you're home sick from school one day and you're watching some old cartoons, going, "Wow, what's that?" and absorbing all kinds of music. I can still hum those old songs. I think a lot of people can. It was written really well, and it inspired me.
What was the allure of rockabilly — and why do you think it's maintained its appeal for nearly 70 years now?
It's got the best energy. It's pure. It was the original spirit of rock and roll. Y'know what Jimmy Page said to Slim Jim? "Y'know, the second solo on [Gene Vincent and the Blue Caps'] Double Talkin' Baby that Cliff Gallup did? I still play it. It's the most amazing thing." Rockabilly has that certain purity and energy about it.
Why did that happen? I think a lot of guys were young and they came back from the war and they had nothing to do. Or they picked up a trade, maybe, and all of a sudden they started tinkering with electronics, and that led to guitars. I don't know. It's fascinating, though: The original rockabillies, the guys from Virginia played different than the guys from Kansas City. They had the radio. They didn't have computers. They didn't have different ways of hearing music. Whatever was being played [on radio] was what they were influenced by. In those days you had James Burton from Louisiana, who played a whole lot different from Cliff Gallup in Virginia.
It was all so regional. And Cliff Gallup picked up a little bit of jazz coming from New York. You could hear the region in their playing.
The Rolling Stones were early Stray Cats adopters and even had you open for them. What was that like?
When they first came in to see us, I knew maybe three songs by the Rolling Stones. I didn't know much about them. I knew Honky Tonk Women and the hits. I was more infatuated with Carl Perkins and Jerry Lee Lewis. I know it sounds kind of crazy, but I discovered [the Stones] after they discovered us. At one time I think they wanted to sign us to some sort of record label that they were going to start, but I don't think they ever did that.
You did largely get the validation from your heroes. That had to feel good.
The original rockabilly guys I met were all so happy for us. They were just happy to hear the actual music back. That to me was the real excitement, when I got to meet those guys: "You're the guy that did Red Hot!" That meant more to me than meeting the current people.
You have a career that's generally gone against the grain — you played rockabilly when punk and new wave were popular, and big band when grunge ruled. Are you a natural nonconformist or a contrarian?
[laughs] That's my mom, just her streak of stubbornness. I might have gotten a little of that. I'm sure it's worked against me. But I've been lucky enough to do what I've always wanted to do. And to play guitar and have anyone take notice of it, not to mention play the kind of music that lasted for a couple years in the '50s. I'm surprised it got out of my garage, man. I was very lucky that other people liked it. It'll never be this huge thing like country music or hard rock, but it's my thing.
Is there anything you've done that would surprise people who just know the Stray Cats or maybe the Orchestra?
I had a new wave band called the Bloodless Pharaohs. That was the first band that got me playing [New York City] punk rock clubs: CBGB, Max's. I didn't sing. It was like Roxy Music meets rock and roll. You'd have to hear it. It was really interesting stuff. I was just going along with it all. One night I'd play with the Pharaohs, the other night I'd play with some cat band — the Bobcats, the Stray Cats... We'd change the name all the time. But, yeah, the Bloodless Pharaohs. We made a record, but I'm not sure you can find it anywhere.
From your elder-statesman stature now [Setzer laughs], what's your advice on how to develop a distinctive style?
Well, that's a good question. When I first started, I heard people on the radio and I really liked the way they had their own distinct sound. The first thing I thought, probably the most important thing, is, "I wanna get my own sound," and I somehow stumbled upon that Gretsch-Bassman combination. I was influenced by a lot of people, but I got my own sound going. Somehow you've got to find that. You've got to find that voice, with the guitar-and-amp combination or whatever. You don't need the crazy Les Paul–through–the Marshall; you can get something that's unique. The other thing is to not be limited — put all sorts of music together. There are no rules. I say you follow rules all day; when you play guitar is the one chance you get to not have to follow rules. So a lot of it is just keep trying, and then all of a sudden you find your own sound. It can be done.
What would you advise as the best way to keep growing and continually improve — like you've strived to?
I think you have to keep a positive outlook in life. It's pretty easy to go down the dark avenues. I think keeping positive rises you above a lot of the chatter of negativity, especially on the internet. See, I didn't grow up with the internet. When opinion started to come out [online] without any responsibility being taken, it really shocked me at first. It really did. I think, especially as a young person today, you have to rise above it and not pay attention to it.
Just be yourself, try and keep positive. Certainly, if people are telling you what to do, don't listen to them. Just keep doing it how you want to. That's the best piece of advice I can give.
Is there anything that you haven't done yet that you'd like to?
I just want to get back in the pool and play again, 'cause it's been a while. I'd like to do the trio aspect a little, then next time I want to play with the Stray Cats, because that's the best rockabilly band. The best one. So I'm probably gonna do that next summer.
I have two albums' worth of my own songs I want to play, so once I get that finished I'll get back and do the Stray Cats. It's got that chemistry. It's got magic that you can't put into words. That's what keeps you coming back. You want to capture that little piece of magic, 'cause we don't know why it happens and we want to figure it out.
Brian Setzer would like to thank Adam Meyer of Mill City Lutherie, in Minneapolis, who reset the necks on two of his 6120s, as well as Twin Cities luthier Wyatt Overman. The Devil Always Collects is out now to buy or to stream.
All the latest guitar news, interviews, lessons, reviews, deals and more, direct to your inbox!