5 Reasons Beverly "Guitar" Watkins Remains a Guitar Legend
A dedicated blues artist she cut her debut solo record at the age of 60.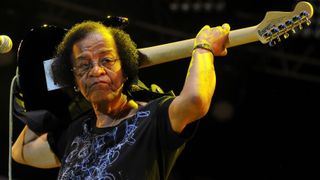 (Image credit: David Redfern/Redferns)
She shared stages with James Brown, Ray Charles and Bobby "Blue" Bland, and played guitar on one of John Lennon's favorite sides.
Here's are five reasons Beverly "Guitar" Watkins was a total bad-ass…
1. R&B Pioneer
In a career that lasted more than six decades, Beverly "Guitar" Watkins performed across the U.S., South America, Europe and Australia. When she passed away in October 2019, the music world lost one of R&B's pioneering guitar women and a musician famous for her fiery displays of blues guitar virtuosity, performed for much of her career on a red 1962 Fender Mustang.
2. Early Starter
Born in Atlanta, Georgia, on April 6, 1939, Watkins was raised by her maternal grandparents when her mother died a few months after giving birth to her. Around the age of nine, Watkins got her first guitar. "The name of it was Stella, and it had the catgut strings on it," she told Living Blues magazine in an April 2017 feature.
Her interest in the guitar waned, but it was revived by a preacher named Reverend White, who played an electric guitar model. She borrowed his gear to perform "Blue Suede Shoes" at her high school talent show, a classic pairing of the sacred and profane. Shortly afterward, her Aunt Bee bought her a more respectable trumpet to play.
At 17, Watkins relocated to a new high school where, to her luck, the band teacher was Clark Terry, a trumpeter and educator who had performed with Count Basie and Duke Ellington and been a mentor to Miles Davis and Quincy Jones. Terry purchased a guitar for Watkins and taught her the fundamentals of playing it.
3. Dr. Feelgood
Her break came soon after when she landed a spot in the new band of Piano Red, an albino barrelhouse piano player who had made a name for himself with national hits like "Rockin' with Red" and "Red's Boogie," and as a DJ on Atlanta radio. With Curtis Smith on lead guitar and Watkins on rhythm, Red's band performed as Piano Red and the Meter-Tones.
In 1961, Red renamed the band Dr. Feelgood and the Interns, after a nickname he'd used on his radio show. The group made its recording debut that year with a song written by Smith called "Dr. Feelgood." The record was a hit in the U.S., and in the U.K., where a fan by the name of John Lennon turned it over to discover its flipside, "Mr. Moonlight." The song soon became part of the Beatles' early repertoire and was recorded for their 1964 album Beatles for Sale.
4. Perseverance
After Red's death in 1985, Watkins landed a steady gig at Underground Atlanta, a shopping and entertainment district. There, for the first time, she played and sang, honing her act for better times ahead.
They came within a few years through Danny "Mudcat" Dudeck, an Atlanta-based blues guitarist who'd made a connection with folklorist Tim Duffy of the Music Maker Relief Foundation, which supports artists who preserve the South's musical traditions.
Watkins became one of the foundation's first major beneficiaries. In 1999, at the age of 60, she cut her debut solo record, suitably titled Back in Business, which was helmed by famed British blues producer Mike Vernon and nominated for a W.C. Handy Award. She ultimately released four albums, including one gospel record.
5. Showmanship
Watkins' shows were must-see events where she played on her knees, and with the guitar behind her head, sometimes while dressed in what appeared to be her Sunday best.
"When Beverly performed, she moved people, but especially young women and girls," Dudeck told the Atlanta Journal Constitution this past October. "She rocked harder than a man, and that was inspiring."
Late in life, Watkins was slowed by health issues, including a heart attack, lung cancer and a brain aneurysm, but she never stopped performing. Throughout her last years, she continued to play on the first Sunday of each month at the church in Commerce, Georgia, where she was raised. She told Living Blues it was a thrill for her to go down "the same roads I used to walk when I was a little girl."
Watkins died of a heart attack on October 1, 2019. She was 80.
All the latest guitar news, interviews, lessons, reviews, deals and more, direct to your inbox!
Guitar Player is the world's most comprehensive, trusted and insightful guitar publication for passionate guitarists and active musicians of all ages. Guitar Player magazine is published 13 times a year in print and digital formats. The magazine was established in 1967 and is the world's oldest guitar magazine.
When "Guitar Player Staff" is credited as the author, it's usually because more than one author on the team has created the story.