Wolfgang Van Halen and Matt Bruck to Run EVH Gear
The guitar hero's son and longtime tech will take the reins of his popular guitar and amp brand.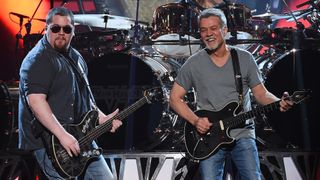 (Image credit: Ethan Miller/Getty Images)
In the wake of Eddie Van Halen's tragic passing on October 6, Van Halen's manager, Irving Azoff, has revealed plans for the future of EVH Gear, the popular guitar and amp brand Van Halen founded in 2007.
"Wolf[gang Van Halen, Eddie's son] and Matt Bruck [Eddie Van Halen's longtime tech] will run it, and that's going to continue," Azoff said in an interview with Pollstar.
Azoff also commented on the possibility of the unearthing of previously unreleased recordings, saying "Wolf and Alex [Van Halen] will go up to 5150, the studio in Ed's house, but there's been a lot of recording over the years. I can't predict that for sure there will be anything new, but for sure they're going to look at it."
Additionally, Azoff confirmed that a much-rumored 2019 Van Halen stadium tour – featuring the band's original lineup of the Van Halen brothers, David Lee Roth and bassist Michael Anthony – was indeed being planned before being called off due to the deterioration of Eddie Van Halen's health.
"We had lots of stops and starts, but there was every intention of doing a summer stadium tour (in 2019), and as the cancer moved around, [Van Halen] was physically unable to do it," he said. "There is no doubt in my mind that it would have been massive."
Get the latest news, reviews and product advice straight to your inbox.
Thank you for signing up to GuitarPlayer. You will receive a verification email shortly.
There was a problem. Please refresh the page and try again.