Watch the Explosive "Drain You" Performance from Nirvana's Final Show
By Rod Brakes published
Kurt Cobain plays one of his personal favorites from 'Nevermind' for the last time on this day in 1994.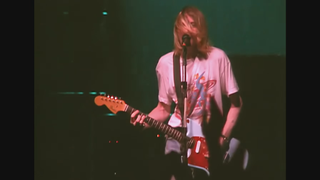 (Image credit: Geffen Records/YouTube)
On this day in 1994, Nirvana played their final show. A little over a month later, the world would receive the devastating news that Kurt Cobain had passed away aged 27.
While this tragedy may have signaled the end of a groundbreaking period in music history, Cobain's era-defining legacy lives on as generations of electric guitar players continue to find inspiration in his life's work.
In addition to audio and music videos, some of Nirvana's best live footage can be found on the band's official YouTube channel.
Such gems include cuts from the iconic MTV Unplugged concert released in 1994; the Live and Loud video recorded in Seattle in 1993; the unforgettable appearance at the UK's Reading Festival in 1992; and the Live At the Paramount show recorded in Seattle in 1991.
Also available are clips from the Terminal Einz show filmed on March 1, 1994 – including an explosive performance of "Drain You" from Nirvana's watershed 1991 album Nevermind.
Although he was diagnosed with bronchitis and laryngitis, Cobain's voice remains strong throughout this rendition of a song he once described as a personal favorite.
Commenting on "Drain You," Cobain told Rolling Stone he thought the song was, "as good as 'Teen Spirit.' I love the lyrics, and I never get tired of playing it."
"Drain You" is believed to feature the most guitar overdubs on Nevermind.
In the 2005 film Classic Albums: Nirvana – Nevermind, producer Butch Vig explains how the song's five-track "orchestral" guitar sound was achieved using a combination of Mesa/Boogie and Fender Bassman amps along with a "super grunge" pedal/Bassman combination.
According to Vig, however, Cobain was somewhat reluctant when it came to recording multiple overdubs.
He therefore had to use some 'creative psychology' in order to convince the guitarist he needed to repeat performances, claiming previous takes weren't captured properly or that the tuning was off.
"I don't know how I got Kurt to do all those guitars," says Vig. "I think I was lying, basically... He thought he was doing the same part and, meanwhile, I just kept putting him to new tracks."
Get Nevermind on vinyl here (opens in new tab).
Rod Brakes is a music writer with an expertise in all things guitar-related. Having spent many years at the coalface as a guitar dealer and tech, Rod's more recent work as a journalist covering artists, industry pros and gear includes writing hundreds of articles and features for the likes of Guitarist, Total Guitar, Guitar World, Guitar Player and MusicRadar, as well as contributions for specialist books, blogs and social media. He is also a lifelong musician.
Get the latest news, reviews and product advice straight to your inbox.
Thank you for signing up to The Pick. You will receive a verification email shortly.
There was a problem. Please refresh the page and try again.