Watch Kurt Cobain Slay Amsterdam's Paradiso Club as Nirvana Spearhead a New Chapter in Rock 'n' Roll History
This 1991 live clip of the song "Lithium" perfectly captures the energy and immediacy of a band that brought integrity back to the mainstream.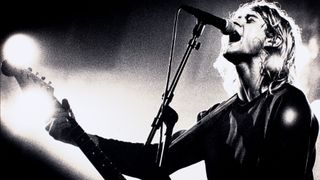 (Image credit: Niels van Iperen/Getty Images)
Much has been made of Nirvana's timing, mostly how the dive-bombing and strutting hair-metal din that had wailed from L.A. since the second half of the 1980s was decisively silenced by 1991's Nevermind.
That was a great story for music journalists covering the impact of the band's second album and the emergence of Seattle's grunge scene as a whole at the time. But the deeper truth for many guitar players offers something more than merely pitting subgenres of rock against each other.
For a generation of players, Kurt Cobain emerged as a worldwide star at a crucial point in their development.
When you're first coming to grips with the guitar, the sheer enormity of possibilities can be the very thing that drives you away. Kurt's songs offered accessibility for budding guitarists, with an energy and force we could aspire to, and be inspired by.
And his intense live performances with bassist Krist Novoselic, drummer Dave Grohl – and later, second guitarist Pat Smear – proved the point.
He was not an overnight sensation. How many guitar players ever are? The instrument takes time and dedication.
Kurt served his time, taking the first tentative steps in his bedroom in Aberdeen, Washington with the electric guitar his uncle Chuck had given him for his 14th birthday; taking a month of guitar lessons and learning his first riff (AC/DC's "Back in Black"); and roughing it in a freezing van in North America touring Nirvana's debut, Bleach.
It was the pursuit of a dream to communicate his music to others.
But misconceptions about his guitar playing remain. Kurt Cobain didn't kill off the solo, and he wasn't guitar's revolutionary anti-hero.
Instead, the energy and immediacy of his talent brought an integrity back to the mainstream that cut to the very heart of what makes rock and roll such a visceral force.
"His playing was misunderstood," notes Earnie Bailey, the guitar tech who worked closely with Kurt through much of his Nirvana touring career.
"He was more advanced than he revealed, and his minimalist playing was more about subtracting the notes and clichés he disliked and working with what's left."
That remainder adds up to a compelling legacy.
Just as Cobain was inspired by everyone from Buzz Osborne to Ace Frehley and Black Francis, there are countless players he inspired, and there continues to be.
Almost 30 years after his passing, that influence resonates as much as every power chord and discordant lead on Nirvana's records.
Image 1 of 2
Buy the Nevermind 30th Anniversary Super Deluxe box set here.
All the latest guitar news, interviews, lessons, reviews, deals and more, direct to your inbox!
Guitar Player is the world's most comprehensive, trusted and insightful guitar publication for passionate guitarists and active musicians of all ages. Guitar Player magazine is published 13 times a year in print and digital formats. The magazine was established in 1967 and is the world's oldest guitar magazine.
When "Guitar Player Staff" is credited as the author, it's usually because more than one author on the team has created the story.