Watch Eddie Van Halen, Steve Lukather & Billy Sheehan cover Jimi Hendrix, Led Zeppelin and The Beatles at a 1996 ALS Benefit Concert for Jason Becker
27 years ago an all-star event, in aid of Jason Becker, brought to the stage some of the finest guitar players in the industry, including EVH and Luke…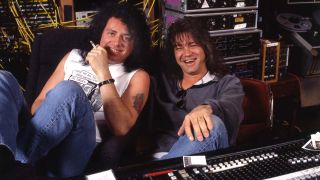 (Image credit: Robert Knight Archive/Getty Images)
It's pretty undeniable that Eddie Van Halen and Steve Lukather's most famous team-up was on Michael Jackson's 1982 smash Beat It — with Van Halen providing that iconic solo and Lukather taking care of just about every other guitar sound on the track.
However, the two shared studios and stages on many occasions over their careers. One of those times was for an all-star ALS benefit concert for Jason Becker, which featured not only EVH and Luke but also Zakk Wylde, Billy Sheehan and Becker's Shrapnel Records alumni Richie Kotzen, Marty Friedman and Vinnie Moore.
No official recording of the show (which took place on 17 November 1996 at the Rivera Theatre in Chicago) exists; however, thanks to a resourceful concertgoer with a camcorder, we can relive some of the guitar magic of that night in the video below.
Joined by Pat Torpey on the drums, Van Halen, Lukather and Sheehan appeared under the name The Lou Brutus Experience — a nod to the American radio DJ who helped promote the event. The "Experience" performed tracks from Jimi Hendrix (Little Wing, Fire), Led Zeppelin (Good Times, Bad Times), The Beatles (I Want You (She's So Heavy)) and The Surfaris (Wipe Out), as well as Van Halen's Ain't Talkin' 'bout Love with Lukather taking vocal duties on the night.
There are some truly immense musical moments throughout from all involved; however, Van Halen and Lukather's unabandoned guitar gymnastics, as they trade high-energy solos on each of the tracks, is the highlight. The event was a success in its fundraising efforts; however, due to his worsening condition, Becker could not attend on the night.
Less than a decade before, Jason Becker (teaming with Marty Friedman) had burst onto the scene with the release of Cacophony's Speed Metal Symphony in 1987 — before releasing his solo debut, Perpetual Burn, the following year. His star would continue to rise, garnering the attention of David Lee Roth; however, not long after taking over guitar duties from Steve Vai in Roth's solo band in 1989, Becker was diagnosed with ALS. He was 20 years old.
Before ALS took away Becker's ability to play the guitar, he managed to complete his contributions to David Lee Roth's third studio release, A Little Ain't Enough, by using lighter gauge strings combined with short productive bursts that would leave him physically drained. A Little Ain't Enough was eventually released in 1992, by which time Becker had lost control of most of his body.
Van Halen became aware of Becker's situation, and the two met at Becker's home in August of '96, where Eddie gifted Becker a "first run" (number 69) of his newly launched Peavey Wolfgang signature model and signed it, "Jason. We will play guitar together in the future. Love from heart to your soul. Eddie Van Halen, '96."
The guitar is set to go under the hammer on 14 December 2023 via auction house Guernsey's as part of its Iconic Items From The 20th Century collection. In deciding to part with the treasured instrument, Jason Becker told Guitar World, "A while ago, I was looking at the guitar Eddie Van Halen gave to me, hanging on the wall, covered in dust, and I thought that's a shame."
"It should be with someone who would love to have it and can give it the attention it deserves," says Becker. "I can't play it, and the best part of it for me now is the memory of his kindness."
All the latest guitar news, interviews, lessons, reviews, deals and more, direct to your inbox!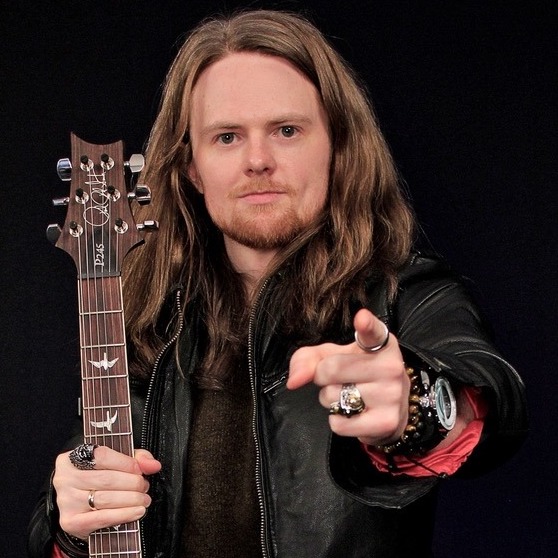 The Editor in chief of Guitar Interactive since 2017, Jonathan has written online articles for Guitar World, Guitar Player and Guitar Aficionado over the last decade. He has interviewed hundreds of music's finest, including Slash, Joe Satriani, Kirk Hammett and Steve Vai, to name a few. Jonathan's not a bad player either, occasionally doing gear reviews, session work and online lessons for Lick Library.