Steve Lukather Remembers His Friend, Eddie Van Halen
"He was the magic. The guitar just gave him a means to perform that magic."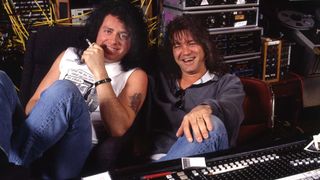 (Image credit: Robert Knight Archive/Redferns)
Michael Jackson and Quincy Jones had a pretty good backing band when they called Mr. EVH into the studio to play on "Beat It." On the track that in many ways defined 1982, Steve Lukather played rhythm guitar and bass.
That was not Luke's first encounter with Ed. They were friends. They were brothers. This is one of the more poignant Eddie Van Halen stories.
"The first time I heard him," Lukather says, "I was doing the debut Toto record, and David Paich walked in and set up a turntable. He said, 'You need to hear this.' He played 'Eruption' over the big speakers in Studio 55. I stopped. I said, 'What the fuck was that? How do you do that? Who is this?' I was 19 years old.
"We met a little while after that and became friends. I borrowed one of his amps for an Elton John session in 1979. Ed was working in the front, Elton was cutting something in the back, and my gear was on its way to Japan. So I said, 'Hey, can I borrow one of Ed's amps for a session?' He came down and we all hung out. It was fun."
"Let me give you the perfect example of how this guy never thought inside the box. I was honored enough to have him play on my first solo record back in 1989. He played bass on it and he wrote a tune for me.
"He told me, 'Hey Luke, I tuned the entire guitar up a whole step, but I used a bass A string for the lowest string and tuned that to a B.' Who would think to do that? And he showed me how he played it, with all the false harmonics and everything. I got to learn how to play like Eddie Van Halen for a day.
"He was bigger than he even realized. It used to be that once every 10 years somebody would come along and change the face of it, make you rethink the instrument. Nobody's come along in a while.
"Thousands of people have asked me, 'How do you get that sound?' Well, you have to be born with it. That's my answer. You could play the same guitar through the same rig and you would sound like you. He was the magic. The guitar just gave him a means to perform that magic.
"Everyone is going to tell you that he's the greatest guitarist ever. That's a given. I've gotten to work with some of the best musicians on the planet. I've been around greatness. And when you're around it enough, you kind of hope it'll rub off on you. But in the end, the greatest thing for me was the friendship. I knew him on a different level. He was a trusted friend. I cherish that. And I miss my friend."
All the latest guitar news, interviews, lessons, reviews, deals and more, direct to your inbox!