Watch a Strat-Toting Amy Winehouse Mesmerize this BBC Studio Audience
By Rod Brakes published
This live performance of "Stronger Than Me" on 'Later... with Jools Holland' showcases the late, great singer's flawless Stratocaster chops.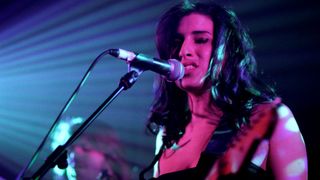 (Image credit: Sal Idriss/Redferns)
Today, we remember Amy Winehouse on her birthday. She would have been 38 years old.
While she is known to have possessed one of the greatest singing voices of her generation the British star probably hasn't received as much recognition for her guitar playing as she deserves.
From an early age, the electric guitar was integral to Winehouse's songwriting and performing – a musical tool that not only helped her pen some of the era's greatest songs but also allowed her to perform them with a unique personal touch.
And in this 2003 performance of "Stronger Than Me" (from her debut album Frank released earlier that year) Winehouse wows the studio audience assembled at the BBC's live music show Later… with Jools Holland, her inimitable rhythm guitar style proving to be the perfect accompaniment.
Known to favor the Stratocaster, Winehouse first discovered this timeless Fender model in her pre-teenage years when her older brother bought a used instrument. "It was the most beautiful thing in the world," recalled Winehouse during an interview in 2004. "It's such a beautiful guitar. I mean it's got to be probably the most attractive guitar there is."
Though Winehouse was forbidden to touch her brother's Stratocaster she would carefully sneak into his room and play it whenever she had the chance. With strategic access to this hallowed Strat Winehouse slowly began getting her chops together. And when she finally acquired her own guitar – an acoustic model – the siblings amicably swapped instruments back and forth.
"I just played every day. No one said to me, 'You've got to play [guitar] for at least this amount of time,' remembers Winehouse. "It was all I wanted to do. It's so easy to teach yourself if you have love for guitar. People say to me all the time, 'How come you taught yourself?' And there's things people can show you, but the truth is, if you learn how to play guitar off someone, you just kind of learn to play it like them."
Buy Amy Winehouse's 2003 debut album Frank here.
Rod Brakes is a music writer with an expertise in all things guitar-related. Having spent many years at the coalface as a guitar dealer and tech, Rod's more recent work as a journalist covering artists, industry pros and gear includes writing hundreds of articles and features for the likes of Guitarist, Total Guitar, Guitar World, Guitar Player and MusicRadar, as well as contributions for specialist books, blogs and social media. He is also a lifelong musician.
Get the latest news, reviews and product advice straight to your inbox.
Thank you for signing up to The Pick. You will receive a verification email shortly.
There was a problem. Please refresh the page and try again.