Buy An Eligible Taylor Acoustic From Guitar Center And Bag A BT1 Or GS Mini From Just $99 - Plus Our Top Taylor Recommendations
Guitar Center will add a travel-size Taylor to your basket for as little as $99 when you buy a Taylor 200 Series and up between now and 15 January!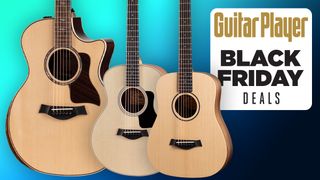 (Image credit: Taylor)
Buying a new Taylor guitar is always a tempting proposition, but now Guitar Center has sweetened the deal to the point that it's irresistible. Purchase a new Taylor 200 Series and above model from Guitar Center and you can add a Baby Taylor BT1 for just $99, or a GS Mini Sapele for $199. That's a saving of $300 off the RRP. And if you live in Europe, including the UK, Thomann are adding these little beauties for free with eligible guitars!
I know what you're thinking. A travel-size guitar on the cheap, isn't that going to sound a little, well, off? Nope, not these, because Taylor is a company that's been built on innovation, playability and tone. It's a quality brand that's never been interested in budget guitars, and anyhow, the Baby Taylor and GS Mini aren't cheap, you're just getting access to them in an amazing deal.
The Baby Taylor would make an ideal gift for younger players. It's a three-quarter-size solid-top acoustic that's a good fit for smaller arms and not too taxing on the fingers. Too good to give away? Then keep it for travel. The GS Mini shares similar attributes but it's a step up in quality. Essentially, it's a scaled down Grand Symphony shape, with a top made from solid Sitka Spruce, a mahogany neck and an ebony fretboard. Leave it on the sofa, ready to grab whenever inspiration strikes, take it on your travels or gift it to your kids or grandkids.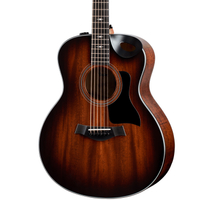 Get a Taylor, Gift a Taylor: Travel guitars from $99
Buy any Taylor 200 series or higher model from Guitar Center and add an acoustic Baby Taylor BT1 for $99 or an acoustic GS Mini Sapele for $199. Now's the time to invest in your dream Taylor and get a second guitar to keep within easy reach, wherever your travels take you. Or give it away to a loved one this holiday season. The saving on RRP is a whopping $300, and the promotion runs until 15 January 2024.
In the UK or Europe?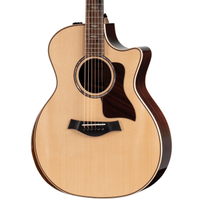 Buy a Taylor, Get a Baby Taylor BT1 or GS Mini FREE
If you're in the UK or Europe, Thomann has made this deal really simple (danke, Thomann!). Spend from approx. £1,000 to £2,000 on an eligible guitar – they are clearly marked on the site – and Thomann will bundle a Baby Taylor BT1 for free, a £319/€359 value. Go next level, by increasing your spend to approx. £2,000 plus on an eligible Taylor, and it will bundle the even more desirable GS Mini Sapele. That's a £425/€485 value. Both of these super little guitars make wonderful additions to any collection, or fantastic gifts for loved ones this holiday season.
Wowsers, Taylor's range of acoustics is pretty comprehensive, which means there are dozens of eligible guitars in this promotion. Only you can make the final choice, but these models should make your shortlist.
We all deserve a little luxury from time to time, something to bring a smile to our lips and a spring to our step. Well, the Taylor 214ce DLX is a guitar that will make your heart skip every time you pick it up to play. Essentially, Taylor has taken its regular 214ce and spruced it up with some nice-to-have appointments. This is Taylor's most versatile body shape and size – superb for fingerstyle but great for strumming too – dressed up in a solid Sitka spruce top with layered rosewood back and sides. The DLX also gets a thin coating of super gloss finish, gold tuners, small diamond fretboard inlays and a deluxe hardshell case. It's already superb value at around $1,600, but more so with a bundled Baby Taylor or GS Mini.
Chances are, if you already own a guitar or two, they probably feature the classic pairing of spruce top and rosewood back and sides. This combination gives a lovely, balanced tone but it can sound a bit predictable if you've been playing for years. The solution is to add a mahogany guitar like the Taylor 326ce to your collection.
In many ways it's a big, bold, punchy animal but the 'hog construction lends superb midrange clarity, and focus. Its large Grand Symphony shape provides plenty of projection and tonal richness, but the bass is well tempered. At around $2,499, this is an expensive guitar for many, but any financial hit is softened by the bundled Baby Taylor or GS Mini.
Of course, this is the perfect opportunity to invest in your dream Taylor. After all, you get to treat yourself and a loved-one at the same time, what could be more serendipitous? Your loved-one will be the proud owner of a Baby Taylor or GS Mini, while you get your hands on something a little more special, a Taylor Builder's Edition 912ce.
Solid Indian rosewood and Lutz spruce conspire to bring powerful highs, a well-mannered bass response and a mid-range that's the epitome of balanced tone. This is one of the few thinline acoustics that doesn't sound weedy and gutless.
The Grand Concert body shape is fully contoured with a bevelled armrest and cutaway for maximum comfort and accessibility, and the fretboard has rolled edges for that sleek, played-in feel. Yes, this is a guitar that suits electric guitar players but it's also a fine instrument for jazz or any finger picking styles. A beautiful guitar – go on, you deserve it, and so does your loved one.
Keeping your ear to the ground for big savings this month? Keep tabs on our Black Friday guitar deals page for all the best offers.
All the latest guitar news, interviews, lessons, reviews, deals and more, direct to your inbox!