Skreddy Pedals Unveils New Super 100 Preamp
This preamp is built to replicate the "roar" of a cranked Marshall 100-watt and "nail Page's live sound with a Les Paul and Hendrix's with a Stratocaster."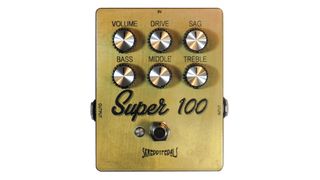 (Image credit: Skreddy Pedals)
Skreddy Pedals has unveiled its new Super 100 preamp.
The latest product in Skreddy's line of amp emulators, the Super 100 is built to replicate the "roar" of a cranked Marshall 100-watt amp and "nail Page's live sound with a Les Paul and Hendrix's with a Stratocaster." 
The Super 100 features volume and drive controls, plus a three-band EQ and a sag knob, which controls the pedal's optical compressor/limiter circuit to either tighten up the output (with a clockwise twist) or open the tone for fuller dynamics (with a counter-clockwise twist).
The Skreddy Pedals Super 100 preamp is available now for $239.
For more info on the preamp, head on over to skreddypedals.com.
Get the latest news, reviews and product advice straight to your inbox.
Thank you for signing up to GuitarPlayer. You will receive a verification email shortly.
There was a problem. Please refresh the page and try again.