Remembering Red Hot Chili Peppers Founding Guitarist Hillel Slovak
Born on this day 60 years ago, his pioneering technique, sound and vision defined the Chili Peppers' musical style.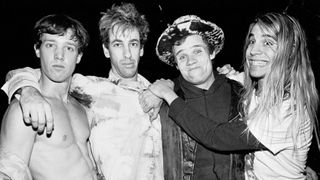 (Image credit: Gary Gershoff/Getty Images)
60 years ago today, the Red Hot Chili Peppers' founding guitarist Hillel Slovak (1962-1988) was born in Israel. When he was four years old, his family moved to the U.S. where he later became immersed in L.A.'s thriving music scene.
In 1983, Slovak formed the Red Hot Chili Peppers along with drummer Jack Irons, bassist Flea and vocalist Anthony Kiedis. Establishing the band's unique funk-infused alt-rock sound, Slovak's legacy in the guitar world is far-reaching and continues to inspire today.
While John Frusciante helped expand the Red Hot Chili Peppers' sonic palette as they shot to worldwide fame with 1991's Blood Sugar Sex Magik, their signature guitar style is rooted in Slovak's vision.
Indeed, it's fair to say that countless electric guitar players have been influenced by Slovak's pioneering technique and approach, even though they may not be aware of it.
Frusciante wasn't the only guitarist to quit and re-join the Red Hot Chili Peppers. When the band formed, Slovak was also a member of L.A. art-rockers What Is This, playing alongside the immensely talented Alain Johannes (Eleven, Queens of the Stone Age, Eagles of Death Metal.)
With commitments piling up either side, Slovak was forced to make a decision: Red Hot Chili Peppers or What Is This. Subsequently, guitar duties of the former were handed over to Jack Sherman (1956-2020) with whom Flea, Kiedis and newly-recruited Captain Beefheart drummer Cliff Martinez recorded the band's eponymous 1984 debut album.
Whether or not Slovak backed the wrong horse by choosing the latter is a moot point as he soon returned to the Chili Peppers fold to record their sophomore album with funk legend George Clinton, 1985's Freaky Styley.
In this rare 1984 interview with Johannes and Slovak filmed just a few months after the Red Hot Chili Peppers dropped their first album, the guitarist explains his predicament.
"It got too hard to be in both bands at the same time," says Slovak. "We were both being approached by [record] companies at exactly the same time. So you had to make a choice."
With Slovak back onboard, the Red Hot Chili Peppers continued to gain a steady following of fans during the mid-'80s, entering the studio once again to record their third album, 1987's The Uplift Mofo Party Plan.
Produced by Michael Beinhorn (Soundgarden, Ozzy Osbourne, Hole) The Uplift Mofo Party Plan sees Irons' return to the band. Thus, this is the only Red Hot Chili Peppers studio album to feature all four founding members throughout.
Early the following year, the band embarked on a European tour – their first major run of dates outside the U.S. Filmed during a snowy January/February in 1988, this unique time in the Red Hot Chili Peppers' history was captured in the VPRO documentary Europe by Storm.
In this clip, Slovak gives us a rundown of his effects chain which is firmly secured to the deck using good, old-fashioned duct tape (in the days when the stage itself served as a pedalboard!)
Keeping things relatively straightforward, his pedals comprise a Univox Super-Fuzz, Cry Baby wah, Boss OD-1 Over Drive, and Boss CE-2 Chorus.
The Red Hot Chili Peppers continued to spread their fanbase far and wide, revisiting Europe in Spring 1988 to play a series of dates that included the Netherlands' Pinkpop Festival.
However, all was not well in the Chili Peppers camp at this time. Writing in his 2004 biography, Scar Tissue, Kiedis notes, "I think we were sitting in the midst of a dark spirit... We both realized that we were at a point in our life when it was do or die."
Having played what would ultimately be their last gig together on June 2 in Oslo, Norway, the original lineup of the Red Hot Chili Peppers flew back to L.A.
Sadly, just a fortnight or so later, Slovak passed away aged 26, a victim of untreated opiate addiction.
Next year will see the Red Hot Chili Peppers' 40th anniversary. And with their own star on the Hollywood Walk of Fame the band have come a long way from their days on the L.A. club circuit.
But none of it would have been possible without Hillel Slovak – a very special guitar player whose music has inspired generations, something the band regularly acknowledges in fond memory.
"The energy of Hillel Slovak has never truly faded," Kiedis told NME in a recent interview. "Hillel's still there in our hearts, whether it's 30, 40, 50, 60 or even 100 [years]."
Browse the Red Hot Chili Peppers catalog here or buy their latest studio album, Unlimited Love, here.
All the latest guitar news, interviews, lessons, reviews, deals and more, direct to your inbox!
Rod Brakes is a music journalist with an expertise in guitars. Having spent many years at the coalface as a guitar dealer and tech, Rod's more recent work as a writer covering artists, industry pros and gear includes contributions for leading publications and websites such as Guitarist, Total Guitar, Guitar World, Guitar Player and MusicRadar in addition to specialist music books, blogs and social media. He is also a lifelong musician.