ProCo to Announce The Lil' Rat, A Mini Iteration of the Acclaimed Rat 2
New version of the iconic distortion pedal boasts the same circuitry and tone in a smaller form factor.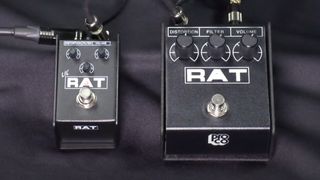 (Image credit: ProCo Lil' Rat)
ProCo's Rat pedals have long been esteemed amongst guitarists for their characteristic blend of overdrive, distortion and fuzz, as well as their superior tonal flexibility.
Now, the company aims its latest addition to the lineup – the Lil' Rat – at players looking for the same classic tone in a more compact enclosure.
Modeled tonally on the Rat 2, the new stompbox is considerably smaller at only two inches wide, though it contains the same circuitry and components, promising "identical results in tone, attack and sustain."
Hear a side-by-side comparison of the Lil' Rat and Rat 2 in ProCo's demo video below.
Controls remain the same, with a trio of Volume, Filter and Distortion knobs for adjusting level, high-end frequency content and amount of clipping, respectively.
After being introduced in 1978, the original ProCo Rat has received several iterative changes over the years. Current production models include the Rat 2, Turbo Rat, You Dirty Rat and the Fat Rat. The Lil' Rat marks a notable change in form factor, as the aforementioned four all boast relatively large enclosures.
We have yet to hear official word on pricing or a release date, but we'll keep you updated on this story as it develops.
All the latest guitar news, interviews, lessons, reviews, deals and more, direct to your inbox!