Orange Amps Debuts New FS1 Mini Footswitch
The useful, affordable FS1 comes with neat-looking stickers to match whichever function it's assigned to.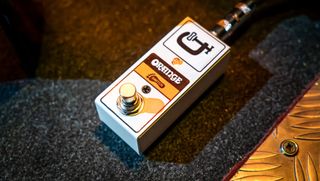 (Image credit: Orange Amplifiers)
Orange has debuted its new FS1 mini-footswitch.
The downsized FS1 weighs in at less than half a pound, and features a single orange LED indicator, a single foot switch and a 1/4" jack on the back to connect the footswitch to an amp with any length of cable. 
The footswitch can go between channels on twin-channel amps, turn reverb on and off, adjust in-built attenuators, act as a master volume or EQ lift, act as a global and gain boost and much more. 
Though many of those functions are specific to other Orange amps, the FS1's standard latching design and TS jack connection make it compatible with many other kinds of equipment.
The FS1 also comes with a dozen stickers, so you can visually indicate whatever you end up using the footswitch for, plus three blank stickers for additional customization.  
The price and release date of the Orange FS1 mini footswitch have yet to be revealed, though its UK price has been set at £19.99 (~$25).
For more info on the mini footswitch, stop by orangeamps.com.
Get the latest news, reviews and product advice straight to your inbox.
Thank you for signing up to GuitarPlayer. You will receive a verification email shortly.
There was a problem. Please refresh the page and try again.