MXR Unveils New FOD Drive Pedal
This compact new overdrive allows users to simulate the experience of playing through two hot-rodded amp stacks simultaneously.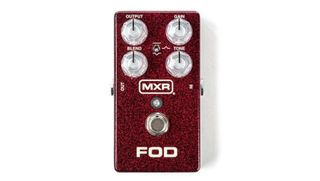 (Image credit: Dunlop)
MXR has unveiled its new FOD Drive pedal.
This compact new overdrive pedal features a circuit that allows for blending two hot-rodded amp stacks. Each of the pedal's drive circuits emulates a heavily-modded amp - one is optimized for potent midrange punch, the other for heavily-scooped high-gain sounds.
Each "amp" features independent volume and gain controls, which can be set individually and balanced via the pedal's blend knob.
The FOD Drive's scoop switch allows for choosing between flat, scooped or boosted midrange, while the global tone knob lets users tweak the EQ of the signal.
The MXR FOD Drive pedal will be offered at an MSRP of $242.84, but is available now for preorder at Sweetwater for $169.99.
For more info on the pedal, stop by jimdunlop.com.
Get the latest news, reviews and product advice straight to your inbox.
Thank you for signing up to GuitarPlayer. You will receive a verification email shortly.
There was a problem. Please refresh the page and try again.