Mesa/Boogie Unveils New Badlander Rectifier Amplifier
By Jackson Maxwell published
Available as a 50- or 100-watt head, or a 50W combo, the amp features two channels, three new preamp modes, CabClone IR DI and Multi-Watt power scaling.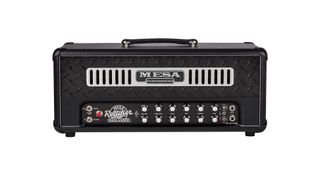 (Image credit: Mesa/Boogie)
Mesa/Boogie has unveiled the Badlander, the latest addition to its Rectifier series of guitar amps.
Available as 50- and 100-watt heads, or a 50W combo, the Badlander features two fully independent channels – each with three-mode channel cloning – EL34 power tubes, 12AX7 preamp tubes, and a Bias switch that allows users to switch between EL34s or 6L6s.
There are three new modes – Crunch, Clean, and Crush – and Multi-Watt power scaling, providing 100, 50 or 20 watts of power on the Badlander 100, and 50 or 20 watts of power on the Badlander 50.
New to the Rectifier series is a CabClone IR, which allows players to record direct with or without a cab. Also aboard are eight Mesa factory-loaded cabinets, and the ability to add third-party impulse responses by USB connection. The Badlander's onboard reactive load allows for silent recording, while different IRs can be assigned to each channel.
The Mesa/Boogie Rectifier Badlander 100W and 50W amp heads will be available later this year for $2,299 and $1,999, respectively.
For more info on the amp, stop by mesaboogie.com.
Get the latest news, reviews and product advice straight to your inbox.
Thank you for signing up to The Pick. You will receive a verification email shortly.
There was a problem. Please refresh the page and try again.