Maestro Knocks Out Another Batch of Classic Analog Stompboxes
This latest bunch of five includes a phaser, tremolo, booster, compressor and envelope filter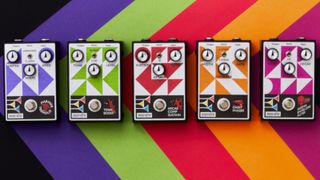 (Image credit: Gibson/Maestro)
Earlier this year, Gibson revamped the Maestro brand in style by releasing five new effects pedals: the Ranger Overdrive, Invader Distortion, Comet Chorus, Discoverer Delay and Fuzz-Tone FZ-M.
It signaled the return of a legendary stompbox line that claims the honor of being the first to market a bespoke fuzz pedal, the hallowed Maestro FZ-1 Fuzz-Tone.
Released in 1962, this "grandaddy of fuzz" is celebrating its 60th anniversary this year and the Maestro Fuzz-Tone FZ-M bridges the gap between those vintage sounds and contemporary tones by offering two distinct voices: Classic and Modern.
Similarly, the other pedals in the range have been fitted with a two-way switch that extends their functionality in unique ways.
This week, Maestro launched five more analog devices in the same pedalboard-friendly form factor. As per the first batch, these latest units feature true bypass and are powered by a regular 9-volt DC power supply.
They are the Agena Envelope Filter, Arcas Compressor Sustainer, Mariner Tremolo, Orbit Phaser, and Titan Boost.
Maestro Agena Envelope Filter
The Agena Envelope Filter features three knobs: Sense, Attack and Decay. These allow adjustment of the filter sensitivity along with attack and decay time, respectively.
Additionally, Hi and Lo modes allow the filter to be positioned within different (higher/lower) frequency ranges.
Maestro Arcas Compressor Sustainer
The Arcas Compressor Sustainer's two modes are also labelled Lo and Hi. However, in this case the switch determines how sensitive the compressor is to pick attack (Lo/less or Hi/more.)
The Attack knob allows adjustment of compressor attack time while Sustain dials in the amount of gain applied during compression. Level sets the pedal's overall output volume.
Maestro Mariner Tremolo
Touted as "two pedals in one," the comprehensive Maestro Mariner Tremolo provides regular amplitude modulation in Classic mode while Harmonic mode offers 'brown panel'-style harmonic trem.
Three standard knobs control the LFO/wave: Depth, Speed and Shape (triangle to square.)
Maestro Orbit Phaser
The Maestro Orbit Phaser (not to be confused with EarthQuaker's Grand Orbiter phaser) features two modes labelled 4 Stage and 6 Stage that provide different flavors of phase shift.
While the pedal's Width and Rate controls alter intensity and speed, respectively, Feedback emphasizes the "amount of vocal phase effect."
Maestro Titan Boost
Boasting over 25dB of clean boost (set by the Level knob) the Maestro Titan Boost will easily kick the front-end of a tube amp into natural breakup while controlling unwanted highs and lows.
Extended tone control is available via the two-way switch labelled Flat and Hi Pass. While the HPF knob adjusts the high-pass filter, the Tone knob acts as a regular variable low-pass filter.
Visit Maestro for more information.
All the latest guitar news, interviews, lessons, reviews, deals and more, direct to your inbox!
Rod Brakes is a music journalist with an expertise in guitars. Having spent many years at the coalface as a guitar dealer and tech, Rod's more recent work as a writer covering artists, industry pros and gear includes contributions for leading publications and websites such as Guitarist, Total Guitar, Guitar World, Guitar Player and MusicRadar in addition to specialist music books, blogs and social media. He is also a lifelong musician.