Line 6 Unveils New HX Stomp XL Multi-Effects Pedal
Expanding the scope of the hugely popular HX Stomp, this impressive pedal features five new footswitches and over 300 amps, cabs, and effects.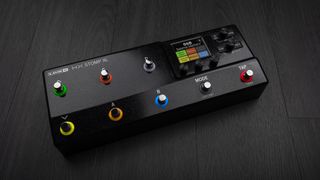 (Image credit: Line 6)
Line 6 has unveiled the HX Stomp XL, an expanded and enlarged version of its enormously popular HX Stomp multi-effects pedal.
Most notable among the new features of the XL in relation to its smaller counterpart is the addition of five new footswitches, bringing the HX Stomp XL's total to eight. Featuring the same SHARC DSP chip as Line 6's other Helix products, the XL lets users run up to eight processing blocks simultaneously, with the footswitches allowing users to customize their own control layout in a number of ways.
The XL comes loaded with more than 300 amps, cabs, and effects, and 128 factory presets, including a number of amps, cabs, and presets for bass guitarists.
Elsewhere, the pedal features a multi-channel 24-bit/96kHz USB audio interface, a stereo effects loop for integrating external devices, and a jack for external expression pedals. In regards to that jack though, Line 6's Chief Product Design Architect, Eric Klein, noted that the MIDI-capable pedal's new footswitches can "not only preclude the need for external control, but also turn HX Stomp XL into a master controller itself."
Furthermore, integration with the HX Edit app allows users to create, save, and load presets, and customize nearly all of their pedal parameters. It also functions as an IR loader and preset database.
The Line 6 HX Stomp XL is available now at a list price of $1,049.
For more info on the pedal, stop by line6.com.
Get the latest news, reviews and product advice straight to your inbox.
Thank you for signing up to GuitarPlayer. You will receive a verification email shortly.
There was a problem. Please refresh the page and try again.