IK Multimedia Announces AmpliTube TONEX – the Latest in Ultra-Realistic Rig Modeling
Powered by their revolutionary AI Machine Modeling technology, IK's new software system unlocks the vaults of legendary guitar tone.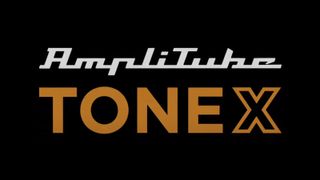 (Image credit: IK Multimedia)
IK Multimedia have been drip-feeding the guitar world with tantalizing snippets of their new AI Machine Modeling technology in action since news broke of the Italian firm's latest development last month.
Capable of modeling gain pedals, amps and cabs using standard home studio equipment (specifically, a mic, re-amping box and audio interface) IK promises the results are "indistinguishable from the real thing."
Watch this demonstration featuring a 1953 Fender Bassman from IK's private amp vault and decide for yourself…
Today, IK Multimedia have announced the arrival of their AmpliTube TONEX software.
Based on the new AI Machine Modeling technology, AmpliTube TONEX allows users to model their own rig as well as play, practice and record with a huge number of other super-realistic Tone Models.
IK's AmpliTube TONEX "software ecosystem" currently consists of four products: TONEX for Mac/PC; the TONEX App; the TONEX in ToneNET online platform; and the TONEX Capture hardware accessory.
Here's a brief rundown of each…
TONEX for Mac/PC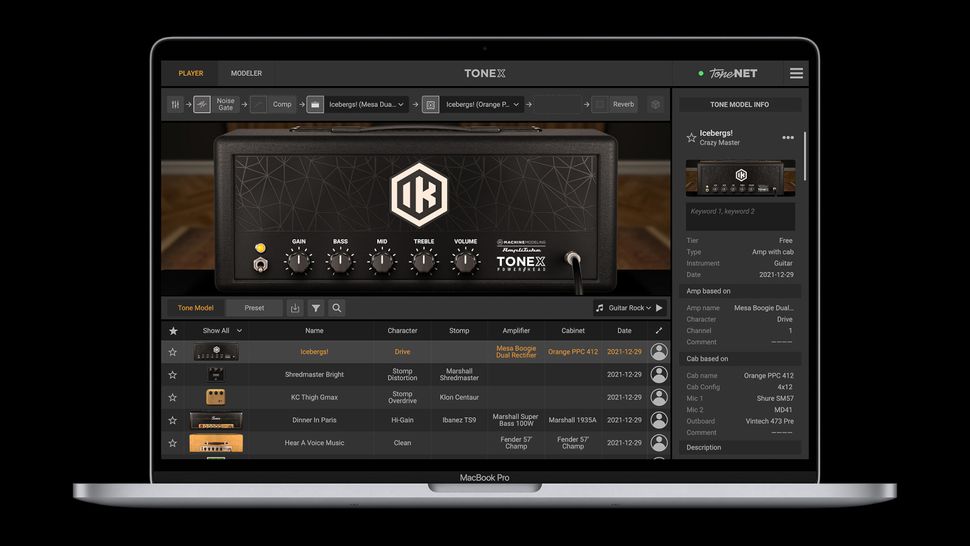 This is the heart of the TONEX ecosystem and uses IK's AI Machine Modeling technology to create a Tone Model of any amp, cab and gain pedal within minutes.
It works as a standalone and plugin for all major DAWs, integrating seamlessly with AmpliTube 5.
As well as being able to share their own Tone Models with the TONEX community, users will be able to access over 1,000 Premium Tone Models created by IK using their private vault of sought-after amps and pedals.
Editing capabilities include full EQ, noise gate, pre/post compressor, and depth and presence controls.
Along with high-quality reverb and extensive impulse response options, tone sculptors will be able to craft their customized virtual rigs in fine detail.
Shipping from September, IK will be making TONEX for Mac/PC available in three versions: the $99 TONEX SE (200 Tone Models); the $149.99 TONEX (400 Tone Models); and the $249.99 TONEX MAX (1,000 Tone Models).
TONEX App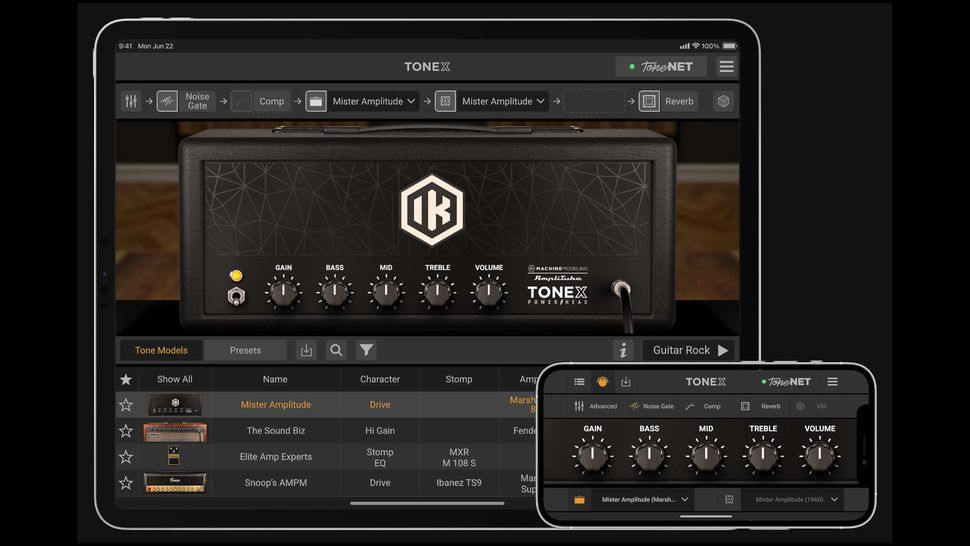 TONEX for iPhone and iPad brings IK's AI Machine Modeling Tone Models to the mobile device.
As per TONEX for Mac/PC, it can be used standalone or as a plugin with all major DAWs.
TONEX App is due to be released via Apple at the same time as TONEX for Mac/PC next month.
Conveniently, the TONEX App and Mac/PC software Tone Model library work in sync, meaning Tone Models can be played seamlessly on any capable device.
TONEX in ToneNET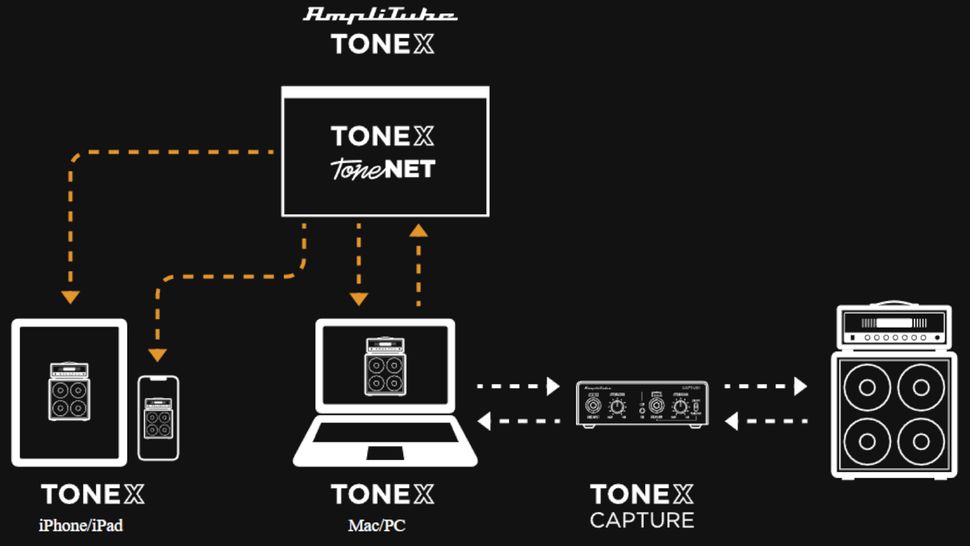 TONEX Tone Models will also be available to browse, demo, download and share in a new section of ToneNET – IK's dedicated tone-sharing and social platform.
Depending on the TONEX software version owned, over 1,000 TONEX Premium Tone Models will be accessible.
Whether using standalone, plugin or app versions, TONEX connects instantly to ToneNET directly, allowing users to easily explore the latest Tone Models on offer.
TONEX Capture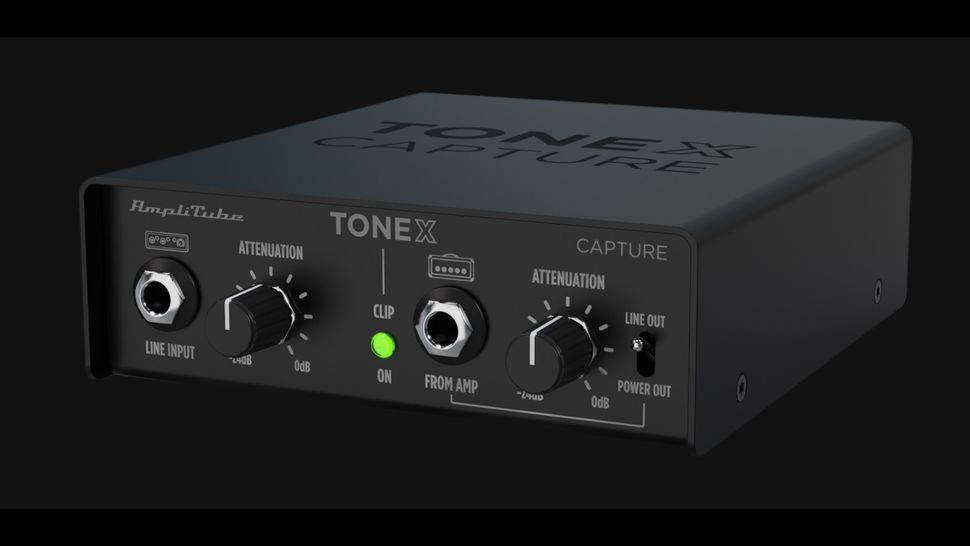 Tone Models can easily be created using TONEX with a modern computer, a regular audio interface and minimal additional equipment.
However, IK says their Joe Satriani-endorsed AXE I/O is ideal due to its dedicated Amp Out connection/jack.
To make things even easier, IK's new TONEX Capture connects to the audio interface output and feeds the signal into the amp at optimum level.
The return stage (post amp) sits passively between the amp and cab, allowing an accurate picture to be sent back to the interface without affecting the amp/cab interaction.
This eliminates the need for microphones and/or perfect room acoustics.
TONEX for Mac/PC and TONEX Capture will be shipping in September.
Both are available for pre-order now at a special introductory price here.
AmpliTube 5 MAX users will receive a further $50 discount coupon on TONEX MAX.
All the latest guitar news, interviews, lessons, reviews, deals and more, direct to your inbox!
Rod Brakes is a music journalist with an expertise in guitars. Having spent many years at the coalface as a guitar dealer and tech, Rod's more recent work as a writer covering artists, industry pros and gear includes contributions for leading publications and websites such as Guitarist, Total Guitar, Guitar World, Guitar Player and MusicRadar in addition to specialist music books, blogs and social media. He is also a lifelong musician.