Hendrix, Van Halen Lead List of Gear Innovators Inside the New Issue of Guitar Player
PLUS Skip James' Bentonia blues legacy, John McLaughlin, Steve Morse, Jake Shimabukuro, Mike McCready, and Sonny Landreth on the late Howard Alexander Dumble. Plus – 2 unique covers!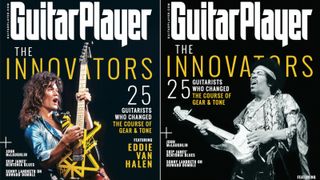 (Image credit: Future)
The new issue of Guitar Player is on sale now! Click here to purchase your copy.
COVER FEATURE:
25 Guitarists Who Changed the Course of Gear and Tone
Guitar Player tells the story behind 25 guitarists from the past 100 years who drove innovation to make guitar gear and tone what it is today.
We uncover the stories behind guitar-playing inventors like Alvino Rey (the Talk Box), Les Paul (the solidbody guitar), and Tom Scholz (the Rockman amp emulator) and explore the revolutionary sonic devices conceived or uniquely employed by Pete Townshend (the stack), Jimi Hendrix (the Uni-Vibe), Robert Fripp (Frippertronics tape delay), Eddie Van Halen (the Floyd Rose Locking Trem) and more.
From the full story behind Gene Parsons and Clarence White's B-Bender to Jerry Garcia's custom Doug Irwin axes to Kevin Godley and Lol Creme's Gizmotron – we dig deep into the greatest and oddest sonic devices that have shaped modern guitar tone.
---
Skip James
This issue also features a deep dive into the musical style of Mississippi blues guitarist Skip James.
Hailing from Bentonia, James was washed-up by the age of 30 but got a chance at a comeback when he was "rediscovered" during the early 1960s blues boom, just a few years before his death.
In this deep dive into his music, we explore both James and the artists of today who he influenced and who are keeping the Bentonia style alive.
John McLaughlin
The pioneering jazz-fusion guitarist tells how he survived lockdown by turning his frustration into the inspired music of his latest album, Liberation Time.
In an exclusive interview, McLaughlin reveals his method for positive thinking that has helped him deal with isolation and eradicate debilitating arthritis that threatened to end his career.
Plus, we offer a previously unpublished interview with late Mahavishnu Orchestra bassist Rick Laird about his own nearly devastating injury on the eve of recording that group's remarkable 1971 debut, The Inner Mounting Flame.
Jake Shimabukuro
The ukulele virtuoso tells how he worked with slide wizards Sonny Landreth and Warren Haynes, as well as Billy Strings and Willie Nelson, to create Jake & Friends, his latest album.
Steve Morse
The shred icon tells the story behind how he wrote and recorded the Dixie Dregs' high-octave prog-rock instrumental "Take It Off the Top," from 1978.
"It kept us off the charts," Steve tells GP, "but it won us fans who stayed with us."
Howard Alexander Dumble
Sonny Landreth writes a tribute to the late ampmaker and reveals the tale behind how his Dumble amp got the name Oh Baby!
---
REVIEWS
Fender Custom Shop Ltd-Ed Double-Bound Stratocaster Journeyman Relic
Eastman T64/v and T184MX electric guitars
Taylor American Dream AD27e Flametop acoustic-electric
Strymon Iridium Amp and IR Cab Pedal
Fender Mustang Micro
Mackie Thrash215 Powered Loudspeaker
LESSONS
The minor-key magic of Oz Noy's "She's Not There" solo
Acoustic lessons from The Beatles: Get Back
PLUS!
My Career in Five Songs…with Pearl Jam's Mike McCready
Meet Your Maker: Eastman Guitars
Gretsch 1959 Model 6118 Double Anniversary
Click here to subscribe.
All the latest guitar news, interviews, lessons, reviews, deals and more, direct to your inbox!
Guitar Player is the world's most comprehensive, trusted and insightful guitar publication for passionate guitarists and active musicians of all ages. Guitar Player magazine is published 13 times a year in print and digital formats. The magazine was established in 1967 and is the world's oldest guitar magazine.
When "Guitar Player Staff" is credited as the author, it's usually because more than one author on the team has created the story.