Five Autographed, Stage-Played Eddie Van Halen Charvel Art Series Guitars Sell at Auction for Combined $210,000
The lot included the last of the Art Series guitars, played onstage in May 2012.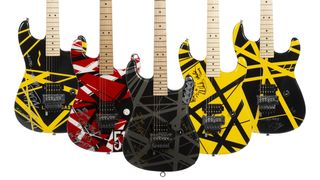 (Image credit: Julien's Auctions)
Eddie Van Halen-played Charvel Art Series guitars have – in recent months – been auctioned off left and right.
Now, five more of the guitars – each hand-striped by Eddie Van Halen and played briefly onstage at Van Halen shows between 2004 and 2012 – have gone under the hammer, selling for over $210,000 combined.
Put up for sale by Julien's Auctions, each of the guitars features a maple neck and fretboard, Stratocaster-style body, Floyd Rose tremolo system, single volume control, single humbucker pickup, and a locking nut. Each of the models was also sold with an accompanying photograph showing Eddie Van Halen using it onstage.
The group includes a black-and-silver striped model – played onstage at Van Halen's May 22, 2012 show at Kansas City's Sprint Center – with an inscription from Eddie that reads "Last one!" indicating that the guitar was quite possibly the last Art Series model Eddie ever used live. It sold for $51,200.
Image 1 of 5
Image 2 of 5
Image 3 of 5
Image 4 of 5
Image 5 of 5
Two Bumblebee-inspired black-and-yellow striped Charvels – used at shows in Las Vegas in 2004 and 2007 – sold for $38,400 and $41,600, respectively, while a red-and white-Frankenstein Mark II-style guitar sold for $40,625.
Finally, a unique reverse Bumblebee – used at Van Halen's February 6, 2008 show at the Wells Fargo Arena in Des Moines, Iowa – sold for $38,400.
Along with the aforementioned photos, each of the guitars was accompanied by a certificate of authenticity.
For more info on the guitars, stop by juliensauctions.com.
Get the latest news, reviews and product advice straight to your inbox.
Thank you for signing up to GuitarPlayer. You will receive a verification email shortly.
There was a problem. Please refresh the page and try again.