An Eddie Van Halen-Played 2008 EVH Charvel Art Series Guitar is Going Up for Auction
Eddie used the guitar for a February 2008 Van Halen show in Jacksonville, Florida.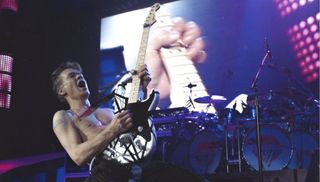 (Image credit: Matthew Bruck/Nate D. Sanders)
A 2008 "hand-striped" EVH Charvel Art Series guitar – played by Eddie Van Halen at Van Halen's February 16, 2008 concert in Jacksonville, Florida – is headed to the auction block.
Not to be confused with a similar, hand-striped, EVH-played, 2004 EVH Charvel Art Series guitar that was sold at auction for more than $140,000 last week, this guitar comes in a custom EVH Charvel case, with a Certificate of Authenticity signed by Eddie showing its serial number, 173. That serial number is also stamped on the guitar's neck plate.
Nate D. Sanders, the firm auctioning the guitar, says that it's in "near fine" condition.
The guitar is signed by Eddie in silver marker, with the show date and ''Van Halen '08" also inscribed by him on the guitar's body.
Though the guitar's exact provenance is unclear, it was not in the possession of Eddie's son, Wolfgang Van Halen, who last week criticized recent auctions of his late father's guitars, saying "I don't EVER plan on selling any of my father's iconic guitars. The only place they'd possibly belong in is a museum."
The minimum bid for the stage-played '08 model is $30,000.
For more info on the guitar, head on over to natedsanders.com.
Get the latest news, reviews and product advice straight to your inbox.
Thank you for signing up to GuitarPlayer. You will receive a verification email shortly.
There was a problem. Please refresh the page and try again.