"Captain" Kirk Douglas Talks Signature Gibsons and the Time Prince Destroyed His Epiphone
The Roots guitarist reveals his inspirations and the importance of gear when it comes to making music.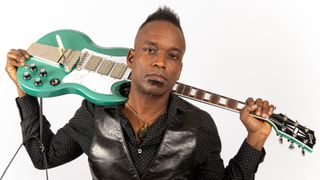 (Image credit: Gibson)
"Captain" Kirk Douglas is best known for his blazing fretboard work in "hip hop organic jazz" collective The Roots. As house band for The Tonight Show Starring Jimmy Fallon, The Roots' stylistic dexterity and dynamic flair demands Kirk pull out all the stops when it comes to tonal versatility. We recently caught up with the man himself to talk inspiration, music gear, and his diverse role as a guitarist.
Although you now have two Gibson signature SGs to your name, you're also known for playing a vintage Epiphone Crestwood Custom…
I purchased my '61 Epiphone Crestwood from a store called 30th Street Guitars in Manhattan. Ironically, it's on 27th Street but it originated on 30th Street. I went in there one day and saw it. I'm a big fan of The Black Crowes and they turned me on to the beauty of natural electric guitar tones and overdrive. Their guitar player at the time – Marc Ford – was playing an Epiphone Crestwood with them. There's a video for the song "Blackberry" where he's playing one, and I just thought it was the coolest guitar. It's like the perfect morph of a Gibson and a Stratocaster.
What was cool about it was that somebody had replaced the original vibrato with a regular Les Paul-style [Tune-o-matic] bridge [and stop tailpiece], and the original pickups with Firebird mini humbuckers. It had a great sound, and you didn't have to be too precious about it. That guitar was with me and served me very well. And then it also took on a life of its own when it found its way into the hands of Prince.
Prince famously trashed your Epiphone Crestwood Custom on The Tonight Show Starring Jimmy Fallon; what happened to the guitar after that?
When Prince broke my Epiphone, a lot of the fretboard came apart from the neck itself and I had to get that glued back on. But you wouldn't notice the difference when it was repaired. It sounded every bit as wonderful and every bit as vibey (if not more so than before).
Cara Delevingne once played "Sweet Home Alabama" behind her head using a similar-looking Epiphone on The Tonight Show Starring Jimmy Fallon…
I believe she borrowed that guitar. After the Prince thing, Epiphone sent me a red version of the Epiphone Crestwood because they were doing reissues of it, and I had it painted in white.
We understand you're a big fan of 100-watt Marshalls, but what amp do you tend to use on stage with The Roots?
On stage with The Roots, I usually use a Mesa Boogie Stiletto. That was Mesa Boogie's take on a Marshall. It was Boogie's EL34 amp, but they discontinued it, I think because it just fell out of fashion. But it's such a good sounding amp. I've done a lot of recordings with it. I really love asking my guitar aficionado friends what kind of amplifier they think it is, and they always assume it's a vintage Marshall, but then I'm like, "No, it's actually my Mesa Boogie Stiletto combo that I'm playing at bedroom 'I don't want to get evicted from my apartment'-level."
I get such a good sound out of it. My latest [Gibson] signature SG sounds really great through that amp. I definitely noticed the difference between the BurstBuckers in that and the '57 Classic [humbucker] pickups. [Douglas' 2013 signature Gibson SG is fitted with '57 Classics.]
Why is guitar gear important to you when it comes to making music?
When it comes to all this stuff, you want to be excited about the guitar and the music you're making. These guitars are not there for just making comparisons. Of course, it's fun to make comparisons like, 'let's see what this amp sounds like compared to this amp,' or, 'this pickup compared to this pickup.' That's a fun way to spend time and you kind of do discover things you like. But it's not necessarily making music. When you're hungry and you have an apple and an orange, you'll take either. And you won't complain, like 'that sucks because it's not an orange.'
When you have a fun idea – a riff in your head – and you want to record it, you gravitate towards a guitar that sounds good to your ears, looks good to your eyes, and makes you feel inspired. That's the fun things about guitars – they come in so many different shapes and colors and there are so many different ways to complement your personality and your music visually as well as sonically. That's another reason why I'm so attracted to the SG – because of the shape of it, and the associations we have with it like Sister Rosetta Tharpe, AC/DC, and Hendrix. It's evocative of all those things those players have made you feel.
The Inverness Green vintage custom color finish on your signature SG was an interesting choice...
It's interesting when you get an opportunity to see an SG in a color you've never seen before. It's like anything else rare, like an albino cat or something. What I love about the other finish (Ebony) is that it stands out in a subtle way. The things that stand out about that guitar are the gold hardware (which, on black, looks very elegant) and I love how you can see the detail in the way the pickguard is cut. It almost looks like a bat wing or something.
I wanted to offer my signature Gibson SG in two colors – one that was striking and unusual for an SG, and another color that spoke to the person who just likes black guitars. With certain outfits it looks great. A lot of the time on The Tonight Show I'll have to wear a tuxedo. There's an understated-ness about it but a statement is still being made.
Your latest Gibson signature model SG has a master volume uniquely mounted on the pickguard. Do you tend to ride the volume knob during performances, rather than just flipping between pickups and pedals?
There's a lot of territory to be explored with that, depending on how you're running your amp. If you're using an amp that's hot and/or loud, you can often get your tone to clean up by way of using your guitar controls. And those tones can have great character. But it's also a case of, 'do you have time for that?' These details might get completely lost if you're playing in a big band. But if you're in a band that's more guitar-based, there's more space to explore complex tones. Especially with a guitar like [the Gibson Kirk Douglas Signature SG].
How much do you rely on effects pedals?
I rely more on pedals with The Roots. A lot of it is about entertaining – you're playing to people who have a relationship with the album and the guitar is a small piece of what's going on in the grand scheme of things. So, it's more pedal-based with The Roots because it's about the more obvious and pronounced effects. And also, because I'm running around more on stage, I don't have time to get into those particulars. The only person that would notice those complexities would be me and me alone. It's a hip hop group essentially. It's about the rhythm and drums – it's rhythm and rhyme – and everything else is supportive of that.
For more information on the Kirk Douglas Signature SG visit Gibson's website.
All the latest guitar news, interviews, lessons, reviews, deals and more, direct to your inbox!
Rod Brakes is a music journalist with an expertise in guitars. Having spent many years at the coalface as a guitar dealer and tech, Rod's more recent work as a writer covering artists, industry pros and gear includes contributions for leading publications and websites such as Guitarist, Total Guitar, Guitar World, Guitar Player and MusicRadar in addition to specialist music books, blogs and social media. He is also a lifelong musician.