Blackstar Unveils New Debut Combo Amps
The 10E and 15E feature a built-in "tape" echo effect, and both ring up at less than $100.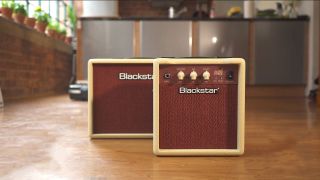 (Image credit: Blackstar Amplification)
Blackstar has unveiled its new Debut combo amplifiers, the 10E and 15E.
The 10W and 15W amps both feature clean and overdrive channels, a built-in "tape" echo effect and Blackstar's Infinite Shape Feature, which adjusts the EQ sweep from American to British.
The amps also feature line in and headphone/emulated line outs, plus a pair of 3" speakers. The 15W amp also features an additional tone control.
The Blackstar Debut 10E and 15E combo amplifiers will be available later this year - in vintage cream and with oxblood styling - for $79 and $99, respectively.
For more info on the amps, stop on by blackstaramps.com.
Get the latest news, reviews and product advice straight to your inbox.
Thank you for signing up to GuitarPlayer. You will receive a verification email shortly.
There was a problem. Please refresh the page and try again.