Listen to Jeff Beck's Newly Released "Superstition" Live Recording Ahead of the Epic Beck, Bogert & Appice Boxed Set
Revisited by Jeff Beck prior to his death, the 'Live in Japan 1973, Live in London 1974' boxed set showcases previously unreleased live performances from his legendary power trio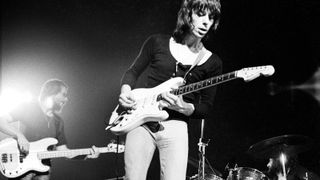 (Image credit: Gijsbert Hanekroot/Redferns)
It began with a fractured skull and ended in a punch-up, but Beck, Bogert & Appice was great while it lasted.
Jeff Beck first met bass player Tim Bogert and drummer Carmine Appice in 1967. By the summer of '69, and with the original Jeff Beck Group in disarray, he hoped to recruit the Vanilla Fudge founding members for his own project.
Unfortunately, however, Beck's best laid plans were thwarted when he suffered a fractured skull during a car crash. It took him months to recover, by which time Bogert and Appice had moved on to form Cactus.
When Cactus disbanded in '72, Beck seized the opportunity to join forces with the pair. The second incarnation of his band had called it a day that summer and, finally, the guitarist's long-awaited rhythm section was in place.
Hailed as one of rock's greatest supergroups, the Beck, Bogert & Appice power trio was a short-lived affair that lasted merely two years.
Released in '73, their self-titled debut album hit the number 12 spot on the Billboard charts and features the Stevie Wonder-penned "Superstition." Beck, Bogert & Appice was the group's sole studio album, though it was swiftly followed up later the same year by the rare, Japan-only release, Live in Japan.
"When the album came out, we started to tour, and the band turned into factions," Bogert told Classic Rock. "The thrill of it all had been so wonderful in the beginning, but then there were personality conflicts, and things went downhill quickly."
It all came to a head at a gig in London when Beck and Bogert got into a physical altercation from which there was no coming back. Subsequently, plans for the group's sophomore album were scrapped.
But over half a century after the band formed, Appice says the experience was over too soon. "It was artistically fulfilling at the time, but it was too quick," reveals the drummer. "The fact that we got to play together was great. Jeff, Tim and I did play great together, but before we knew it, it had ended."
And it seems Beck himself believed the recorded legacy of the trio was worthy of attention, as he revisited concert recordings prior to his passing earlier this year. Dedicated to Beck and Bogert (who died 2021) ATCO/Rhino has announced the forthcoming release of a boxed set containing previously unreleased live material.
Reads the press release: "Beck and Appice mixed all the concerts in this set from the original multi-tracks that had been in Beck's archive for almost 50 years, thus knocking the many bootleg quality releases, that Beck hated, out of the park!"
The Live In Japan 1973, Live In London 1974 set will be available September 15 on CD, LP and digital services. Additionally, a purple-vinyl version will be released the same day.
Recorded in 1973 during the May 18 and 19 performances at Koseinenkin Hall in Osaka, Live in Japan was originally available in Japan only. Live in London 1974 was recorded at the capital's Rainbow Theatre (where Beck and Bogert came to blows) on January 26 and is previously unreleased.
The performance showcases several songs Beck, Bogert & Appice planned to record for their abandoned sophomore studio album, including "Satisfied," "Jizz Wizz," and "Solid Lifter."
Track listing is as follows…
Live in Japan 1973
LP One Side One:
"Superstition"
"Lose Myself With You"
"Jeff's Boogie"
Side Two:
"Going Down"
"Boogie"
"Morning Dew"
LP Two Side One:
"Sweet Sweet Surrender"
"Livin' Alone"
"I'm So Proud"
"Lady"
Side Two:
"Black Cat Moan"
"Why Should I Care"
"Plynth/Shotgun" (Medley)
Live in London 1974
LP One Side One:
"Satisfied"
"Livin' Alone"
"Laughing Lady"
Side Two:
"Lady"
"Solid Lifter"
"Jizz Wizz"
LP Two Side One:
"Name The Missing Word (Prayin')"
"(Get Ready) Your Lovemaker's Coming Home"
"Superstition"
Side Two:
"Blues De Luxe/You Shook Me"
"(Rainbow) Boogie"
Available September 15, you can pre-order the CDs here and vinyl here.
All the latest guitar news, interviews, lessons, reviews, deals and more, direct to your inbox!
Rod Brakes is a music journalist with an expertise in guitars. Having spent many years at the coalface as a guitar dealer and tech, Rod's more recent work as a writer covering artists, industry pros and gear includes contributions for leading publications and websites such as Guitarist, Total Guitar, Guitar World, Guitar Player and MusicRadar in addition to specialist music books, blogs and social media. He is also a lifelong musician.