Authentic Live Hendrix Tone Arrives with PRS Guitars' HX Amps
PRS rekindles the magic of Woodstock with its new Hendrix-inspired amps.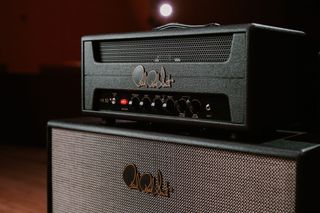 (Image credit: PRS)
Following the success of its HXDA guitar amplifiers, PRS has announced a new brand that aims to recreate the sound of some of rock's most classic guitar tones. The Maryland guitar giant's HX amps have been designed to emulate the character and nuances of the late, great Jimi Hendrix – specifically, a modified Marshall amp he is believed to have used at his historic 1969 Woodstock appearance.
With the blessing of Paul Allen and The Museum of Pop Culture in Seattle prior to his passing in 2018, along with the legendary guitarist's sister, Janie Hendrix, PRS amp designer Doug Sewell and company founder Paul Reed Smith were given the unique opportunity to study this one-off piece and glean the secrets of its legendary tone.
"We have married our part selection process with historical research and The Museum of Pop Culture amplifier to create an amp with the same great tone, feel, and reliability," says Sewell.
The amp – which currently resides at the Seattle museum – was heavily modified at Hendrix's request by Dave Weyer of West Coast Organ and Amp company. In addition to some practical enhancements such as converting it to take American rather than British mains supply, the Strat-wielding guitar hero also made suggestions and requests that would modify its tone. Consequently, the amp is something of a work-in-progress frozen in time.
"[The PRS HX design] is not a painstakingly historical re-creation of the amplifier Hendrix used, but a snapshot in the development of a series of modified amps he came to use on tour and in the studio," continues Sewell. "Consideration was given to reliability, compatibility with his effects and guitars, the tones he achieved, and the feel and response of the amp."
Although the PRS HX amps immediately appear over half a century apart in terms of looks, company founder Paul Reed Smith emphasizes that, above all else, they are engineered to sound like Hendrix's live rig did back in the day.
"These HX amps are intended to sound exactly the same as Hendrix's touring rig, not look exactly the same," underscores Smith.
"We know this is hallowed ground. We feel privileged to reach back into history and bring something special into the current music landscape."
PRS HX amps are available in both 100 and 50 watt formats along with matching 2x12 and 4x12 cabinets loaded with modified Celestion G12H-75 Creamback speakers.
For more information and to hear the HX in action, check out the PRS website.
All the latest guitar news, interviews, lessons, reviews, deals and more, direct to your inbox!
Guitar Player is the world's most comprehensive, trusted and insightful guitar publication for passionate guitarists and active musicians of all ages. Guitar Player magazine is published 13 times a year in print and digital formats. The magazine was established in 1967 and is the world's oldest guitar magazine.
When "Guitar Player Staff" is credited as the author, it's usually because more than one author on the team has created the story.