"I Love Guitar Players, and I've Been Lucky Enough to Work With so Many Great Ones": Alice Cooper Talks Guitarists and His "Revolving-Door Policy"
"To me, rock and roll is guitar music. That's the crux of everything," says the veteran shock rocker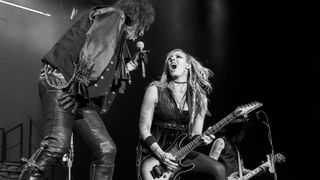 (Image credit: Getty Images)
As Alice Cooper explains, there was no great angst when Nita Strauss left his band last year to tour with Demi Lovato. And Nita received a warm welcome when she returned for this year's activities.
"I have a revolving-door kind of policy at the Alice Cooper show," the veteran shock rocker says. "When a musician has an opportunity to do something, I say, 'See ya! Come back any time you can.' If they see an opportunity or something that they really want to do, go for it. I look at it as a leave of absence. There's never any bad blood about stuff like that."
As for Strauss, "I told her, 'You should do this!' " Cooper recalls. "I said, 'The Alice Cooper show is gonna go on and on and on, God willing, but you're always welcome back.' And now she is."
In the meantime, Cooper adds, he had his own opportunity for a blast from the past, bringing back Kane Roberts, his lead guitarist and primary co-writer for his late '80s comeback with the Constrictor and Raise Your Fist albums and attendant tours.
"The very first person everybody thought of was Kane," he says. "That was the obvious choice for all of us. I called him up and he said, 'Yeah, sure. What do I have to do?' I said, 'Just be Kane,' and it worked out great.
"It was a little more masculine, definitely a little more macho," Cooper says about the muscular Roberts' return for the fall 2022 tour. "Kane brings this, y'know, 'The beast is back' kind of thing. We already have a pretty powerful sound, but when he gets into it, all of a sudden you have this other sound of a guitar.
"Ryan [Roxie]'s guitar has a certain sound, and Nita has a certain style of playing, more of a shredding kind of style, and so does Tommy [Henriksen]. But Kane is kind of a brutal guitar player; he adds a certain toughness to it that wasn't there before.
"But with my stuff you can go either way with it. It's not gonna change the song; it's just gonna change the attitude of the song."
Cooper has certainly learned how to deploy guitar players over the years, too. Since the original Alice Cooper band (with Michael Bruce and the late Glenn Buxton) splintered during 1974, the core has included legends and upstarts, starting with the tandem of Dick Wagner and Steve Hunter, and continuing with Elton John's Davey Johnstone, Al Pitrelli, Reb Beach, Damon Johnson and Orianthi, who Strauss replaced during 2014.
Current guitarists Roxie and Henriksen have been with Cooper since 1996 and 2011, respectively, and the latter is part of Hollywood Vampires, Cooper's band with Johnny Depp and Aerosmith's Joe Perry that released a live album and toured earlier this year.
"I love guitar players, and I've been lucky enough to work with so many great ones," Cooper says. "To me, rock and roll is guitar music. That's the crux of everything. Chuck Berry, Clapton, Jeff Beck, Keith... and on and on. That's what makes it rock, you know?"
All the latest guitar news, interviews, lessons, reviews, deals and more, direct to your inbox!