"It Was Fun to Keep that Solo Old-School Rock 'n' Roll": Steve Stevens Talks Recording Billy Idol's 'The Roadside'
Sidelined by the pandemic the pair made an EP that recalls old times.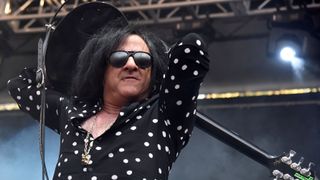 (Image credit: Tim Mosenfelder/Getty Images)
Steve Stevens admits that he and Billy Idol could have run wild during the 2020 Covid lockdown.
"There were no gigs, and we had something we haven't had in a long, long time – unlimited time off," he says. "We could have easily made a full album, or even a double album if we wanted."
Instead, the two longtime musical partners stuck to their original plan to record a tight four-song EP, an all-killer, no-filler affair titled The Roadside.
Stevens credits his wife, Josie, with inspiring the decision to go with a shorter musical statement.
"Josie listens to a lot of contemporary music, and she explained to me that more artists are releasing singles these days," he says.
"After they have enough singles, they put them out on an EP. I thought it was a good way to go. Billy and I have made albums that took six, seven and eight months to get done. But let's face it: Longer doesn't always mean better."
For The Roadside, Stevens and Idol teamed with musician and producer Butch Walker, best known for his work with pop monster sellers like Avril Lavigne, Pink, Katy Perry and Fall Out Boy, among others.
"I heard a track that Butch did with Fall Out Boy called 'Light 'Em Up,' and I thought it was fantastic," Stevens says. "I mentioned it to Billy, and lo and behold, there we were."
Stevens and Idol holed up with Walker in the producer's Santa Monica studio, where they became "a three-man band."
"Whatever needed to be played, we did it right there," Stevens says. "It was a very fun and relaxed atmosphere, and it turned out to be such a saving grace to be able to carry on and be creative. Billy and I were pretty bummed that we couldn't tour, so making this record really lifted our spirits."
Rather than try to apply some sort of au courant window dressing to the record, Walker seized on stylistic aspects of the classic Idol-Stevens sound and sought to magnify them.
Rousing female backing vocals rise from the mix, calling to mind earlier hits like "To Be a Lover" and Idol's remake of "Mony Mony."
"It's funny – we used to have female voices on all the old records," Stevens says. "Billy and I kind of forgot about that."
As for Stevens' electric guitar tracks, Walker went similarly retro.
On the plaintive ballad "Baby Put Your Clothes Back On," the guitarist plays sprawling, reverb-drenched spaghetti western riffs reminiscent of "White Wedding," and his spirited Chuck Berry-esque solo in the toe-tapping rave-up "Rita Hayworth" could have been lifted straight from "Rebel Yell."
For good measure, Stevens even caps the lead off with another "Rebel Yell" call-out – a toy ray gun blast.
"It was fun to keep that solo old-school rock 'n' roll," he says. "It wasn't about playing millions of notes or trying to be flash." He laughs. "Okay, adding the ray gun was flashy. That's just me being me."
While Stevens stuck to a pair of his signature Knaggs guitars, he found some of Walker's instruments too tempting to resist, including a refinished Harmony Sovereign acoustic guitar.
"It's the same kind Jimmy Page favored, and he used it on 'Stairway to Heaven,'" he notes.
"Anytime something called for an acoustic, that's the one I went for. Nothing could beat its sound."
Pick up a copy of Billy Idol's The Roadside here.
All the latest guitar news, interviews, lessons, reviews, deals and more, direct to your inbox!
Joe is a freelance journalist who has, over the past few decades, interviewed hundreds of guitarists for Guitar World, Guitar Player, MusicRadar and Classic Rock. He is also a former editor of Guitar World, contributing writer for Guitar Aficionado and VP of A&R for Island Records. He's an enthusiastic guitarist, but he's nowhere near the likes of the people he interviews. Surprisingly, his skills are more suited to the drums. If you need a drummer for your Beatles tribute band, look him up.