Five of Johnny Winter's Top Tips for Guitar Players
We've pulled out some of the blues-rock legend's best pointers from the GP archives.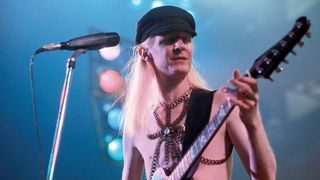 (Image credit: Fin Costello/Redferns)
Beginning with his great grandmother's hundred-year-old Spanish acoustic guitar with a neck "all horribly warped like a bow," Texas blues rocker Johnny Winter (1944-2014) began stringing guitars as a child.
With allowance money earned by grass mowing and lugging out garbage, Beaumont, Texas' best-known guitarist began accumulating his giant record collection of rock and roll and blues.
A scholar of his instrument, he rapidly developed into one of the greatest blues guitar players the world has ever seen, inspiring countless others with his unforgettable live performances.
Known for his virtuosic technique, Winter began his storied recording career aged just 15.
Spending a lifetime in the music business, Winter certainly had some great advice to share with Guitar Player over the years.
The following interview extract originally appeared in our August 1974 issue…
1) Off the Record
"I would just learn how to play the record note-for-note. After I kind of got the feel of what was supposed to be going on, I just took what I heard and assimilated it, and I guess it would come out part mine and part everybody else's.
"There's nobody that really plays original. You can't. You can find some of everybody's licks in almost everybody's playing, but I tried to make it my own after I got the basic things down."
2) A Man of Action
"I like real high action. I had it pretty high before I played slide, because I played hard. Just for pushing strings it's important for it to be high. When I have low action, I can't get my finger under the string to push it as well.
"I'm just lost on a guitar with low action. The main thing I worry about when getting guitars is how easy it is to push the strings, how many notes I can get."
3) Taste Before Pace
"Kids are coming up with a lot more technical ability, but they don't know exactly how to use it, and how to fit it in with taste.
"I've talked to so many people who have been playing for a year-and-a-half or two years, and they're pretty fast, and they want to make it right. They don't realize that you've got to play, you've got to practice for years.
"You've got to play with other musicians, play a lot of different kinds of music, to really know what you're playing and why you're playing it. Not just throw in things and say, 'Look, man, I can play a bunch of notes, man! I can play as fast as Albert Lee!'"
4) It's All About the Love…
"You got to start out with the love for music. So many people just buy a guitar because they decided, 'I want to be a rock and roll star. I'm going to learn how to play this son of a bitch.'
"And after they get a few runs down they think, 'Okay, it's time for me to be a star.'
"You know, I was really ready to play for fifty bucks a week, if that's what it took. I wanted to be a rock and roll star, definitely, because I wanted to be accepted, and I wanted people to think I was good at what I did, but the basic drive and main thing was that I really liked what I was doing."
5) …And the Vibrato
"It wasn't until about '67 that I started using my fingers. Up to that point I always used the tremolo bar. And about that time, to be a cool guitar player you had to use your fingers. It was cheating if you used the bar.
"So I wanted to be cool like everybody, so I figured, 'If those guys coming up can do it with their fingers, let them! I'll learn to do it with my fingers, too! [laughs]
"I worked at it about a year getting better and better until I got to the point that the tremolo bar got in my way. It's harder to keep your guitar in tune with, so I'd really rather not use one, even though there are effects that are cool."
Browse the Johnny Winter catalog here.
All the latest guitar news, interviews, lessons, reviews, deals and more, direct to your inbox!
Rod Brakes is a music journalist with an expertise in guitars. Having spent many years at the coalface as a guitar dealer and tech, Rod's more recent work as a writer covering artists, industry pros and gear includes contributions for leading publications and websites such as Guitarist, Total Guitar, Guitar World, Guitar Player and MusicRadar in addition to specialist music books, blogs and social media. He is also a lifelong musician.