Why the 1968 Vox Sidewinder Bass IV is a Treat for Guitarists Looking For Low-End Adventure
Whack Job: With its ultra-narrow neck and onboard effects, the 1968 Vox Sidewinder Bass IV is a bass like no other.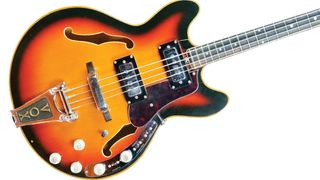 (Image credit: Future / May Yam)
You may be wondering why I'm writing about a bass this month. In my defense, I know a lot of guitarists write and record music at home, and some of us even take a shot at playing a bass part to demo new songs for our bandmates.
Unfortunately, the necks on modern basses are huge, and the frets so far apart. Back in the '60s, European musical instrument makers like Hofner, Framus, Hagstrom and Eko (which manufactured Vox guitars and basses in Italy from 1965 forward) made basses with necks so skinny, they felt more like a cello than a bass.
This semihollow-body 1968 Vox Sidewinder Bass IV, model V272, has one of the narrowest necks made. I find that, after playing guitar, I can easily use it to jam or lay down a quick bass track without feeling like my fingers have shrunk.
It sounds great and plays effortlessly, and it even has built-in distortion. Clearly, there's more going on here than meets the eye. Let's have a look!
Weirdo Factor
At first glance, this bass looks so normal that it's almost boring. But then there are those built-in electronics, which include a tone generator that produces a G note for tuning, and an active EQ circuit dubbed the TR-B Boost. But the really cool effect is the onboard distortion, and its appearance here is almost inexplicable.
Fuzz bass did make an appearance on the Beatles' "Think For Yourself" and "You Only Live Twice" by Nancy Sinatra, for the James Bond movie of the same name, but otherwise, distortion was used sparingly on bass at the time. Suffice to say, a built-in fuzz circuit was a very forward-thinking feature.
Playability & Sound
This semihollow bass rivals the best of them, including models by Gibson, Baldwin and Hofner. Even with the onboard effects bypassed, it has a rich, warm and punchy tone that would be great for surf, jazz, Motown and many other styles.
It sports two of Vox's Ferro-Sonic pickups, a fully adjustable bridge (although I wish it wasn't of the floating variety), a global volume control, and tone knobs for each of the two pickups.
Also of note is its Double T-bar adjustable truss rod, which is why it still plays nicely after more than half a century.
Lastly, the super-fast three-piece maple neck with rosewood fingerboard and 21 frets is as thin as they come. It's super easy to play and doesn't become wider on its way up to the body.
As for the distortion, it sounds fantastic. Unlike other dirt circuits I've used with bass, the low end remains intact, perhaps due to the unique Italian circuit and use of flat-wound strings. Better still, there's a blend knob that lets you dial in the perfect amount of effect.
Value
The Vox Sidewinder Bass IV retailed for $375 in 1968, roughly $2,500 today. I paid about $1,000 for this example last year, but I've seen them go for $1,500 and more at auction.
Why It Rules
While the Sidewinder might not feel innately comfortable to bassists, it's perfect for guitarists, especially if you have small hands. It's also light for its size.
My thanks to Craig McFarland, a full-size bass player who plays full-size basses, and who demoed this instrument for me and had a hard time putting it down.
All the latest guitar news, interviews, lessons, reviews, deals and more, direct to your inbox!