Why It's an Exciting Time to Be an Acoustic Guitarist
With formidably talented players taking the instrument to new heights and innovative acoustic-electric builds, are we living in the new golden age of acoustic guitar?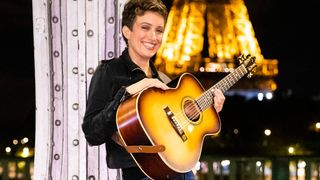 (Image credit: Mat Ninat Studio)
Guitar Player editors agree on few things, but we all concur that, at present, there's more action in the acoustic guitar market than the electric.
Many electric guitar icons, including this month's cover artist, Eric Johnson, and last month's Frets feature artist, Stone Temple Pilots, are scratching the acoustic itch.
YouTube videos of bluegrass bands and percussive fingerstylists covering classic rock tunes have as many views as the original artist, and major manufacturers like Martin and Taylor are re-inventing the acoustic guitar in ways that blur the line between it and the electric version.
Why are we witnessing so much action in the acoustic arena? Here are my big three reasons.
1. Acoustic is For Everyone
As Eric Johnson says in his cover feature, going acoustic is the most direct path from thinking about music to making it.
That applies to everyone. Beginners can get in on the action more easily because they don't have to navigate the gear and technique associated with playing electric, such as effects pedals, amplification and the palm muting required to restrain the sound of an amplified guitar.
What's more, acoustic isn't just for country and Americana - rockers and headbangers love their acoustics too.
In recent Frets features, Zack Wylde, Dean DeLeo and Alex Lifeson are among those who say many of their heaviest electric riffs originated on an acoustic guitar. On the advanced end of the spectrum, acoustic technique has never been better.
Christie Lenée explains in this month's Frets feature how Andy McKee brought the two-hand percussive technique to the masses by doing instrumental takes on pop hits. More than a decade since that trend started, it's amazing to see how many players have mastered many of those super-difficult techniques.
Just as Baby Boomers had to tackle "Stairway to Heaven" and Gen Xers had to figure out Van Halen's "Eruption," today's aspiring percussive fingerstylists must learn McKee's "Driftin'."
When will we know the modern percussive style has jumped the shark? When it's as ubiquitous in pop music as tapping was in the '80s. That means there's still a ways to go, with probably some major breakthroughs yet to come.
2. Acoustic is Going Electric
Some of the most innovative changes are occurring in the acoustic market. Our Frets interviews with everyone from Rich Robinson to Billy Strings to Eric Johnson make it abundantly clear that players are on the hunt for better live acoustic tones.
Fishman and L.R. Baggs are two of the leading acoustic-electronics experts answering the call, and the ramifications are good for all of us. With each year, we're all sounding better onstage and in the studio thanks to advancements in modern acoustic-electric gear.
3. Acoustic is For All Times
The acoustic trend has both a historic side and a modern side. There is a huge interest in quality gear from simpler times, and companies like Martin and now Gibson have entire series devoted to re-creating their most iconic instruments from the pre-war era, while modern companies such as Pre-War have built their business on the same premise.
On the other hand, the success of Taylor's V-Class bracing and the excitement about Martin's new S guitar prove that there are as many players on the hunt for revolutionary new acoustic gear as there are traditionalists eager to possess a new instrument that's close to what was available in 1937.
There are surely many more reasons why we're seeing such enthusiasm for the acoustic guitar and acoustic music.
Ultimately, it doesn't matter which side of the trend you're on. It's only important that we're all inspired to pick up an acoustic and play. Hopefully, this Learn column has got you in the mood to do so right now.
All the latest guitar news, interviews, lessons, reviews, deals and more, direct to your inbox!
Jimmy Leslie has been Frets editor since 2016. See many Guitar Player- and Frets-related videos on his YouTube channel, and learn about his acoustic/electric rock group at spirithustler.com.