Eric Johnson on His Acoustic Evolution, the Essence of Songwriting and Recreating His Legendary Virginia Strat
On EJ Vol. II, Johnson doubles down on his acoustic playing while taking the electric guitar into bold, new territory. Can he have it both ways?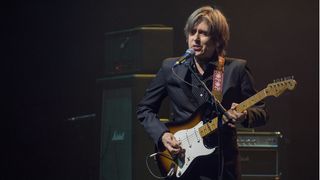 (Image credit: Photo by Rick Kern/WireImage via Getty Images)
Are you an electric or acoustic guitar player? The majority of our readers are both, but there's no denying that the acoustic side resonates more robustly in the culture these days. Electric shredders simply aren't generating as many streams, sales and tour tickets as rootsy singer-songwriters and country pluckers.
One cat who bridges the gap first graced our cover in May 1986 with the infamous headline "Who is Eric Johnson and why is he on our cover?" Nearly 35 years later, there's no need to ask why Eric Johnson is on our cover again. He was, and still is, a unique breed of guitar hero.
Although he's from the shredder era, and even sported an impressive spiked mullet, Johnson didn't surrender to every tapper trapped in Van Halen's wake, so he doesn't suffer the deadly levels of contempt attached to many of his contemporaries. His style reflects his deep affection for roots music, owing as much to Chet Atkins as Jimi Hendrix.
With Americana and country music ruling the day, Johnson's technique and more traditional take on tone are as relevant as ever. Over time, he turned his focus toward the acoustic, touring with Andy McKee and Peppino D'Agostino on the Acoustic Masters tour in 2010.
In 2016, he went all acoustic on the EJ solo album and tour. The album was a blend of song-oriented originals and choice cover arrangements that also showcased Johnson's piano skills, most notably on his stellar arrangement of Hendrix's "One Rainy Wish."
He continues down a similar path on EJ Vol. II (Provogue), an album with an acoustic heart, colored by his signature violin-toned Stratocaster, which sings more melodically than ever in select spots. Several tracks, including the opener, "Waterwheel," feature Johnson on acoustic and electric guitars, piano and vocals.
When Guitar Player presented Johnson's sold-out show at the SFJAZZ Center in San Francisco during a week that also saw him perform at Anaheim's City National Grove during the Winter NAMM Show, we wondered how the man who'd never toured with a second guitarist would cover all the bases live.
Add Dave Scher to your list of names to know. The multi-instrumentalist played a bit of everything, including the requisite Johnson-style Strat licks when Johnson focused on piano. But the proof of Scher's true grit came when he stood toe to toe with the maestro to trade lead breaks. Kudos to Johnson for having the guts to truly serve the songs and for bringing the up-and-comer along.
It's particularly fascinating to witness Johnson - who still totes around his usual triple half-stack electric rig - maintain his signature style during the acoustic portion of the show. On any guitar, Johnson's chords are his chords. The kick is that he transforms from a pick-wielding electric guitarist with awesome hybrid technique into a full-blown acoustic fingerstylist.
Still evolving after decades in the spotlight, the always humble and hardworking guitarist is ever inspirational. He took some time to talk with us about everything from Tommy Emmanuel's indelible acoustic influence to his new signature Virginia Stratocaster from Fender's Stories Collection.
Why are more players and fans today appreciating the acoustic guitar?
The acoustic guitar summons players to bring expression to the table without a lot of sonic sidestepping, such as using five million effects that mask what's truly going on musically.
There's less in the way between the idea of making music and actually making it. Playing straightforward acoustic is a pretty honest palette, and I believe people appreciate that, whatever the player has to offer.
Why do you go way down the right-hand rabbit hole to full-on fingerpicking?
I feel like I have to in order to serve the acoustic properly, because I want to incorporate the bass line and everything else. There's a place for simply sitting and strumming, but I try to use the acoustic orchestrally.
Certainly, there are other players taking it further by using all sorts of fancy techniques, but fingerpicking well is challenging enough and opens up plenty of possibilities for me to feel like I'm delivering more of a full musical expression.
What are your thoughts on two-hand percussive fingerstyle?
When done well, it's awesome. If it's not done musically, it can be a bit of a novelty, and the same is potentially true for other techniques. To a certain extent, you have to decide on a direction.
My plate is full trying to get better at a whole sea of fingerpicking styles, from bluegrass flatpicking to Travis-style and classical-style fingerpicking. I'll throw in a tiny bit of the two-hand thing every once in a while just for effect, but I think I'd have to go back to being 12 years old again to really commit myself to get two-handed together. [laughs]
Do you pay attention to new acoustic tech, and did you have a chance to check out much at NAMM?
Not really. I wish I had more time at NAMM to see the new gear, because I never close the door on anything that has to do with acoustic electrification. I'm always on the search for ways to make it sound more realistic. I don't use acoustic effects onstage, other than the reverb onboard the AER Compact XL. Once I saw Tommy Emmanuel, I figured I might as well go that direction as well.
Your setup is noticeably similar, with a Maton acoustic-electric running into an AER Pocket Tools Dual Mix 2 and an AER amp. So the guy with the infamous electric rig looked at an acoustic menu and said, "I'll have the Tommy Emmanuel"?
Yeah, because when it comes to that modern electrified acoustic sound, nobody does it better than him. The only other direction I'd like to try is going completely the other way with an old-school folk sound. But the Maton is great for getting that loud, hyper-enhanced tone.
Do you use it like Emmanuel does, with the internal mic cranked up and a feedback buster in the soundhole?
Pretty much. I've tried a million other things, and nothing sounds as good. I've got two Matons that they made custom for me: one with a cutaway, and one without.
Frankly, I don't know much about them or the electronic system, because they basically sent me those guitars saying that I might like them, and I did. Maton has a proprietary system with a bridge transducer and an internal mic. I back the mic signal down a hair, but it's almost wide open.
By itself, the mic signal sounds pretty ridiculous, but it's really interesting when paired with the pickup. It adds a natural air, and it's addictive. Once you've heard that, going back to just the undersaddle piezo doesn't quite get you there. But you need that feedback buster in the soundhole, or it will feed back on you like crazy.
Emmanuel sends one signal from the Dual Mix straight to the house and another to the amp for monitoring, but is your setup slightly different?
Yes, I essentially use the Dual Mix as a preamp to bolster the signal into the AER, and then I use the amp's direct out to the house. I'm considering having a custom preamp built. Actually, I found the Frets interview with Molly Tuttle interesting, where she described having custom images for each guitar stored in… What was that device called?
ToneDexter, by Audio Sprockets.
Right. It'd be cool to have something dialed in for each acoustic on the road.
Are you playing all the acoustic stuff on tour with the cutaway Maton, except "Black Waterside," which is essentially your take on Zeppelin's "Black Mountain Side"?
Yes. I thought it would be neat to play that tune, so I started working up the Zeppelin version. Then I decided to add some little parts to make it my own. One day while watching YouTube, I noticed that Bert Jansch had done a version with vocals way back in the '60s that's really great. Finally, I realized that it's an old folk piece that's been done in lots of different ways.
For that tune I use the thicker-sounding, non-cutaway Maton, with the top and bottom strings tuned down a step, to D. I actually used the Maton for the album version of that as well, because we recorded it live at some gig, whereas I tracked most of the album with my 1980 Martin D-45. I keep that at home and don't think I'll ever put electronics in it.
But I did recently get a "sinker mahogany" Martin D-18 from Gruhn Guitars. That's the acoustic I'd like to find electronics for that would deliver a folky James Taylor–style sound, with a very flat EQ - not hyped at all.
What was the thinking behind choosing an M-style body for your signature Martin MC-40 from the early 2000s?
I wanted to try something a little smaller than a dreadnought and a little bigger than a triple 0. The M size is interesting, because it kind of splits the difference. It's thinner than a dreadnought but bigger than a triple 0. I don't know if it's quite the utopic size or not, but that was the experiment.
I'd probably lean more toward the triple-0 size today. I don't have that out on the road with me because I haven't been able to figure out an electrified system for it yet either.
During soundcheck at SFJAZZ, you dialed the acoustic rig in quickly, then did a lot of tweaking to make sure the Fender Bandmaster had the right headroom and the Two-Rock Classic Reverb Signature had the right amount of gain for dirty rhythms. And then you even swapped in an entirely different Marshall Plexi head for your lead tone. What were your thought processes?
With solid-state electronics on the acoustic side, there's more of an even keel. In most places, I can pretty much set up my stuff and play. A particular P.A. can be difficult sometimes, but there's a pretty wide berth, whereas on the electric side, with tubes and voltage and everything else, the margin is much more narrow.
It's easy to get caught up into thinking that electric gear can account for a huge percentage of your tone. But when you step back, you realize that it accounts for maybe 12 percent of your tone. The rest is up to you.
It boils down to the intention, art and technical execution of the player. It's about getting things to work to the point that you feel you have the wind at your back, so that you can play your best, whether it's on an acoustic or an electric.
Why didn't you play your signature Thinline Stratocaster during the show?
It has an interesting sound that's a bit more floaty and airy, but I didn't use it on the new record or this tour because I'm either playing acoustic or going for that endless sustaining electric tone, and the solidbody is better for that purpose.
What's the workhorse electric on the new album and tour?
On the album, I mostly played a vintage Strat, but on tour I've been playing and loving my new signature Fender Virginia Strat. It's designed to be a copy of my '54 Virginia that I modified quite a bit and used a lot back in the day. Unfortunately, I eventually sold my original, and even though I'd tried lots of different '54 Strats since, none of them sounded quite the same.
Around the same time that we started talking with Fender about their Stories Collection - which is all about artists who have modified their Strats - I found out that my original Virginia was one of a small number of Strats and Teles from '53 and '54 made out of sassafras, which was unusual.
So we went ahead and tried a prototype with a sassafras body, and all of a sudden the heart of that Virginia sound was there. It's got a lot of the extra rattiness, or fizz, that's part and partial to having a really twangy clean tone.
But then something magical happens when you turn it up. As it takes on more gain, some of those spurious outer frequencies that can wreak havoc with a good lead tone seem to fall away. You get more of that inner core tone as you turn up to lead.
The other key to the combination is having a DiMarzio HS-2 pickup in the bridge. I don't use the stack underneath; I just use the single-coil, but it has a little more gain, and the combination of that pickup with the sassafras body works well for me.
Can you detail some of the other key modifications from your classic '54 that are represented on the new Virginia?
The radius is modified down to 12 inches to accommodate having lower action without fretting out when you stretch the strings, and it's got jumbo frets to make those big bends happen more easily.
It's interesting to look back on modifications other guitarists made that you never did, such as a locking tremolo to facilitate huge whammy bends, or even techniques you didn't adopt, such as two-hand tapping. Have the choices you made early on served you well as the singer-songwriter side of your style becomes more prominent?
Yeah. I've always loved that kind of music. I've always played it, studied it and wrote songs that way. Earlier on, I was having so much fun doing the guitar thing, and since that's what people were noticing, I just kind of went with it.
Two things from both ends of the spectrum come to mind: I didn't really showcase my other side to the point of where it was accepted, and I honestly didn't spend enough time developing it to the best of my ability. I wanted to put those two ends together.
How did you go about achieving that on EJ Vol. II?
I wanted to put the songs first, so I started recording each track by myself, miked up with a pair of Neumann KM-56s in front of my acoustic guitar, or U87s on the piano, often singing along into another mic. Then we'd add the drums, bass, lead guitar or other elements later, as overdubs.
I wanted to develop the songs in a way that would support them but not take away from them. The intention was to preserve the emotional connection to the song, and that's an area I needed to work on.
It can be tempting during the orchestration to go nuts playing guitar and making sure every note is spot on - the kind of thing I'm known for - but I wanted to readjust that priority, because while it can be impressive, it can also take away from the song, especially upon repeated listening.
It's like eating a meal that tastes good as it goes down, but then there's the aftertaste, and how it makes you feel. The realization is that maybe you don't want to do that all the time.
Some of the most interesting orchestration happens on the country instrumental showcase, "Charldron's Boat." What's happening on that track?
It originally had vocals, but I couldn't get the lyrics right, so I played the vocal melody on a Supro lap steel with skinny strings through a Twin Reverb.
Doyle Dykes is one of my favorite acoustic players of all time, and he's on that track as well. What sounds like a Dobro is actually him fingerpicking a steel-string guitar, but now and then he reaches behind the nut and stretches the strings in a way that sounds like a Dobro.
Dave Scher is in your band now. How nice is it to have a multi-instrumentalist who is also an ace lead guitarist?
Dave is such a natural multi-instrumentalist and singer that it allows me to play more piano and gives me more harmony to play off throughout the show. He's starting to get in demand around Texas, where he leads his own group and gets hired to do all kinds of different gigs on different instruments. His ear is so good that if you show him a part once or twice, he's got it.
Has playing a lot of acoustic guitar influenced your electric playing?
It's made me think about ways I can articulate on the electric, such as using it for orchestration on this project, and all that acoustic fingerpicking has led to playing more notes at once on the electric to depict harmony as well.
What are your acoustic and electric guitar dreams of the future?
I have some more acoustic stuff I'd like to do. I also want to make an album of what I consider pop songs that would be acoustic and electric. Plus, I've got another project in mind. I have a batch of bluesy tunes that I'd like to do with a guitar plugged straight into an amp. I'm very interested in trying to strip it down to see what music comes from keeping it as simple as possible.
If you had to give up all your extra gear tomorrow and could choose to keep one or the other, would it be an acoustic, or a Strat and a rig to rock it through?
That's a heavy one. I suppose it would be the Strat. And then I'd put an acoustic-style undersaddle pickup in it.
Eric Johnson's new album, EJ Vol.II, is out now via Vortexan Music
All the latest guitar news, interviews, lessons, reviews, deals and more, direct to your inbox!
Jimmy Leslie has been Frets editor since 2016. See many Guitar Player- and Frets-related videos on his YouTube channel, and learn about his acoustic/electric rock group at spirithustler.com.