Vintage Vault: Fender's Lavender Lilac Telecasters
We flash back to a colorful period with vintage guitar veteran David Davidson.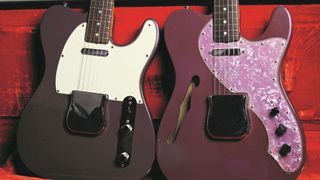 (Image credit: Paige Davidson/Well Strung Guitars)
"Lavender Lilac Fenders are incredibly rare," says David Davidson, "and we've got three of them at Well Strung Guitars at the moment – two 1971 Lavender Lilac Telecaster Thinlines: one with a rosewood 'board and purple pickguard, and the other with a maple 'board.
"They made some Thinlines in Lavender Lilac, but the standard 1973 model we have is the only regular Telecaster I know of that was made in that color. I guess they had paint left over! As far as I'm aware, they never made a Lavender Lilac Stratocaster or anything else like a Coronado around that time. It appears the color was specific to the Thinlines.
"I have a copy of [Fender employee] Freddie Tavares' handwritten list from the late '60s of the new colors that were going to come out for the Thinline Telecasters. In 1968, Fender were looking at a bunch of new colors, including Lavender Lilac. It says, 'New colors for Telecaster Hollow Bodies: Jet Black, Canary Yellow, Salmon, Lavender Lilac, Hot Pink, Kelly Green.' Salmon is a slightly pinker version of Fiesta Red. Hot Pink is like a bubblegum pink.
"Fender launched the Thinline Telecaster in '68 and I think they were trying to make a big splash. Almost all the guitars made in the above colors went to trade shows. You could order them in your local store, but word got out late. By 1970, people were not ordering them much. So most of these colors have not been seen by many people. But we've had every color, and almost every color with rosewood and maple 'boards.
"Fender used their own names for these colors, but there is normally also an automotive [industry] name for them, too, and a paint code. Sometimes paints were Duco nitrocellulose lacquer, sometimes they were Lucite acrylic, or maybe Centari acrylic/enamel. There were many different types of paint and there were different manufacturers such as DuPont and Ditzler. Fender would ask for a paint by number and by the code for the type of paint – like L for Lucite, A for Centari, D for Deluxe enamel and so on.
"The formula could be mixed up at a local body supply place. Interestingly, the automotive industry started to phase out nitrocellulose in the early '60s; by 1964, most cars were finished in safer paints. Ford went to all enamel paint, for example.
"The standard finishes for Tele Thinlines were sunburst and natural mahogany and ash. They often had a combination of both woods on the body, but some were all mahogany and some were all ash. It was a case of whatever they had, they used. We recently sold one that has a mahogany back and sides and an ash top, and I have one here at the moment, which is all mahogany. Natural finishes were all the rage in the late '60s and Fender carried that forward through the '70s as options for the Stratocaster and Telecaster. They'd strip their guitars down and route them for humbuckers and all kinds of things. Everyone was into 'natural' things and flowers.
"Around 1969, major auto manufacturers in the US came out with crazy colors, just like these Thinlines. Dodge had their High Impact colors like Plum Crazy purple, Go Mango orange and Sassy Grass green, while Ford had their Grabber colors that you see on Mustangs like Grabber Blue, Grabber Green and Grabber Orange. Fender custom colors are based on these trends in the automotive industries. The electric guitar industry always followed the auto industry.
"There were also the Paisley Red and Blue Flower Teles that came out in '68. They made about 75 guitars and 25 basses in each finish, so they're quite rare. They used a product called Cling-Foil that was made by the Borden company. We actually have an unused piece of Paisley Cling-Foil. It's a peel and stick product, like a thick metallic wallpaper. Fender stuck it onto the wood and painted around the edges of the body and pickup routes.
"The Thinlines were one of Roger Rossmeisl's designs and they were his most successful Fender guitar by far. He also worked on the Coronado, LTD and Wildwood guitars. He was a woodcarver and believed in carving the tops. Before Fender, he made beautiful tops for Rickenbacker and created amazing designs. He was very much the craftsman, as opposed to a machine worker. But Fender were struggling to come up with lightweight guitars and the Telecaster Thinline seemed to be a good solution."
Vintage guitar expert David Davidson owns Well Strung Guitars in Farmingdale, New York.
All the latest guitar news, interviews, lessons, reviews, deals and more, direct to your inbox!
Rod Brakes is a music journalist with an expertise in guitars. Having spent many years at the coalface as a guitar dealer and tech, Rod's more recent work as a writer covering artists, industry pros and gear includes contributions for leading publications and websites such as Guitarist, Total Guitar, Guitar World, Guitar Player and MusicRadar in addition to specialist music books, blogs and social media. He is also a lifelong musician.