Vintage Vault: 1961 Gibson Les Paul Custom in 'reverse' custom color finish!
Vintage guitar veteran David Davidson of Well Strung Guitars turns the spotlight on this ultra-rare Les Paul Custom.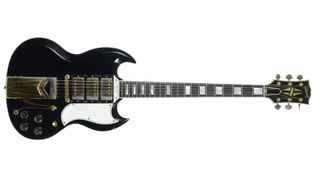 (Image credit: Maddie Patch/Well Strung Guitars)
In 1961, the now iconic single-cutaway 'Black Beauty' Les Paul Custom was revamped to incorporate the thin-bodied, double-cutaway design of the SG. By 1963, the name followed suit as "Les Paul" disappeared from the headstock. Issued with a white finish as standard, custom color examples from this period are exceptionally rare.
Here, David Davidson of Well Strung Guitars in Farmingdale, NY shows us a custom-ordered model from '61 sporting 'reverse' two-tone livery.
One of the First
"This is a very early production Gibson SG-style Les Paul Custom from '61. It's one of the first of its type and the only black one I've seen from the era," says David. "The original owner custom-ordered it in a black finish. He wasn't a famous guitar player and he didn't have any special connections to the factory, but in those days you just wrote Gibson a letter. And that's what he did – he just asked them if they could make it in black.
"It also has white plastic parts, which offset the custom black finish beautifully. It's got that tuxedo look. When he first went to the music store to get it – the Ossining Music Center in upstate New York – he was not expecting it to have white appointments, because it was shown with black [plastic] parts in the catalog. He said when he first opened the case he was 'surprised but happy'.
Excruciatingly Rare
"Some people don't realise how excruciatingly rare custom color vintage Gibson guitars are – they're far scarcer than Fender custom colors. I also know of a black two-pickup Standard with a white pickguard that was made. It's out there somewhere. I wish I had it because I'd love to put the two of them together. I've often been asked if I'd sell this guitar, but it's very dear to me. It's irreplaceable, a one-off.
"I've had some really great professional players look at this guitar, but it's more of a collector's piece. Most of the players who have tried it said that if they bought it they'd get it refretted because it's got the small 'fretless wonder' frets. And that kills it for me! I wouldn't ever want this one to get messed with.
"I love the way it's aged and mellowed. Most of the gold is in good shape. There's a little bit of verdigris, but it's pretty much intact. The yellowing on the headstock is not too severe – it's actually a very beautiful contrast and it doesn't look out of place with the yellowed binding on the sides of the fingerboard. Normally, as you play, the clear[coat] wears off, but the original owner didn't really take it out on the road so to speak – he was playing lounge music in hotel bars and clubs up in the Catskills.
"Gibson did such a beautiful job on these guitars with the appointments. Not only with the gold-plated hardware, but it also has the ebony 'board [Standards have rosewood] and mother-of-pearl inlays, which have a much prettier look than the 'mother-of-toilet-seat' material – it's much more reflective and the white trim really makes it pop.
PAF Tone
"It sounds really good. The PAF covers have never been off. In fact, the guitar has never needed to go to a shop for servicing, which is good because it means nobody has been able to mess with it. They're double-black PAFs with the shorter magnets [by late 1959, Gibson began using a shorter Alnico magnet in PAFs].
If you play this guitar through a big amplifier with gain and let the PAFs open up they are really very sweet. When you dial back on the volume to about 8, it gets soft and warm and subtle sounding – great jazz tone. The out-of-phase tone in the middle position is wonderful, and with the volume backed off it gives you a Strat-like in-between sound. It's a pretty versatile-sounding guitar.
Fretless Wonder
"It plays really well. The neck on this guitar feels very much the same as a regular 1960 single-cutaway Les Paul Custom. So, it's not the very flat 1961 profile yet – it has more of a rounded 1960 feel. Jumbo fretwire appeared on Standards in '59, but not on the 'fretless wonder' Customs. Gibson used these smaller frets on the Custom from its release [in 1954] pretty much up through to '63 when the model was redesignated as an SG (with no Les Paul decals). Then they started to use the larger frets, which made a huge difference to the playability.
For a rock player wanting to bend strings all the time it's not a terribly playable guitar, but if you're just riffing jazz then it's great. The 'fretless wonder' idea was that it has a fast action because if the fret is low you never have to pull your finger very far off the fretboard.
Gibson's Heyday
"I think people can be quick to blow these models off because they're a follow-up to the master of all Gibson solidbodies – the single-cutaway Les Pauls – although they originally sold many more SGs than they did single-cutaway Les Pauls. But these are still part of Gibson's heyday.
"They were giving up on the original single-cut 'fretless wonder' but kept a lot of the same components. And with this SG-style Les Paul Custom in the 'black beauty' finish, you can really see the evolution. It helps tell the story."
Check out more incredible vintage rarities like this at Well Strung Guitars
All the latest guitar news, interviews, lessons, reviews, deals and more, direct to your inbox!
Rod Brakes is a music journalist with an expertise in guitars. Having spent many years at the coalface as a guitar dealer and tech, Rod's more recent work as a writer covering artists, industry pros and gear includes contributions for leading publications and websites such as Guitarist, Total Guitar, Guitar World, Guitar Player and MusicRadar in addition to specialist music books, blogs and social media. He is also a lifelong musician.