Treasures from the PRS Vault: Looking Back at Key Developments from 35 Years of Remarkable Guitar-Building
As PRS Guitars celebrates its 35th Anniversary, Paul Reed Smith reflects on his most important designs.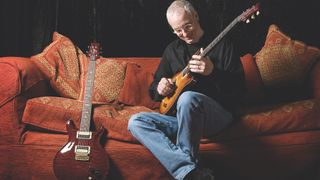 (Image credit: Jordan Mclachlan/Future)
"I've always seen the guitar as a tool to make music with, and I was trying to make a tool that worked for everything," Paul Reed Smith says of the foundational guitars he created decades ago that blazed the trail for PRS Guitars becoming what it is today — a phenomenally successful manufacturer of sleek, beautiful-playing instruments that have consistently delivered exceptional tone and quality.
PRS may not have been producing guitars during the birth of rock and roll (or earlier, as some can claim), but in a strange way the company seems almost timeless, as if the entirety of modern guitar history was assimilated into its DNA, spawning concepts that would have been unthinkable, or at least overlooked, prior to its debut in 1985.
Only a forward thinker with the inventive smarts, guitar-playing experience and sheer knowledge of how to put it all together could have created an entity that holds such relevance in the guitar-playing community. And, somehow, Smith made it happen in a relatively short amount of time.
Celebrating its 35th anniversary this year, PRS now boasts an extensive array of products. It spans five guitar lines that comprise the Core, Bolt-On, S2 and SE series, and Private Stock models; SE and Private Stock acoustics; a range of basses (Core, SE and Private Stock); and a complement of tube amplifiers that includes the Archon series, Grissom series, J-Mod, MT-15 and Sonzera series.
But it all began with one guitar, the Custom 24, which has remained incredibly popular over the decades and is now offered in seven Custom models in 24- and 22-fret configurations. In developing the Custom 24 (or simply the Custom, as it was originally called), Smith had what seemed like fairly modest goals, but the realization of those ideals had enormous impact for guitar players at that time.
"I was trying to make a really comfortable guitar that somebody would want to own and use," he says. "The neck shape was between an old Tele and an old Les Paul, and the scale length was in-between the two. By making the guitars work well in terms of finish and neck shape, and by addressing the tremolo, the pickups and controls, the weight, balance and all that stuff — I thought my guitars had a chance. I had so much to offer, and nobody wanted to have anything to do with me. I was screaming, 'I have something to offer!'"
We spoke with Smith about creating his first production solidbody guitar and other models that have been significant to the evolution of PRS Guitars.
What were you noticing about guitars in 1985 that made you believe the time was right for something different?
I thought there were things the guitar makers of the '50s had done that had been lost. For instance, if you looked at a 1967 Tele and a 1969 Tele, they're exactly the same, except one was soaked in polyester and the other had nitro lacquer on it. So they started to make changes and compromises that were making the guitars not work so well.
The Custom 24 brought to the scene a spectacular design with superb playability and killer tone. It also had an outstanding trem bridge that seemed to come out of nowhere. How did you develop the original tremolo?
Carlos Santana wanted a tremolo that stayed in tune and wasn't a locking type. I told him I could do it and hung up the phone — and I didn't have any idea how to do it. But here's what I did: I put a roller nut that I made on the guitar to get rid of the friction of the nut, put locks on the tuning pegs to get rid of the rotational irregularities, put a knife edge on the bridge and knife edges on the screws, and I drilled the block out so that the ball of the string was very close to the top of the saddles.
Eventually, I took off the roller nut and put on a version of a Teflon nut. The bridge was designed to keep the saddles from moving side to side, and the insert for the arm kept it from breaking off, like they did on Fenders. I approached all the problems and solved them, and Carlos was happy.
What were the Custom 24's pickups inspired by?
It was a slightly overwound PAF but had magnetic pole pieces on the slug side to give it a little more of that Fender snap. I've only seen one or two people who actually understand how to use them. The guitar player in Firefall, Jock Bartley, used to get that tone — half Fender and half Gibson — and he was good at it.
A lot of people thought the pickups were too bright, but they were intended to be clear. We changed them to the HFS and the Vintage Bass pickup models within a couple of years, and when we did that we also got rid of the Sweet switch, because it was no longer needed.
What amps did you use to voice them?
It was either a four-input Marshall or something with a Soldano Hot Mod in it. That was a tube with three gain stages that you could put in a socket for a 12AX7, and it added gain.
The highly figured tops that you started putting on your guitars were kind of novel in 1985, even though a few other companies, such as Moonstone and Oasis, were using figured woods. Was it widely accepted?
I remember showing my guitars to Richard Ash of Sam Ash Music in New York, and he looks at the sales guys and says, "You guys think this curly maple will sell?" And the sales guys go, "Oh yeah, we can sell it. Get us the curly maple guitars."
But at the time, at NAMM, the curly maple was mainly in the violin department. Even a Les Paul had no curl in the top. Moonstone and Oasis, and also S.D. Curlee, Alembic and Hamer did have curly maple guitars, and they helped pave the way for PRS. But I wasn't interested in paving new ground. I was interested in making guitars that people would buy and then buy again.
The Custom was the first model you put into production. What did that involve?
To put it into production you had to have a jig for everything: for the body shape, the top carve, the headstock thickness, tuning-peg holes, neck carve, heel, neck joint, pickup holes… You name it. You had to have a machine for every single aspect of the guitar.
All those machines had to be drawn up, and we're talking something that took a year. It drove me crazy, yet I did it all by myself. I was also spraying all the guitars at night. I'd start spraying at six and I'd go home at 10:30.
Your first high-profile endorser was Carlos Santana, which was obviously an immense validation of all the things you had worked toward with your guitars. Was it an overnight success?
It was unbelievable. I was always told that if you build something magic, the world will pave a path to your door. But it's not true. If you build something magic, you can get an appointment. [laughs] I thought if I could get Carlos to play my guitars, everything would change.
That's what I was telling myself. So one night after he had the second guitar I made for him, he was on the Tom Snyder show [NBC's Tomorrow Coast to Coast] with his band, and they were killing it. They played for a half hour, and for 20 minutes it was a close-up of the guitar — not even Carlos, just the guitar — and it was worldwide.
But afterward, nothing changed. What had happened was, I had the right to get an appointment. They would at least see me now. So having Carlos as an endorser was incredibly important. He didn't go to meetings to help sell the guitars, but he said, "Give this guy a chance!"
The McCarty was a game changer. Tell us about its development and the role Ted McCarty played.
That guitar was the game changer. It was the PRS that sold on the internet. People would say, "I know the quality is good, so I'll buy it online." The McCarty was 22 frets, and the body was a little thicker, though not as thick as a Les Paul. David Grissom designed it. He wanted a guitar that sounded like Duane Allman at the Fillmore East. I told him I wanted to put Ted's name on it, and he thought that was okay. I showed the guitar to Ted and said, "This is what you should have made." He goes, "No, I don't think so." [laughs] Ted was great, and David finally got the DGT, which is a McCarty with a tremolo. It all just kind of worked.
Wasn't the Dragon actually your first 22-fret guitar?
It was the first McCarty in a way. It didn't have the thinner headstock and the vintage tuners, but it had the thicker body and 22 frets. I thought they were beautiful. I played a Dragon for a long time.
One time The Edge asked me for my personal guitar, and I gave him its brother. But he loved mine. It just happened to be Dragon number one and prototype number one. I should have given it to him on the spot. It sounded perfect through his rig.
What was the reason for the McCarty's longer heel?
I made it longer so the neck would be stronger. When I put that heel on the guitar, you still couldn't feel it when you played the last fret, but everybody looked at it and went, "Uh-uh." I remember taking it to the first trade show, and the lead designer for Gibson looked at the heel and said, "You'll never be able to buff that out in production. It'll never work." I looked at him and I thought, Well, you're wrong.
I was going against the grain, because people were doing a much more flowing, Alembic-type neck joint on guitars at this time, and the idea of going back to a traditional neck joint wasn't well thought of by production people. But guitar players liked it.
The McCarty also had the new PRS Stoptail bridge/tailpiece, which was so elegant in its simplicity.
The Stoptail was a modification of the original McCarty bridge, as Ted called it. I designed it, and we made one, and everybody at the factory thought it was awful. I was in England and showed it to Doug Chandler [of Chandler Guitars, in London], who walked me into the English market. And he said, "You're going to sell an awful lot of those."
What can you tell us about developing the McCarty pickups and how it influenced your pursuit of PAF tone?
The McCarty had a thicker sound, and the DGT was even thicker, so I started to get enamored of the sound of really good PAFs, which can be very bright, even brighter than Strat pickups. There's something beautiful about them in the bass position, and I was trying to learn from it.
It's not a simple equation, though. If it was simple, the 20 companies that have taken shots at PAFs would have all gotten there. But as we know, PAFs wouldn't cost $4,000 to $5,000 each if you could buy one that sounded exactly the same. So we spent a lot of time on it, and I think it's getting better and better. Every time we make an improvement, we release it, and right now we're selling just as many McCarty 594s as we are selling Customs.
So are you satisfied with your PAF-style humbuckers at this point?
I'm still learning. There are three vintage pickups in the factory that we got, and we're starting to understand why certain ones of certain years sound different than others. How come if it's the same design for 15 years that only certain years sound different?
It must be a very sensitive equation. So I use those pickups as a way to learn, and if I find something that sounds beautiful, and I think we can add a flavor to the guitars, we do it. For me, designing pickups is more about making artists like Robben Ford, David Grissom, Carlos Santana, Mark Tremonti and John Mayer happy.They're using these live, and they're not going to use something they don't love.
What was the reason for introducing the Singlecut?
I wanted to make it so that somebody who is comfortable playing a guitar with four knobs and a toggle switch on the upper bout could do that with one of our guitars. So we came out with the Singlecut, and we changed the positions of the knobs.
Things were going along fine, and then we got sued [by Gibson] and we got shut down for a couple of years. Then it was over, and we were back. Essentially, I had decided to get into the minivan business, and the people making minivans said, "You can't make minivans." I said, "Yes, we can! It's okay for us to make double-cutaway guitars and single-cutaway guitars, and regular and single-cutaway acoustics. It's just guitar making, right?"
What did Mark Tremonti do for the Singlecut?
The Singlecut has been a hard sell for us, but the Tremonti models have always done well. People have a way of pigeon-holing things. Carlos Santana is playing a Singlecut now with a tremolo and 24 frets, but he knows what he's doing. He likes the sound of a single-cutaway guitar, and he likes 24 frets and a trem, and he's got the right pickups in it. So he's happy.
Very often the artists are playing something slightly different than what the market will accept, but I think the Singlecuts will always be with us and be a percentage of our sales. I guess we're known for double-cut guitars, but I still like 'em.
What led to the Hollowbody Spruce, which was a pretty radical departure for you back in 1997?
I wanted a guitar that had a hollow sound and didn't get away from you when you played really loud. So we put that sound post between the front and the back. My preference was always the non-piezo Hollowbody, but we had trouble selling them.
Mike Einziger in Incubus was using one for a long time, but by the time he started playing one, we had already cancelled it. You know, the guitar market takes its sweet time about things. I mean, how long was it before Hendrix picked up a Strat?
You do a lot of research on guitar designs, so let's talk about the Tonare Grand, which is based on a bracing design Antonio De Torres developed in the mid 1800s.
Yes, I had studied an old Torres to try to see what he was thinking when he made his guitars. That is what led to our bracing pattern for the Tonare. It was heavily braced on the back and sides to lock them down, and the thin top was left to vibrate as much as possible, like a speaker.
I didn't want noise coming out the back of the guitar; I wanted it all coming out of the front, and I wanted it to be a concert-level instrument. I could have used a lot more time to work on it, but I thought the basic idea was really good.
I got a letter from somebody who bought six of them, and there's a lot of people using them, including Tony McManus, John McLaughlin and Steve Vai, who says it's his favorite instrument right now. That means a lot to me.
All the latest guitar news, interviews, lessons, reviews, deals and more, direct to your inbox!
Art Thompson is Senior Editor of Guitar Player magazine. He has authored stories with numerous guitar greats including B.B. King, Prince and Scotty Moore and interviewed gear innovators such as Paul Reed Smith, Randall Smith and Gary Kramer. He also wrote the first book on vintage effects pedals, Stompbox. Art's busy performance schedule with three stylistically diverse groups provides ample opportunity to test-drive new guitars, amps and effects, many of which are featured in the pages of GP.