More Playable, Portable and Versatile Than a Regular Jazz Box, Tim Bram's Tribute Archtop Pays Homage to a Vintage Fender From His Youth
Simultaneously traditional and alternative, this heirloom-level guitar is a Telecaster tribute with a twist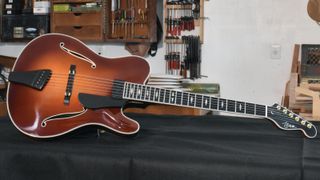 (Image credit: Tim Bram Guitars)
Paying homage to the world's first production solidbody by creating a hollowbody jazz guitar might seem an outré move – but it's not the only surprise Tim Bram's Tribute Archtop is packing.
Certainly, the notion to make a more playable, portable and versatile jazz guitar by adopting a thinline design might seem like nothing new. But then again, nearly everything else about the Tribute Archtop is done a little differently than we've seen before.
"My Tribute model was first made as an homage to a vintage Tele that I restored when I was just 19 years old," Bram tells Guitar Player. "That guitar had a great feel that I wanted to try and re-create in an archtop guitar. The goal with this model was to make an archtop that was smaller and easier to play than a traditional archtop, while still offering the familiar archtop voice. I also wanted to stay away from the traditional shape that is associated with archtop guitars."
Doing things differently would certainly behoove a luthier whose own career has followed an unusual path. Bram made his first guitar in 1976, at the age of 14, and followed it with several others through his high school and college years. During the latter, he took one of his instruments to an interview at a local cabinet shop, where the quality of its workmanship landed him the job.
His professional focus shifted to furniture and cabinetry for many years, until he sought new challenges in 2013 and began building guitars again part-time, tasking himself with designing the archtop model that would become the Tribute. Following the demand for this guitar, in 2018 he left the cabinetry trade and took up guitar making full-time.
"I always thought that my experience as a woodworker helped me develop the eyes and skills to make these guitars," Bram relates. "Fortunately, I have a pretty good ear too. I feel like this is where I was supposed to end up. I am excited to come down to the shop and make guitars every day."
On paper, the Tribute might appear much like any traditional high-end archtop from the golden age of the instrument, albeit rendered to thinline specifications. The graduated, lightly X-braced top plate is hand-carved from solid European spruce, and joined to a hand-carved solid curly maple back with hand-formed solid maple sides. The neck is carved from lightly flamed maple and capped with an ebony fingerboard, while the trapeze tailpiece, floating bridge and finger rest – a.k.a. pickguard – are likewise crafted from ebony.
A hand-wound Kent Armstrong humbucking pickup and its related trim-pot volume and tone controls are all mounted to the latter so they float above the guitar's soundboard without interfering in the slightest with its natural vibration.
Off paper and in hand, however, the Tribute makes quite a different impression than the standard jazz box, even if it delivers much of the same results, and impressively so.
The six-a-side headstock and rounded, full-C neck profile are certainly reminiscent of the Telecaster that got Bram started down this path all those years ago, although the 1 11 /16–inch width at the nut and 25-inch scale length point elsewhere.
The two-inch rim depth also lends a lot more playing comfort in the lap than the grappling dimensions of a full-depth archtop, yet initial unplugged playing reveals a full, rich tone with excellent balance and surprisingly good acoustic volume, indicating that Bram has ably cleared one of the design's more obvious hurdles.
"The main challenge was in the fact that the sound board is very small in comparison to a traditional archtop guitar," he tells us. "I dealt with this by carving the top to be very responsive and keeping it free to vibrate. There is only one point of contact besides the bridge, allowing the top to do as much work as possible. The shape of a Tele has a slightly squared-off lower bout, so I enlarged and rounded that bout so it would be able to work very efficiently, kind of like a speaker cone."
Even with the alterations required to make the concept work, the Tribute achieves many of the traditions of the archtop format, with enhanced comfort and playability. For all the recalculating needed to meld the Tele-inspired body to the design, the bridge still falls neatly between the center points of the f-holes, yet the cutaway placement allows for excellent upper-fret access.
As someone who is not a traditional jazzbox player, I find the results extremely easy to come to grips with. And, according to Bram, although the Tribute is designed for the jazz artist who needs a more nimble and feedback-resistant instrument in a solo or combo setting, the model is very much intended to appeal to other guitarists as well.
That includes anyone who wants a versatile and very easy-to-play guitar with an excellent all-around voice. I would add that the Tribute Archtop should appeal to anyone who simply wants an extremely elegant, and yet alternative, take on the format.
Image 1 of 3
In addition to the quality of the woods used and the skill with which they're put together, numerous other features help to make this a gorgeous instrument. These include the multi-ply binding on the body, fingerboard and headstock; the single-ply f-hole binding; the mother-of-pearl fingerboard inlay and headstock logo; and antique-sunburst finish in thin nitrocellulose lacquer.
Plugged into both a Fender Deluxe Reverb combo and a 65amps London tube amp head and 2x12 cab, the Tribute delivered the clear, rich, yet relatively tight acoustic tone married to electric snap and articulation that players often seek in an archtop acoustic-electric.
The balance and depth of the acoustic tone played through beautifully into its amplified voice, and did so with impressive resistance to feedback at pretty significant volume levels, provided I didn't get silly with my playing position…or inadvertently step on a fuzz box.
Speaking of pedals, the guitar did take to some light overdrive from a Victory Duchess and an Origin M-EQ extremely well, which pushed it around the bend from jazz to throaty blues and delivered a superbly playable update of some of the seminal amplified tones of the '40s and early '50s.
In use, I found Bram's claims that the Tribute suits "several types of music" entirely justified. Although I'm a rather pedestrian jazzer at best, I found this guitar stood in wonderfully as an alternative fingerstyle instrument and an elegant accompanist to singer-songwriter-style balladry, and even did itself proud amid some rockabilly excursions.
However you approach it, the Tim Bram Tribute Archtop is a beautifully acquitted instrument that pulls off the tricky maneuver of somehow looking, sounding and feeling simultaneously traditional and alternative.
Put simply, it's an heirloom-level guitar that I imagine a surprisingly broad range of players would be proud to call their own.
Visit Tim Bram Guitars for more information.
All the latest guitar news, interviews, lessons, reviews, deals and more, direct to your inbox!
Dave Hunter is a writer and consulting editor for Guitar Player magazine. His prolific output as author includes Fender 75 Years, The Guitar Amp Handbook, The British Amp Invasion, Ultimate Star Guitars, Guitar Effects Pedals, The Guitar Pickup Handbook, The Fender Telecaster and several other titles. Hunter is a former editor of The Guitar Magazine (UK), and a contributor to Vintage Guitar, Premier Guitar, The Connoisseur and other publications. A contributing essayist to the United States Library of Congress National Recording Preservation Board's Permanent Archive, he lives in Kittery, ME, with his wife and their two children and fronts the bands A Different Engine and The Stereo Field.